Bobby Flay's Pizza Dough Has Over 1,000 5-Star Reviews — 1 Home Cook Called It 'Life-Changing'
Food Network chef Bobby Flay may be known for his epic burger recipes, but his pizza dough is in a category all its own.
With well over 1,000 five-star reviews on the culinary channel's website, this is a dough even beginners can make. Prepare to skip pizza delivery!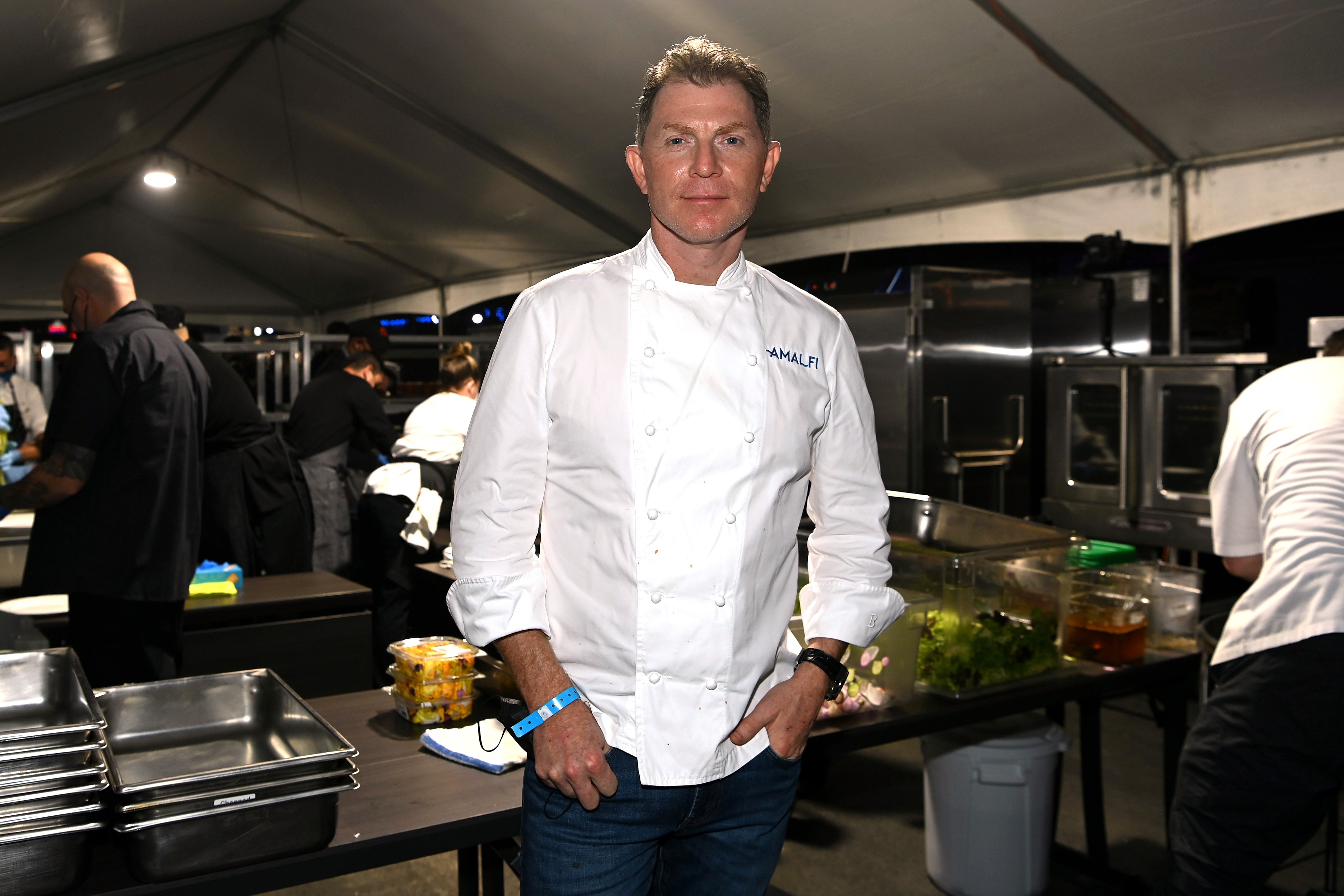 Bobby Flay's top-rated pizza dough
The chef's recipe on Food Network's site has, as of this publication, nearly 1,200 five-star reviews. Not bad for a dish consisting only of flour, sugar, yeast, salt, water, and oil.
But the Iron Chef would never be able to make this dough on his hit culinary competition Beat Bobby Flay. He wrote in his most recent cookbook of the same name: "There are a few things you just can't cram into 45 minutes, and this pizza dough is one of them. Pizza dough has to be made at least 24 hours and up to two days in advance of cooking."
Flay made it abundantly clear that "I have no idea if it will be a pizza battle till it's revealed on screen." So if there's a pizza battle, "the kitchen will have made it for me in advance.
"This is my all-time favorite pizza dough, based on chef Chris Bianco's recipe," he added. "I have been making it for years at home and in my restaurants."
The chef noted that bread flour results in "a much crisper crust." If a chewier crust is preferred, all-purpose flour can be substituted.
Find the full recipe on Food Network's site or in chef Bobby Flay's cookbook Beat Bobby Flay.
The marinara sauce Bobby Flay depends on for his pizzas
Second only to the dough for a pizza recipe is the sauce that blankets the crust.
Flay's "favorite quick marinara sauce" is available in the cookbook. It consists of extra-virgin olive oil, one large diced Spanish onion, five garlic cloves "mashed to a paste," 1/4 teaspoon Calabrian chile flakes, 2 tablespoons tomato paste, two 28-ounce cans of whole peeled tomatoes, fresh parsley, oregano, basil, and salt and pepper.
It's the chef's go-to sauce for "spaghetti and meatballs, on my pizza Margherita, and as a base for countless other dishes."
He recommends "top-quality San Marzano tomatoes" for creating a flavorful, "balanced" sauce.
Home cooks overwhelmingly praised Flay's pizza dough
From the hundreds of five-star reviews that Flay's pizza dough recipe received, one reviewer spoke of it using phrases such as "life-changing" and "I have never had pizza like this in my life."
The recipe seemed to inspire nothing short of awe from home cooks.
One grateful fan wrote, "I usually don't write reviews, especially for something basic as pizza crust. However – holy smokes! I just grilled this dough outside and wow, simply wow. It was chewy, crispy…texture perfect. Thanks Mr. Flay!"
Others agreed. "I've gone through maybe five pizza dough recipes and this is by far the best. My dough finally turns out like pizza dough for once!" one person said. And another wrote: "This is my go-to pizza dough recipe." Yet another said: "Super easy and tasty. No more store-bought crusts!"
Try Bobby Flay's pizza dough recipe for pizza night; you might never go back to takeout.