Body Language Analyst Theorizes Johnny Depp Channeled Jack Sparrow for Defamation Trial
Since the defamation trial of Johnny Depp v. Amber Heard is televised, body language experts have been hard at work breaking down the behavior of both actors. Keep reading to find out why one prominent analyst thinks Depp channeled his Pirates of the Caribbean alter ego to answer questions from Heard's counsel.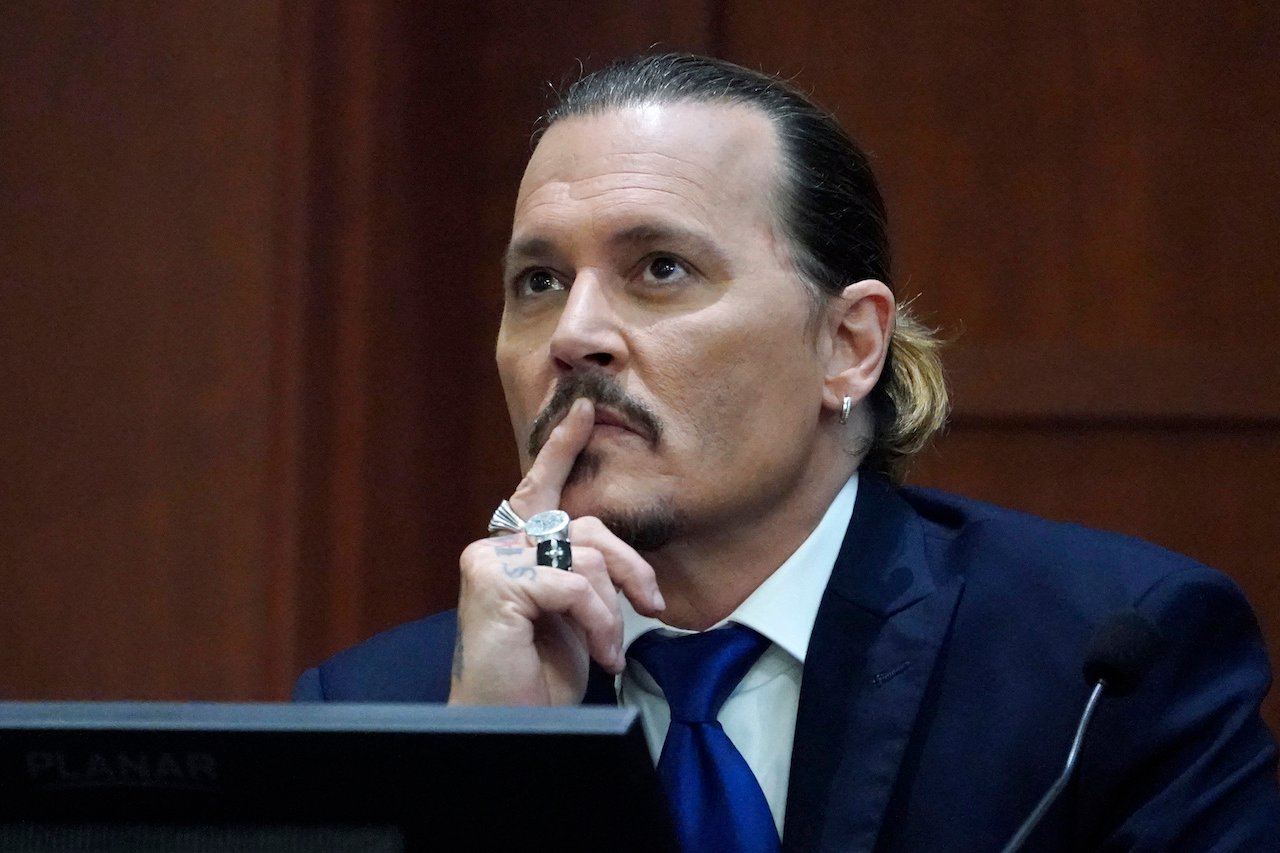 Body language analyst didn't think Johnny Depp was acting during his painful testimony
An analyst named Spidey explained some of Depp's body language, concluding that he generally came across as truthful. Notably, he did notice some signs of hesitance or deception depending on the question the actor was answering — namely regarding alcohol and drugs.
Spidey noted that Depp sometimes pulled the microphone closer to him and gave slow, thoughtful answers to questions. He thought that could be an involuntary action, theorizing, "He wants to speak his truth."
While acknowledging Depp is a talented actor capable of convincing people he's innocent when he's not, Spidey didn't think that was the case.
"Can he act that? Yes, he can," he concluded. "Do I think he's acting that? No, I don't."
Body language analyst thinks Johnny Depp sounded more like Captain Jack Sparrow on cross examination
Depp began answering questions faster and with a different attitude on cross-examination, Spidey pointed out. Specifically, the actor began telling jokes and throwing some "sass" and "condescending remarks" at Heard's attorney.
At one point, Spidey noticed the Pirates actor's speech and mannerisms were "so much closer to Jack Sparrow than Johnny Depp."
He thought it might have been a defense mechanism of sorts. "To me, it's like he's channeling Captain Jack Sparrow or this character who's more confident," the analyst explained. "Who's not little introverted Johnny Depp trying to get his story out …"
Body language analyst found 'clusters of deception' in Amber Heard's testimony
In a different video, Spidey noted that Heard's body language was noteworthy when she began talking about the former couple's fight in Australia. Both stars agree the night in question grew intensely violent, but they each claim to have been the victim of abuse at the hands of the other. It almost goes without saying, but the details of their stories vary widely.
"We are seeing a massive cluster of deception," Spidey said of Heard's testimony about the fight. He shared that a set of behaviors that deviate from a speaker's baseline and all happen in a burst can be interpreted as dishonesty.
The behaviors might not mean anything alone, but as a cluster, they're telling of deception, Spidey shared. He noted she licked her lips, touched her face, blocked her mouth, compressed her lips, fluttered her eyes, and displayed a slow blink as she started to tell her version of events.
"Something is really stressing her out about what she's saying or what she's about to say," he theorized, adding she seemed to have a hard time recalling information in crucial moments.
How to get help: In the U.S., call the National Domestic Violence Hotline at 1-800-799-7233 or text START to 88788.
How to get help: In the U.S., contact the Substance Abuse and Mental Health Services Administration helpline at 1-800-662-4357.
RELATED: Amber Heard's Former Nurse Noted Heard Laughed at Her Drug Use Warning