Body Language Expert Analyzes Amber Heard's Emotional Testimony in Johnny Depp Trial
This week, Amber Heard took the stand during the Johnny Depp v. Amber Heard defamation trial. A body language expert analyzed Heard's first day of testimony, including the actor's gestures, facial expression, lack of tears, and the significance of her hairstyle.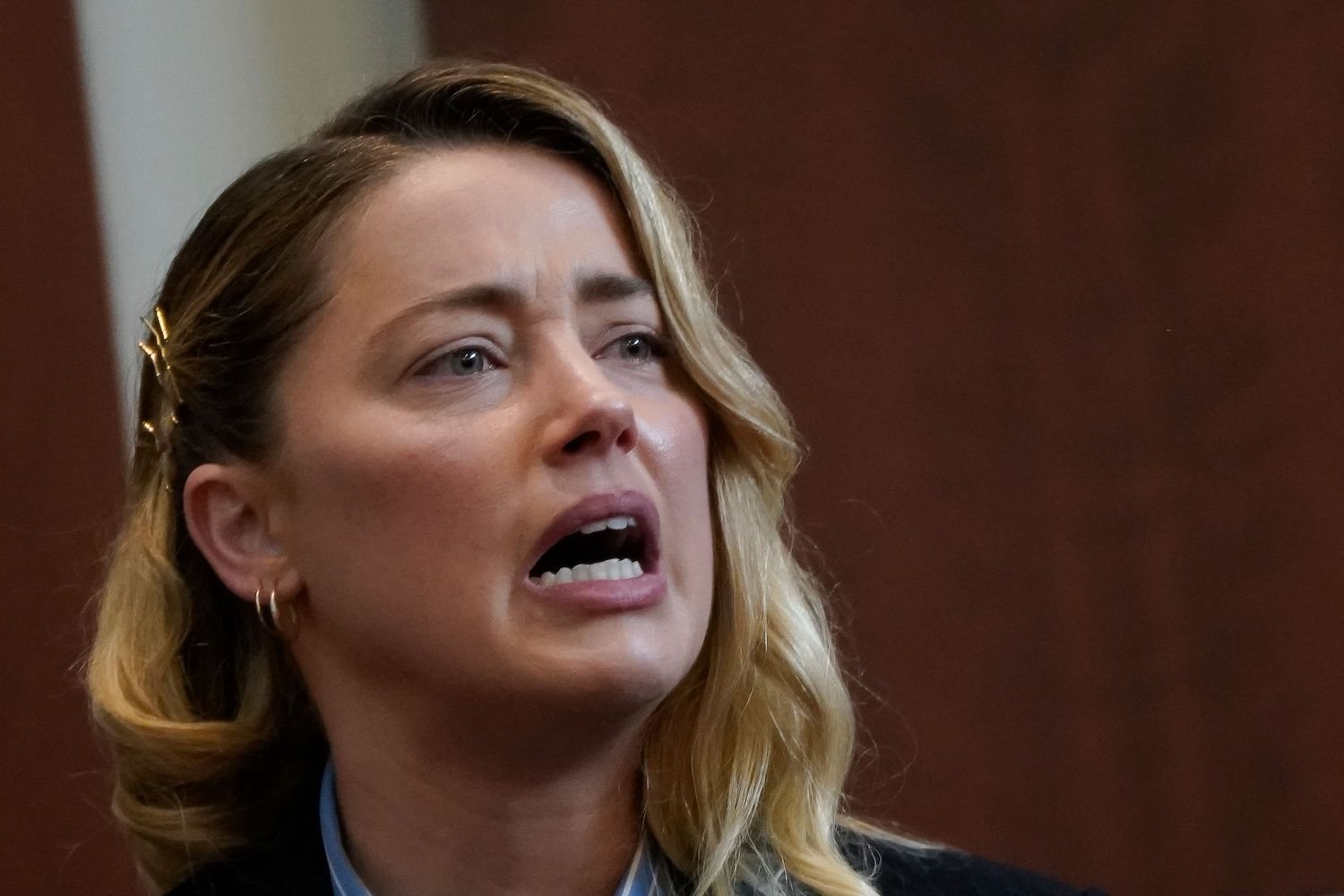 Expert analyzes Amber Heard's body language during Johnny Depp trial
Heard took to the stand on May 4 for the first day of testimony in the defamation trial. Body language expert Judi James shared her analysis of Heard, providing MailOnline with some of the standout moments.
James noted it was "important" how Heard turned toward the jury when introducing herself on the stand to "create personal connections."
The expert also shared how Heard's choice of hairstyle was significant. "Her hair is also draped to her left, meaning that the jury have a clear view of her face, both in silhouette and as she turns to address them directly," James noted.
She added, "The effect would be to 'humanize' herself to the jury rather than isolating herself as a celebrity who they will presumably have been hearing negative comments about."
James said it showed "a certain amount of respect to them to want to address them directly as it shows a consideration of them as being in ultimate control in terms of the verdict."
Heard's hairstyling allows the jury to see her eyes. "We tend to trust people more when we can see their eye expression, so this gesture could suggest she has nothing to hide," James said.
Amber Heard didn't shed any tears despite her emotional testimony
Heard was emotional on the stand while recounting moments of alleged abuse but didn't shed any tears during her testimony.  
"The cameras made it hard to pick out if they had formed in her eyes or if her eyes had reddened," James noted. "This, like everything, is a complicated point. When guilty people perform tears they often try to hide their dry eyes, poking them with fingers, squeezing them shut tight or prodding them with a hankie."
The expert continued, "When they do cry for real, the streaming tears are often prompted by self-pity. Amber's seemed to be truncated, but is that acting or bad acting or the innocent complex response of someone with mixed emotions?"
James also pointed out how "Amber's facial expressions became more animated when she spoke about abuse." According to the expert, Heard's "expressions seemed to range from shock and bewilderment to disgust and anger."
The body language expert noted that, while Heard didn't produce tears, "any suggestion of tears came from a change in her vocal tone and a chin-crumple."
Heard showed 'complex' facial expressions and 'conflicted emotions,' expert says
James also analyzed Heard's facial expressions while on the stand, noting how the expressions revealed "conflicted emotions."
'We saw her talk about her childhood and her siblings and it would be true to say that her facial expressions tend to be complex, suggesting mixed emotions, even when she is talking about something that makes her happy," the expert explained.
"Her smile only involved the raising of one side of her mouth," she added.
How to get help: In the U.S., call the National Domestic Violence Hotline at 1-800-799-7233 or text START to 88788.