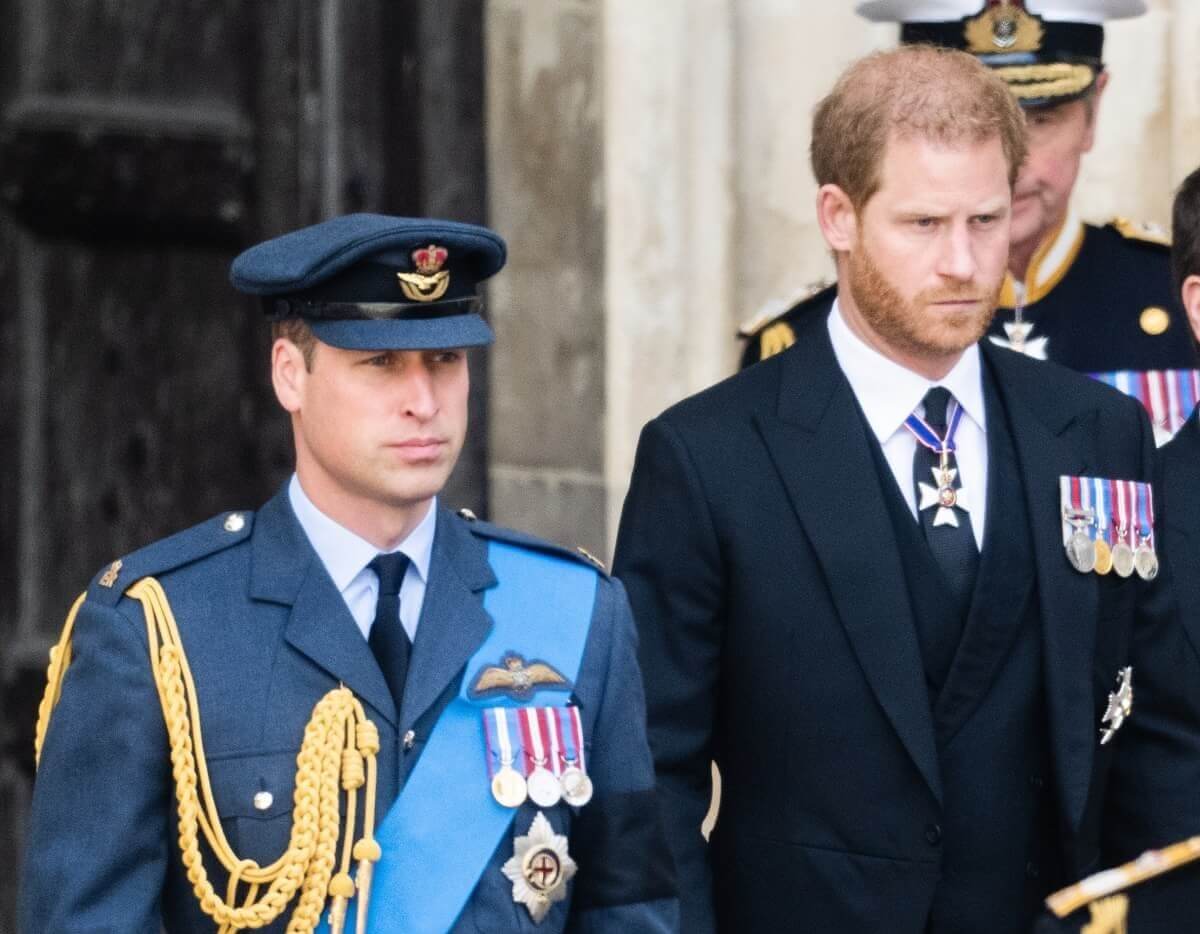 Body Language Expert Points Out the Only Gesture From Prince Harry to Prince William When They Were Together During Queen Elizabeth's Funeral
Despite walking side by side during the procession for Queen Elizabeth's funeral and sitting in close proximity, Princes William and Harry didn't interact apart from the younger's prince unusual gesture.
Following Queen Elizabeth II's death, millions of people around the world tuned in to watch the late monarch's funeral.
On Sept. 19, 2022, those close to the royal family matriarch, as well as dignitaries from across the globe, gathered at Westminster Abbey for the state funeral. The late queen's family then headed to a committal service, which was held in St. George's Chapel at Windsor Castle. And that's where a body language expert noticed the only gesture between Queen Elizabeth's feuding grandsons, Prince William and Prince Harry.
The gesture Prince Harry made with his hand toward Prince William that day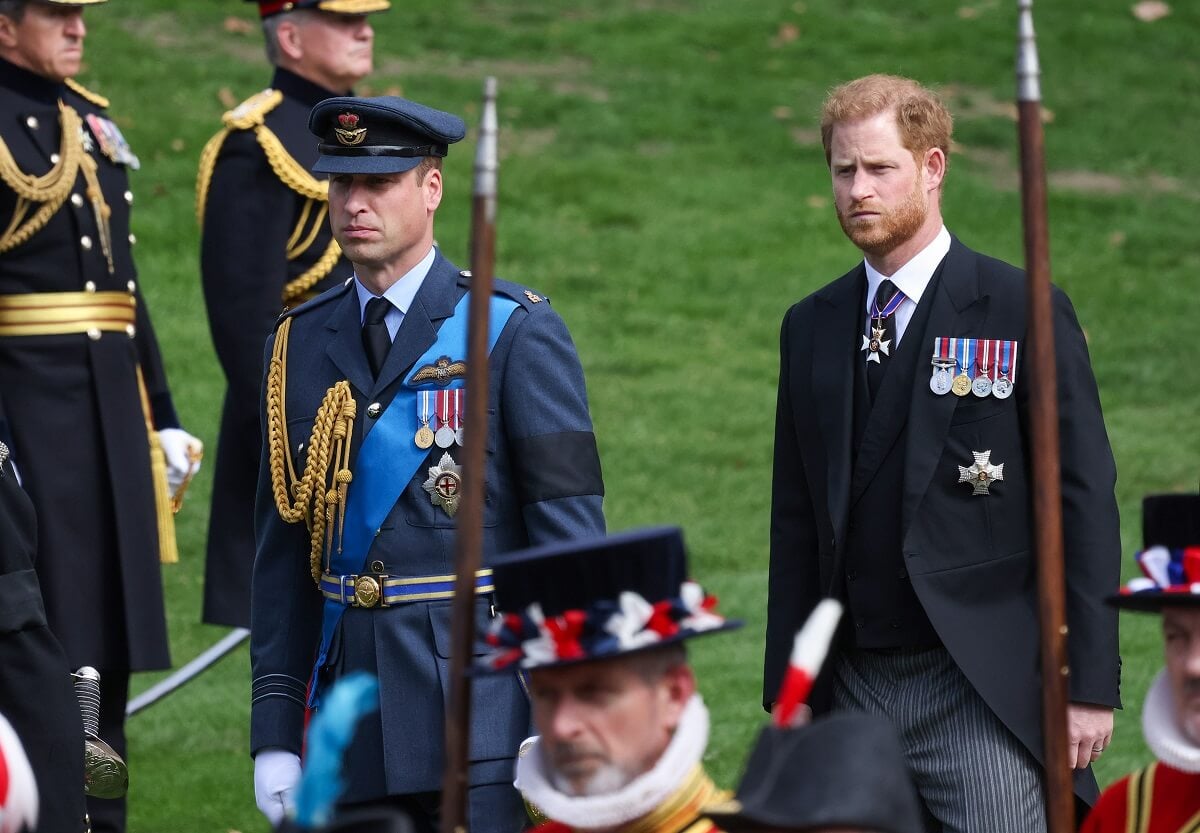 The Duke of Sussex spoke about his rift with his older brother long before the queen's funeral, therefore, many eyes were on them as they reunited to say goodbye to their grandmother.
Despite standing alongside each other for the procession behind her coffin, fans noticed that there was no communication between the princes. Body language expert Judi James combed through footage from that day and spotted one small gesture from Harry.
Prior to the start of the committal service, as the Sussexes and Wales went to take their seats, William stopped his family from entering the pew first, so Harry and Meghan could get to their seats. No one in the group said a word to each other, but the Duke of Sussex made an unusual hand gesture as he walked by William.
James told The Mirror: "During the second service in Windsor, there was a moment when William and his family had to hold back to allow Harry and Meghan to get into the pews first. Despite the proximity, there seemed to be no sign on camera of any glances or exchanged acknowledgments, apart from a hand-flicking gesture from Harry."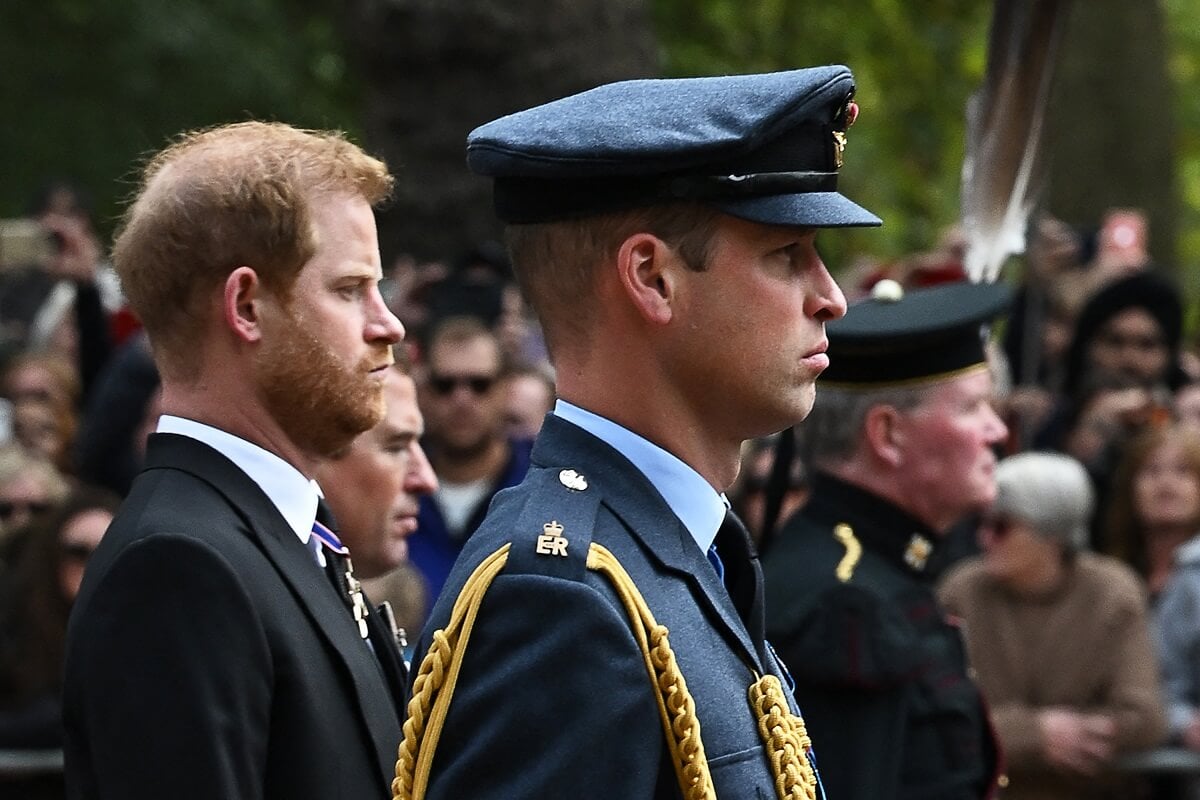 At one point during the service, cameras captured Princess Charlotte look up and smile at her Uncle Harry then he smiled back. But those were the only interactions between the families that day.
Prince William reportedly hopes Harry never steps foot in the U.K. again
As for the brothers' relationship, it doesn't look like a reconciliation is in the cards anytime soon. While the tension was thick between them during the late's queen funeral, that was before Meghan and Harry's Netflix docuseries aired and the duke released his tell-all memoir, both of which reportedly did not sit well with the Prince of Wales.
As a source told The Daily Beast, William "feels utterly betrayed [by Harry]. Relations have never been this bad, and he hates him for what he has done to the family in the books and interviews … it's no secret he would prefer it if Harry never stepped foot in England again."
Showbiz Cheat Sheet acknowledges conditions and cultures can impact body language and is sensitive to all backgrounds.