Body Language Expert Says Video of Princess Charlotte Having Fun Shows She Can Let Loose Just Like Kate Middleton
Prince William and Kate Middleton have been bringing their children along for more and more royal engagements lately. While their youngest son, Prince Louis, showed off his big personality during Queen Elizabeth II's Platinum Jubilee in June 2022, he's still a bit young to undertake specific duties. But his older siblings, Prince George and Princess Charlotte, have been treating royal fans with their appearances.
A body language expert noticed that Charlotte has proven that she knows when to be serious but also likes to "let her hair down" and "have fun" just like her mom.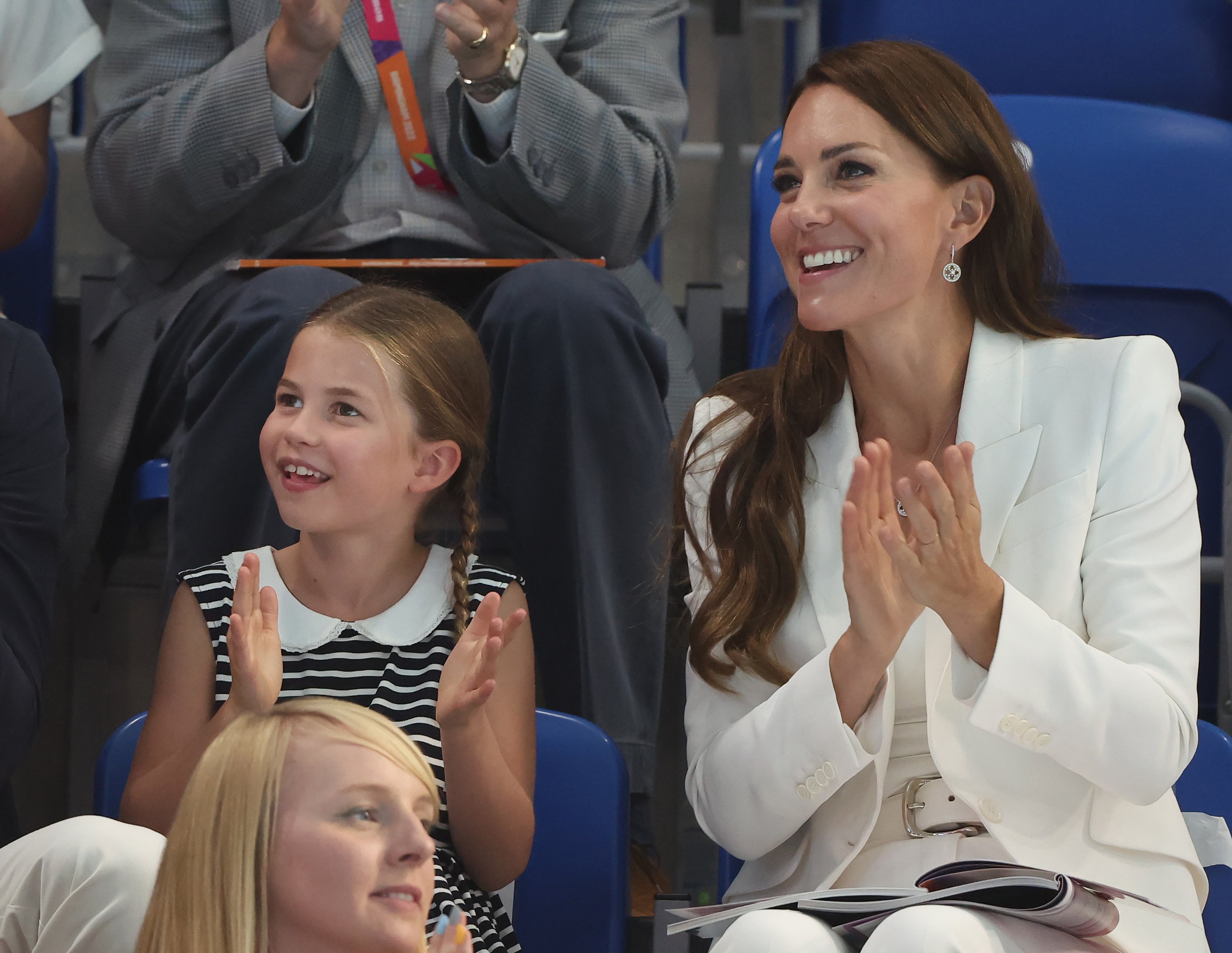 Princess Charlotte attended the Commonwealth Games with her parents
The Duke and Duchess of Cambridge have attended sporting events with Prince George in the past including soccer matches and the Wimbledon men's final.
On Aug. 2, Princess Charlotte attended the Commonwealth Games with Will and Kate. The young royal joined her parents on a visit to the Team England Futures program in Birmingham. Before they watched swimming and field hockey events.
During their visit, Charlotte revealed that her favorite sport is gymnastics.
Body language expert said Charlotte has shown she can let loose like her mom
Body language expert Judi James spoke about some of Charlotte's recent outings and pointed to a video that shows the little princess knows how to "have fun" and "let her hair down" just like Kate.
"Kate is a clear role model for Charlotte, with Charlotte suddenly looking like her mother's mini-me," the expert told the Sun's Fabulous publication. "While George and his dad share some traits of shyness, Charlotte seems to have inherited her mother's confidence and quiet determination."
James added that during the Platinum Jubilee: "Both Kate and Charlotte appeared to find letting their hair down and having fun much easier than the slightly formal-looking William and George. Kate really did move to the music and she often sang along, waving her flag with enthusiasm while Charlotte followed suit. Kate and Charlotte looked like the ones who would have loved to get up from their seats and join in the dancing while William and George looked like they might have been more at home on the football terraces."
The princess also knows when to be serious in public too, according to expert
But it's not all fun and games for Charlotte. James noted that the princess knows which situations call for her to be more attentive and serious, and she has no problem with keeping others in line on those occasions as well. That's something her mother does too.
When the Cambridges appeared on the balcony with the queen, Prince Charles, and Camilla Parker Bowles at the end of the Platinum Jubilee pageant and sang the country's national anthem, Charlotte gave George a subtle nudge to correct his posture.
"Charlotte was quietly and calmly on patrol for the celebrations, showing not just her ability to get all the regal stuff right, but also a trait of checking and correcting her brother's performances, too," James explained via Fabulous. "[Charlotte] subtly corrected George when his arms weren't by his sides for the anthem."
Moments later, Kate corrected Prince Louis' posture by gently pulling him back when he started to lean on the balcony.
RELATED: Princess Charlotte Dressed Just Like Her Mom Kate Middleton in Rare Video