Body Language Expert Says William and Harry Royal Wedding 'Shift' Wasn't 'Unexpected'
Different royal weddings, different body language. According to an expert, Prince William and Prince Harry's body language at their weddings changed from 2011 to 2018. Ahead, why the Prince of Wales and Duke of Sussex's nuptials didn't have the same "energy and fun." 
Prince William appeared to have moments of 'reflection' and 'fun' at Prince Harry's royal wedding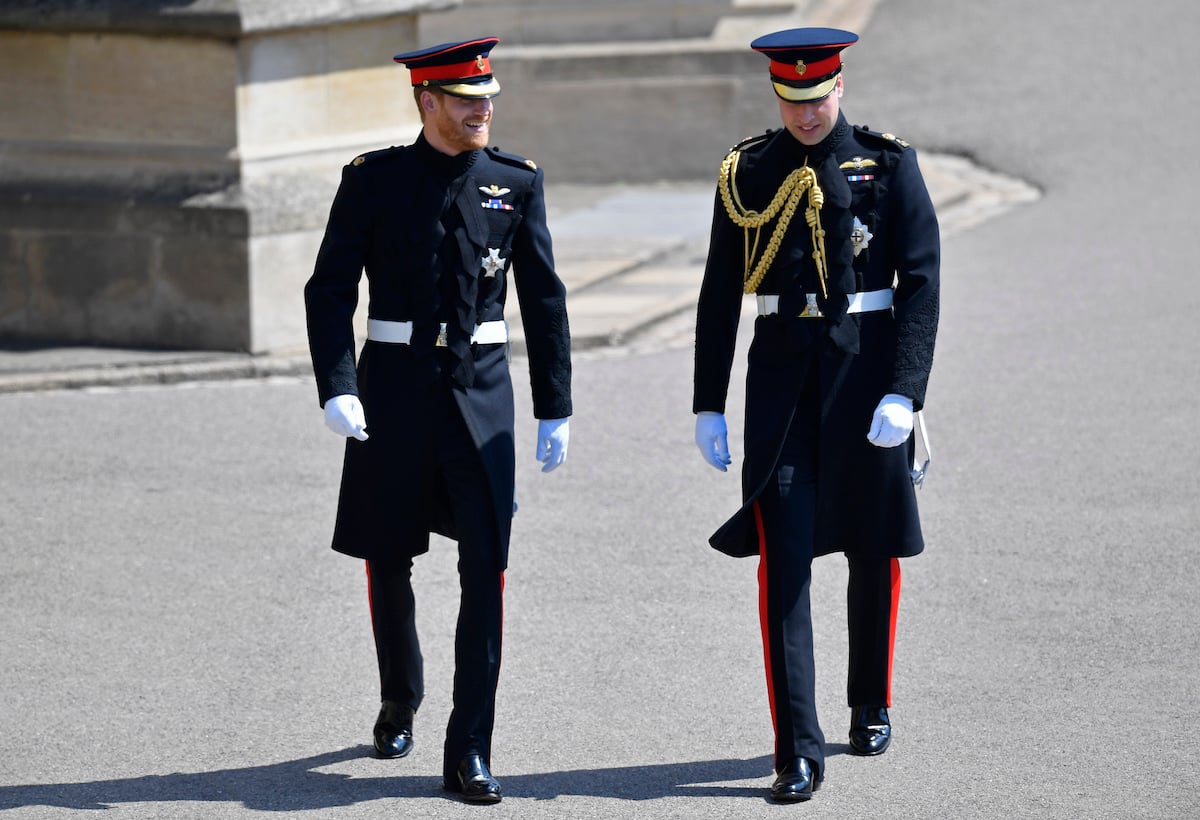 Body language expert Judi James examined William's movements at Meghan Markle and Harry's royal wedding. In the process, she noticed a contrast between the brothers' nuptials. 
"For William, there appeared to be some moments of what looked like a reflection in between the grins and signals of what looked like the normal shared humour [sic] and fun with his brother," she told Express.
James continued, saying that on Harry's wedding day, tensions between the brothers weren't obvious. 
"We were shown what we expected at that time, i.e. a solid, affectionate, and friendly double-act from William and Harry," she said. 
The Duke and Duchess of Sussex married on May 19, 2018. It wouldn't be until later, in a 2019 documentary, that Harry, now 38, would say he and William were on "different paths." 
The brothers' body language at Harry's wedding didn't have the same 'energy and fun' as William's wedding, expert says 
James continued, noting a difference in Harry and William's body language on Harry's wedding day. "Their body language did lack some of the energy and fun from William's wedding," she said. 
However, as she explained, the drop in "energy and fun" from William to Harry's wedding wasn't necessarily a surprise.
"As Harry was the best man there and able to keep the banter and the naughty grins stoked up, it wasn't unexpected to see a shift in dynamic once Harry was the anxious and nervous-looking groom," James said. 
Not counting "a rather sad-looking expression in William's eyes" at Harry's wedding, James saw " little to suggest anything other than open affection for the intensely in-love couple from most of Meghan's new family."
"The sense of open affection from the crowds outside seemed to seep into the chapel, making this a very happy and relaxed event for everyone apart from the squirming, uncomfortable Zara," she concluded. 
Harry and William weren't actually each other's best man at their royal weddings
Among the bombshells in Spare were details about Harry and Meghan's wedding as well as William and Kate's. Harry claimed he wasn't his brother's best man and vice versa. 
"The public had been told that I was to be best man, but that was a bare-faced lie," he wrote in Spare (via Town & Country). "The public expected me to be best man, and thus the Palace saw no choice but to say that I was." 
"Willy didn't want me giving a best-man speech," Harry went on to explain. "He didn't think it safe to hand me a live mic and put me in a position to go off script. I might say something wildly inappropriate," he continued, admitting William "wasn't wrong." 
Instead, two of William's close friends, James Meade and Thomas van Straubenzee, had best-man duties. 
As for Harry's own nuptials, he wrote in Spare that his "old mate Charlie" served as best man. 
Showbiz Cheat Sheet acknowledges conditions and cultures can impact body language and is sensitive to all backgrounds.