'Bosch: Legacy': Denise G. Sanchez Talks Working With Madison Lintz on 'Bosch' Spinoff [Exclusive]
Harry Bosch may have handed in his badge, but there's still an Officer Bosch in the LAPD. In the Bosch spinoff Bosch: Legacy (premiering May 6 on Prime Video's Freevee), his daughter Maddie Bosch is a rookie beat cop fighting to establish herself on the force. By her side as she learns the ropes is her tough-as-nails training officer Reina Vasquez, played by Denise G. Sanchez. 
Showbiz Cheat Sheet recently chatted with Sanchez about her role on Bosch: Legacy, what it was like to work with Madison Lintz, who plays Maddie, and how she drew on her own background as the child of immigrant parents when portraying Officer Vasquez.
Denise Sanchez says her 'Bosch: Legacy' character develops a 'camaraderie' with Maddie
RELATED: 'Bosch' Spinoff: Author Michael Connelly Clears Up Some Questions About New Series
When Reina Vasquez first meets Maddie, she makes it clear she isn't going to give her new partner any special treatment because of her family's past with the department.
"I don't care if you're a legacy and I don't care if your father solved a thousand murders," she says in the series premiere. "You're a boot. You don't even know what you don't know. This is life and death. You do your job right or you get the f*** out of my car."
It's a rough beginning, but Maddie and Reina gradually develop a rapport, Sanchez said. As a woman in the LAPD, Reina has "to be very strong, very assertive. But she has a heart of gold," the actor explained.
"When she starts taking Maddie under her wing as her training officer, there's a bit of tough love and there's a part of her that kind of wants to remain distant so that there's that respect level … she doesn't want her to think 'OK, you can get away with anything just because you are the daughter of Harry Bosch,'" Sanchez said. "But as the friendship develops, they really do become partners. And there's that camaraderie … it's a really nice blossoming friendship."
Sanchez says the show turned to actual police officers to make sure scenes were authentic
Sanchez might play a seasoned officer training a new recruit on Bosch: Legacy, but on set, she was the rookie in the Bosch world, while Lintz was the veteran. The other actor – who portrayed Maddie for seven seasons on the original Bosch – made sure her fellow actor felt welcome.
"She made this entire experience so great. She is the sweetest," Sanchez said of Lintz.
"Whenever we had stunts or whenever we had some police jargon, we're always texting each other like, 'Hey, you know what this means?'" she added.
Getting the details of police work right was important, Sanchez said, especially when it came to more physical scenes, like the one in the premiere where Reina and Maddie answer a call involving a violent domestic dispute. The pair worked with retired and current LAPD officers, as well as a stunt coordinator, who helped with "everything from body positioning to how you use your firearm," she said. "They were very meticulous in making sure we got it right."
The guidance was important for ensuring safety, but also in making sure scenes were realistic. Any mistakes were sure to be noticed by those Bosch fans who have a background in law enforcement.
"We don't want them to look and be like, 'Oh, she's not holding the gun right' or 'That's not how you withdraw your weapon,' or 'That's not how you would go up against the guy who's 50 pounds heavier than you,'" she said.
Sanchez's own background influenced her portrayal of Officer Vasquez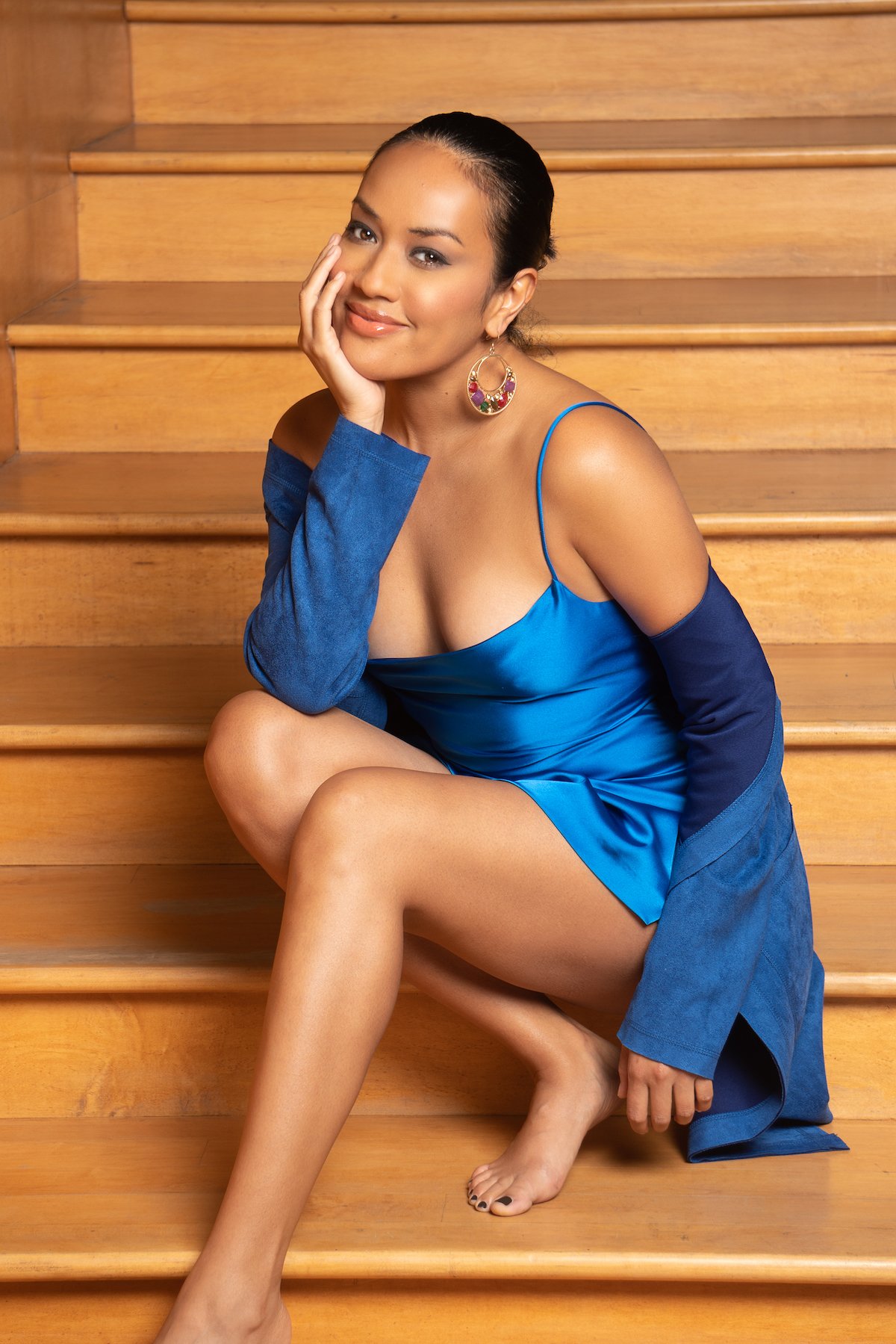 Sanchez might have needed some expert tips to help her portray a police officer, but there were some parts of Officer Vasquez's story that hit closer to home. Her character is a first-generation Mexican-American, while Sanchez is the daughter of Peruvian immigrants. She said the lessons her parents instilled in her helped her understand her Bosch: Legacy character.
"My parents, when I was growing up, they were like, when you go into a workforce, especially if you're a minority, you have to obey," she said. "You have to go by the rules. You have to do everything perfect and you always have to be responsible for yourself so that you can prove to these people that you are worthy of your position, of your salary, of your title. So when I took on the role of Reina, I definitely brought that with me."
"Through any job that I had, whether I was a waitress, bartender, promotional model, anything I did, I was very much type A because I knew I had to somewhat prove myself to people," she added. "That mindset definitely carried over with Reina."
Bosch: Legacy premieres Friday, May 6 on Freevee (formerly IMDb TV). Follow Denise Sanchez on Instagram at @denisegsanchez
Check out Showbiz Cheat Sheet on Facebook!
RELATED: 'Bosch' Season 7: Natalia Castellanos Talks Playing the Mayor of LA in Final Season of Amazon Series