Boxer Anthony Joshua Confirms He's Currently Single
When Anthony Joshua debuted on the sports scene, he caught the attention of boxing fans and those who admire his form, style, and appearance. People google his relationship status all the time, wondering if the soon-to-be 31-year-old champion is married or dating.
His name's been attached to a few women in the media, but Joshua has either been coy or tight-lipped about his romantic life. Until now.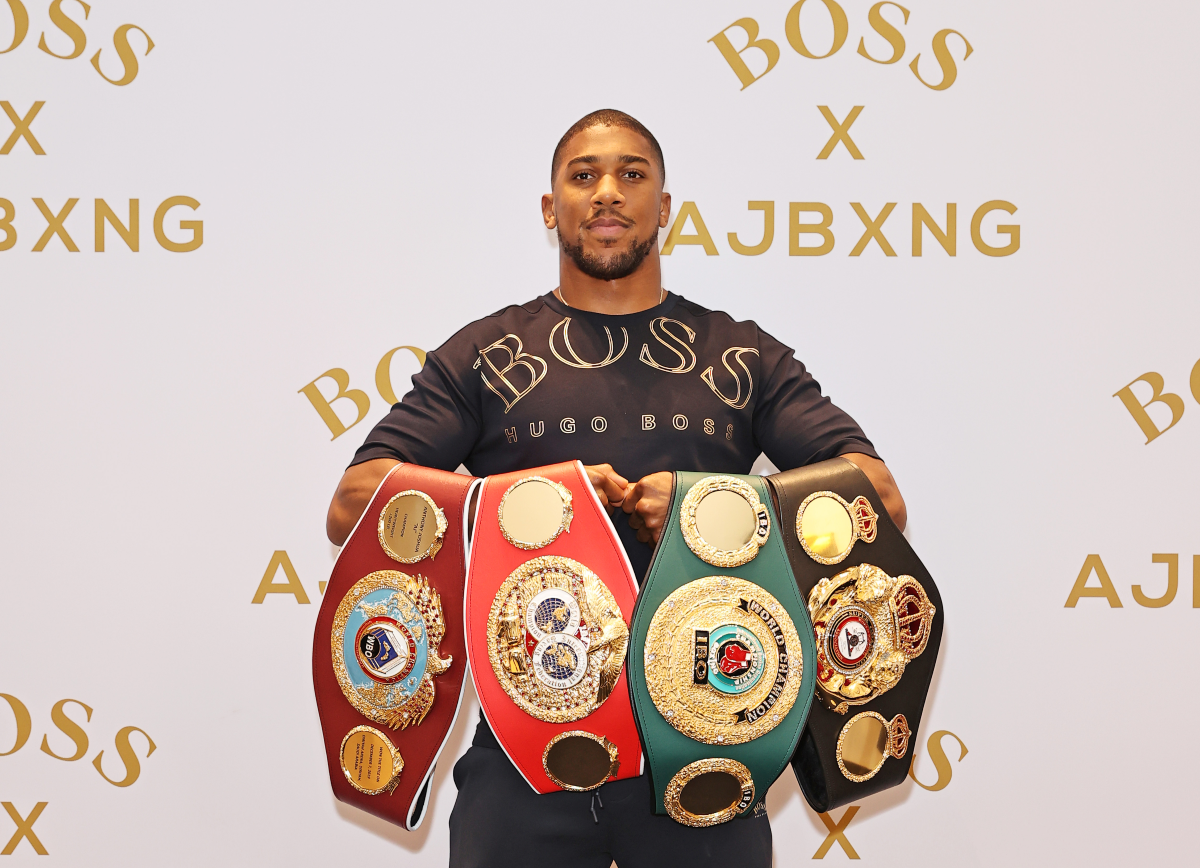 Anthony Joshua's ex is his son's mother
We know him as a boxing champion, but outside of the ring, Joshua is a family man. He shares a five-year-old son, Joseph Bayley Temiloluwa Prince Joshua (nicknamed J.J.), with ex-girlfriend Nicole Osborne. The pair split up after J.J.'s birth but dated on and off for a few years afterward.
Since then, rumors linked Joshua to Maya Jama, a British radio and TV personality whose ex is rapper Stormzy. He shook off the speculation and noted that the two simply worked on a Lucozade campaign together.
Joshua and Osborne are currently co-parenting, but are no longer together. He's dated other women here and there.
Anthony Joshua plays dating game with single ladies
As part of an ad partnership with food brand Peperami, Joshua took a playful tone when chatting about his dating status. Three single women created recipes using the brand's Chicken Bites for a "Love at First Bite" game.
Joshua cracked jokes about winning his heart through food but also talked about his ideal mate. "I don't actually have a particular type, just someone who gets me. I see beauty in everyone," he said.
"And I also see beauty in people's characters as well. If we get along, I think that's gonna take the person a long way in my list of expectations."
Joshua added that he's really busy and doesn't get much time to date, but it could be love at first sight — or bite.
Joshua does not have a girlfriend
For now, Joshua is still an eligible bachelor, but he's focused on his son and his career. He opened up about the difficulties dating as a public figure and single father in an interview with The Sun.
"For me to have a relationship now means I would have to compromise and change my ways and I don't know how easy that would be for me to do," said Joshua.
"So I do date but I don't get to the stage where I actually put anyone into that position. I don't have a girlfriend and I haven't had one for a while. But as I get older I do think it would be nice to have someone, someone to grow with as well — but I honestly haven't found anyone."
Joshua added that the person he winds up would need to be down to earth and able to cope with fame. He wants someone who treats his mother like their own and is family-oriented. He admitted he hasn't found the right one yet.
Joshua's been spending his hours in quarantine training for his next match and keeping his son on point with school and leisure time. He joked that when things change, maybe he'll start hunting for love.