'Boy Meets World': Danielle Fishel Apologized for Being 'Rude' to Trina McGee During Spinoff
Boy Meets World is very important to many Disney Channel fans. That's one reason why it returned with a spinoff called Girl Meets World in 2014. But Trina McGee, who played Angela Moore, revealed she was mistreated by the cast. Danielle Fishel, who played Topanga Matthews, has since tweeted about apologizing.
Trina McGee said she was mistreated during 'Boy Meets World'
RELATED: Danielle Fishel Gives a Big Difference Between Her Experiences on 'Boy Meets World' and 'Girl Meets World'
McGee joined the cast of Boy Meets World in season 5. She shocked many fans when she tweeted about her time working on the show in January of 2020.
"I signed with the same agent and feel completely bamboozled and blocked from the money. Sick games. Was even told that the reason I wasn't included was because I wasn't signed to a booking agent. I sign and the crickets get louder. No malice just point blank truth and real talk," she tweeted.
"Called Aunt Jemima on set during hair and make up. Called a bitter b*tch when I quietly waited for my scene to finish rehearsing that was being f'ed up over and over due to episode featuring my character. Told 'it was nice of you to join us' like a stranger after 60 episodes," McGee added.
The characters from the show returned for Girl Meets World. McGee also returned for one episode. But she claimed she wasn't treated better.
"Said happy hellos to be greeted with blank cold stares. Dissed for believing in God in front of extras. F*ckery was real. All truth. stayed nice. Not mad. Just feeling free to comment on 20 plus years of disrespectful behavior.#Trinamcgee #realtalk #shameonyou #imdonebeingnice," she tweeted.
Fans who trying to find out who mistreated McGee. She claimed it wasn't Rider Strong, who played Shawn Hunter.
Danielle Fishel apologized to her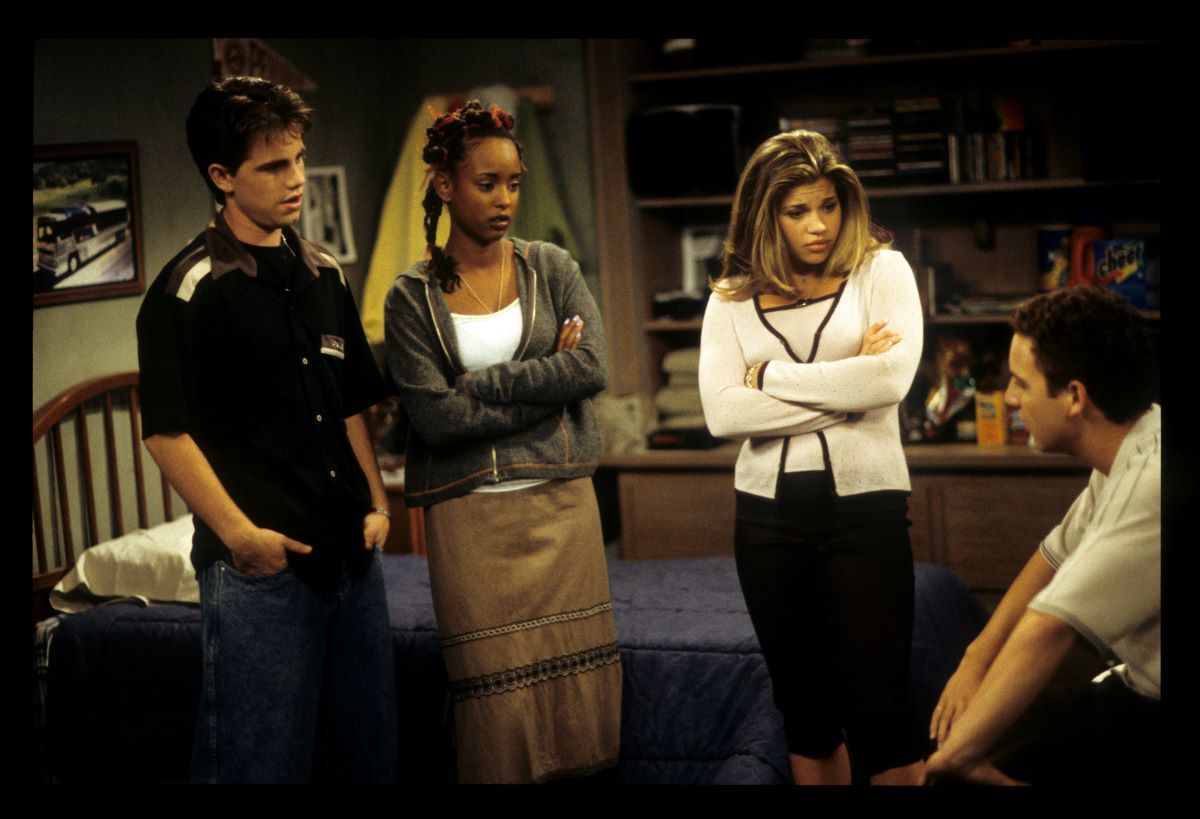 RELATED: 'Boy Meets World' Star Will Friedle Comments "I Love You, Trina" After Co-Star Trina Mcgree Accuses Him of Mistreating Her On-Set
McGee eventually revealed it was Will Friedle, who played Eric Matthews, who called her Aunt Jemima. She claimed they later talked about it and the actor apologized, according to BuzzFeed. McGee also said Fishel was rude to her on set.
Fishel recently posted supporting Black Lives Matter on June 1. One person replied with "You going to apologize to Trina or??" The actor responded by tweeting "I owed @realtrinamcgee an apology for being rude, cold, & distant when she guest starred on GMW (her tweet regarding warm hellos being met with cold blank stares was about me). Trina and I spoke over a month ago and she gracefully accepted my apology" on June 7.
McGee responded to Fishel's Black Lives Matter thread with a thumbs up emojji and hearts on June 10. It looks like McGee's thread led to multiple apologizes from the cast members.