Brad Pitt and Jennifer Aniston's Doomed $1M Wedding Included a Gospel Choir and Fireworks
Learn the lavish details of Brad Pitt's wedding to Jennifer Aniston.
A fairy tale wedding is something we all dream about, and celebrities spend thousands, or sometimes even millions, of dollars on their dream weddings. Unfortunately, those marriages do not always last forever.
This is true for even the almost too perfect together couple, Brad Pitt and Jennifer Aniston. It was twenty years ago this month that the golden Hollywood couple got married with an elaborate Malibu ceremony at sunset. Since then, Pitt and Aniston's marriage has come to an end.
Brad and Jennifer doomed from the beginning 
As many skeptics believe, something that seems too good to be true from the beginning is bound to fail. Is this what happened with the (what everyone thought to be) the perfect Hollywood couple? After all, Aniston revealed during a 2004 interview with Diane Sawyer on ABC's Primetime that she knew that she and Pitt were meant to be together from their first date in 1998.
Although the couple tried to keep their relationship out of the public eye, in the beginning, they made their first public couple appearance at the 1999 Emmy Awards. Only a few months after making their relationship official, the couple announced their engagement in November 1999.
On July 29,2000, the couple was exchanging vows atop a bluff in Malibu, California. People estimated the extravagant ceremony at a one million dollar price tag. The next big announcement from the couple was Pitt and Aniston's divorce in 2005. 
The details of their $1M wedding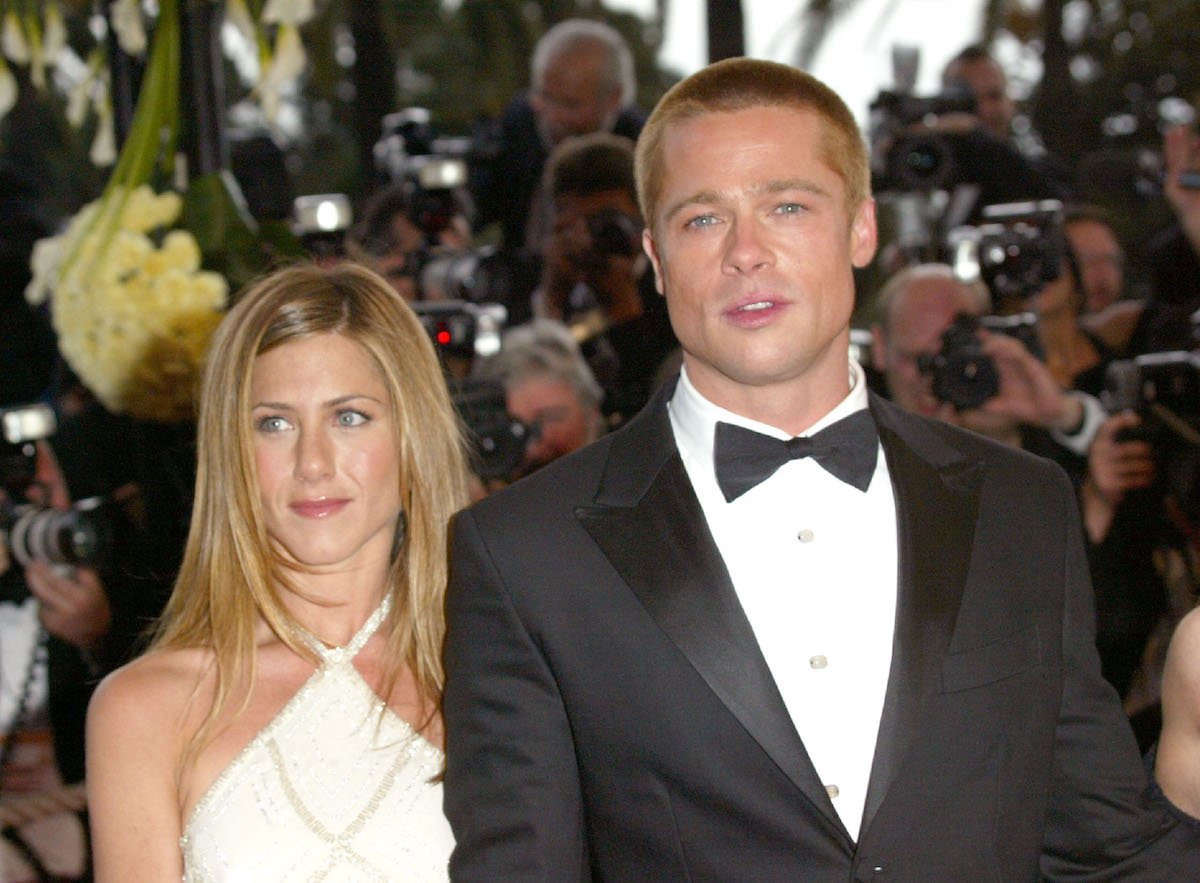 Pitt and Aniston may have tried to keep the details of their amazing Malibu wedding private, but eventually, the details of the impressive ceremony slipped out. When attending the much anticipated Hollywood couple's wedding, the almost two hundred guests enjoyed four bands and a fantastic firework show.
With the focus on security, Pitt and Aniston had guests shuttled from Malibu High School to the five-acre property they rented for their big day. Guests were greeted with classical music from a string quartet and 50,000 flowers thoughtfully placed throughout the property.
Aniston walked down the aisle carrying a beautiful bouquet of Dutch Vendela roses after a six-piece band backed up by a 40-member gospel choir sang Al Bowlly's 1930s classic "Love Is the Greatest Thing." Pitt wore a four-button black tux by Paris designer Hedi Slimane for the special occasion.
The 15-minute ceremony was emotional with Jen and Brad sharing vows they had written to each other, which also included their quirky personalities. Such as Pitt's pledge to "split the difference on the thermostat" and Aniston's promise to make his "favorite banana milkshake." 
Jennifer Aniston's wedding dress
Aniston was stunning, walking down the aisle escorted by her dad, actor John Aniston. She sported a low-backed, floor-length gown designed by Lawrence Steele highlighted with glass-beads over the silk-and-satin.
She topped off her wedding gown with a circular veil draped from a pearl-and-Swarovski-crystal crown. Aniston's entire wedding day attire was specially crafted for the beautiful bride, right down to the pair of four-inch ivory suede Manolo Blahnik heels. 
The Milan-based dress designer Steele also designed the two bridesmaids' pale-green dresses and flower girls' cream silk frocks. 
Noted guests of Brad and Jennifer's wedding
By Aniston's side, she chose two of her best girls, actress Andréa Bendewald and documentary filmmaker Kristin Hahn-Stringer. By Pitt's side was best man and brother, Doug, a computer-company owner and their father, Bill.
Pitt covered the cost to fly his entire clan from Springfield, MO to celebrate with the couple. According to People, other high-profile celebrities on the guest list included Courteney Cox Arquette, David Schwimmer, Matthew Perry, Lisa Kudrow, Edward Norton, Salma Hayek, Cameron Diaz, Kathy Najimy, and comedian David Spade.