Brad Pitt and Leonardo DiCaprio Shared Some Bromance Bonding With This Unlikely Hobby
Once Upon A Time In Hollywood stars Brad Pitt and Leonardo DiCaprio struck up quite a bromance when they partnered for Quentin Tarantino's 2019 film. The A-list bachelors clearly enjoy each other's company professionally and personally, where they both seemed to bond over a specific creative craft outside of acting.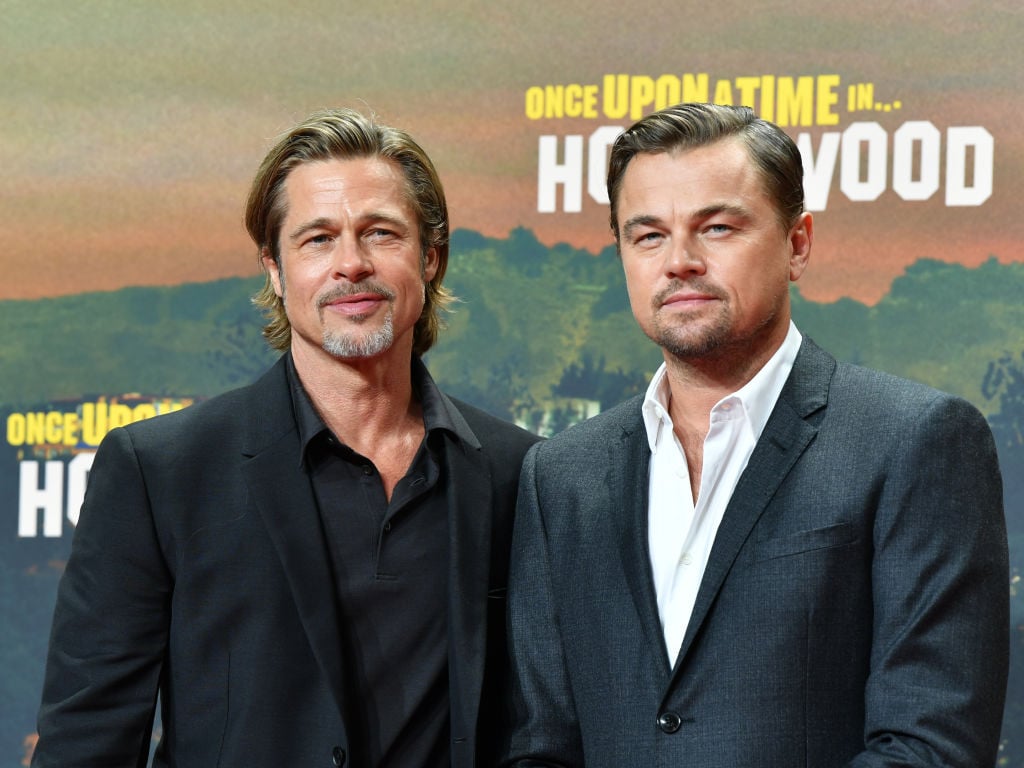 Oscar winners felt a connection to their characters
Portraying aging actor Rick Dalton, DiCaprio noted that he could relate to the character's fragile celebrity status in Tarantino's film. With Pitt as Cliff Booth, Dalton's friend and longtime stunt double, the two found comforting familiarity playing the roles of movie actors.
"You come to Hollywood and you're basically isolated and left to your own devices," DiCaprio told The New York Times in 2019. "[Rick and Cliff] rely on this friendship for everything. We immediately fell into those shoes. We understood that relationship so quickly that on the first day, we were those guys."
Pitt apparently felt the same simpatico with DiCaprio. "It was pretty automatic," he said. "We both came on the scene around the same time, we have crossed paths many times, we have the same reference points. So there's automatic comfort in having experienced the same thing in that way."
RELATED: Brad Pitt's Role in 'Se7en' Was Turned Down by This Academy Award-Winning Superstar
Brad Pitt's new way of life
In a revealing 2017 interview with GQ, Pitt talked about life following his high-profile split from Angelina Jolie in 2016, and getting used to a home without his six kids around on a daily basis.
"This house was always chaotic and crazy, voices and bangs coming from everywhere," Pit said. "Then, as you see, there are days like this: very…very solemn."
The Fight Club star shared how he was channeling his energy into more healthy outlets following his divorce. "I think everyone's creative in some way," Pitt explained. "If I'm not creating something, doing something, putting it out there, then I'll just be creating scenarios of fiery demise in my mind. You know, a horrible end."
RELATED: Brad Pitt Called His Film With Harrison Ford 'The Most Irresponsible Bit of Filmmaking I've Ever Seen'
The actor described one hobby he had taken up that proved to be therapeutic. "I've been going to a friend's sculpting studio, spending a lot of time over there," Pitt shared. "My friend [Thomas Houseago] is a serious sculptor. They've been kind."
Oscar pals at the pottery wheel
Turns out DiCaprio enjoys some sculpting every now and then as well. In July, UK's The Sun reported that the two Once Upon A Time In Hollywood co-stars were spending time together pouring over pottery designs.
"Brad's got his own sculpting studio at his house and Leo loves coming over to use it," The Sun's source told the outlet. "They sometimes hang out with Brad's artist pals, but other times it's just the two of them. Leo brings sandwiches over from their favorite place, Fat Sal's, and they spend their boys' nights creating art until the early hours."
Apparently, Pitt and DiCaprio's ceramic creations showed some real promise. "The film has been quite exhausting for Brad and Leo, so it's been nice to see them strike up a friendship," the source commented. "Some of the pieces could even get on the market."
RELATED: Why Brad Pitt Chose to Star in 'Babel' Over This Blockbuster With Leonardo DiCaprio
The two superstars are clearly sticking with acting for now, but their creative crafting could always be a great side gig and a perfect way for these bros to bond.