Brad Pitt Became Emotionally Distant After Jennifer Aniston Finished Filming 'Friends'
In a 2005 interview, Jennifer Aniston revealed that Brad Pitt did not emotionally support her when 'Friends' ended.
Jennifer Aniston and Brad Pitt were married for five years and they divorced in 2005. The couple's relationship was highly publicized, and in September 2005, Vanity Fair interviewed Aniston after her separation from Pitt. Aniston detailed her viewpoint from falling in love with Pitt to how she moved on following their breakup. In the interview, the actress revealed that Pitt did not support her the way she needed after Friends went off the air.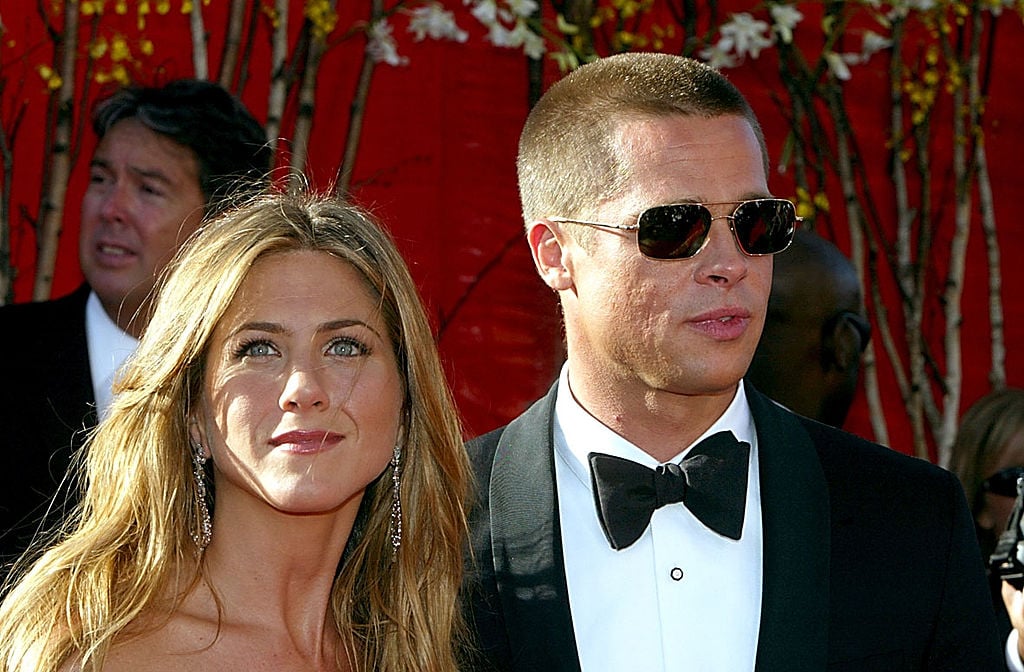 Brad Pitt was not there for Jennifer Aniston
For 10 years, Aniston starred as Rachel Green in Friends, and she is still close with her co-stars, Courteney Cox, Lisa Kudrow, Matt LeBlanc, Matthew Perry, and David Schwimmer. However, the show ending still felt like a loss for Aniston.
"That was really painful. It was a family, and I don't do great with families splitting up," Aniston told Vanity Fair. "It was hard to have such a wonderful constant in your life, a place to go every day, and then all of a sudden it's not there."
While Aniston grappled with the ending of Friends, Pitt began to withdraw from their marriage.
RELATED: Jennifer Aniston's Advice to Her 30-Year-Old Self is Great for Anyone
"He just wasn't there for me," Aniston said.
The actress told Vanity Fair that Pitt did not show up to the final taping of the show, a move that shocked people in her life.
"He was working," she said.
The actress continued her optimistic outlook after the divorce
Aniston is often known for her optimistic worldview despite the hardships she has endured. Divorcing Pitt of course hurt Aniston, but at the time of the Vanity Fair interview she said she would not change what she went through.
"I would be a robot if I said I didn't feel moments of anger, of hurt, of embarrassment," Aniston told the publication. "I wouldn't change my heartaches, I wouldn't change my successes. I wouldn't change any of it, because I really love who I am, and am continuing to become."
She also told Vanity Fair that she did not want to be consumed by the divorce.
"This doesn't kill you. You move on. You can't let the devastation of a divorce take over and win—let it make you this bitter, closed-off, angry, skeptical person. Then you're just falling victim to it. You don't want to shut your heart down. You don't want to feel that when a marriage ends, your life is over," Aniston said. "You can survive anything. Compared to what other people are surviving out there in the world, this is not so bad, in the grand scheme of things. Human endurance is unbelievable."
Jennifer Aniston does have a few regrets about her marriage to Brad Pitt
In the interview with Vanity Fair, Aniston made it clear that she did not regret falling in love with Pitt, and the actress hoped that one day the two would be able to be friends following their divorce. Looking back, the actress did admit that she would have tried to put more of her needs first in their marriage.
"I wouldn't give over so much of myself, which I did at times. It was that thing about being a nurturer; I love taking care of people, and I definitely put his needs before mine sometimes. It's seamless; somewhere along the way, you sort of lose yourself. You just don't know when it happens. It's such an insidious thing, you don't really see where it started—and where you ended. There's no one to blame but yourself," she said.
Aniston continued, "I've always been that way in relationships, even with my mom. It's not the healthiest. I feel like I've broken the pattern now. I'll never let myself down like that again. I feel like my sense of self is being strengthened because of it."