Why Brad Pitt Was Once Jealous of Matt Damon
Between Brad Pitt and Matt Damon, one could argue that Pitt is a slightly bigger star than Damon is. Pitt has been in the mainstream spotlight slightly longer than Damon has after all. Apart from that, Pitt forming a powerful married couple with Angelina Jolie only heightened his popularity. Although Pitt's rich enough to have almost anything he wants in the world, there's one thing about Damon's life he wishes he could have.
Why was Brad Pitt jealous of Matt Damon?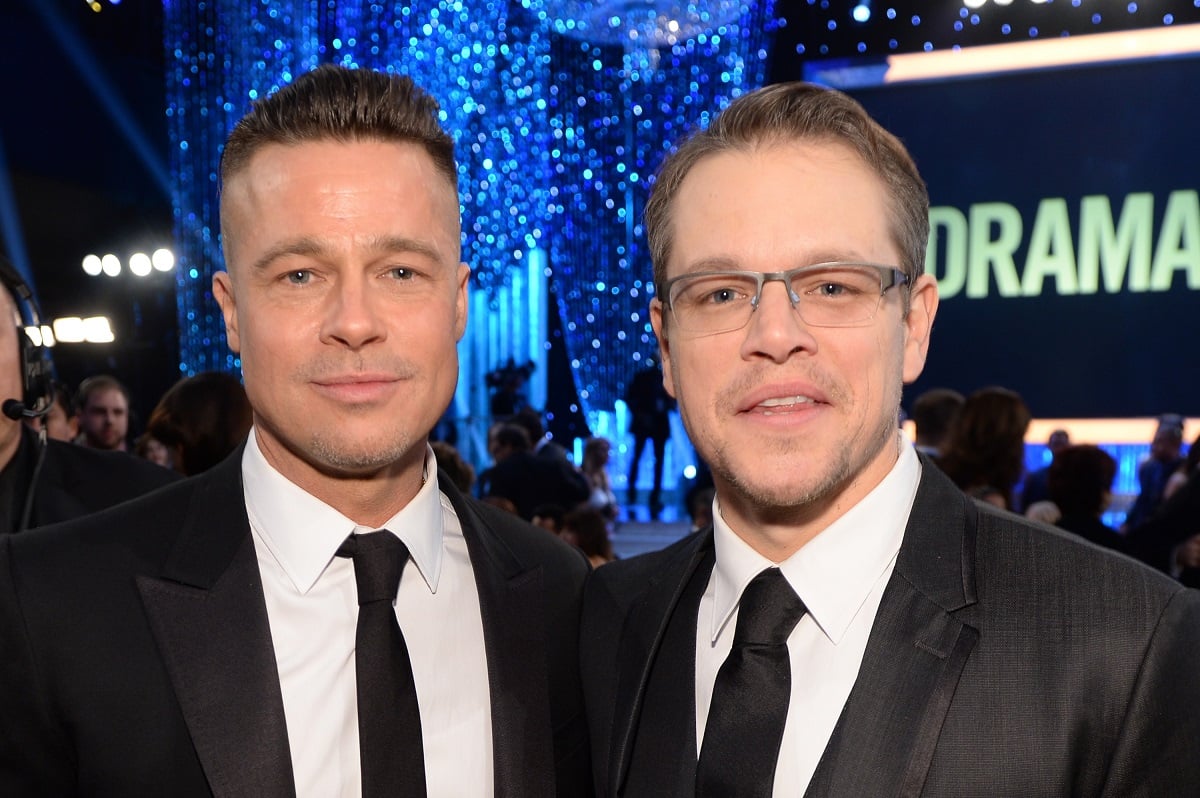 Good friends Brad Pitt and Matt Damon have a lot in common. They're both huge movie stars with Oscar accolades to their names, and have been praised for their down to Earth attitudes. However, despite both of them being famous, their approach to fame has been vastly different. At the very least when it comes to their personal lives.
Matt Damon, for instance, married someone outside of the industry in Lucy Damon. Lucy was a bartender at the time she met Damon in 2003. Almost 19 years later, the two are still married and share four children together.
Meanwhile, Brad Pitt dated Angelina for ten years before marrying her in 2014. They formed the power couple Brangelina, which was surrounded by scandals and numerous rumors since they first got together. But because of Pitt's lifestyle, there are certain things that Damon is able to do that Pitt can't.
In an interview with Esquire, Damon once revealed the differences in celebrity between him and Pitt.
"If you can control the celebrity side of celebrity, then it's worth it," Damon said. "I look at Brad – and I have for years – and when I'm with him I see the intensity of that other side of it. And the paparazzi and the insane level of aggression they have and their willingness to break the law and invade his space — well, I wonder about that trade."
Damon then recalled a brief exchange with Pitt, where Pitt conveyed jealousy over the Bourne Identity star's ability to travel publicly.
"I remember telling him that I walk my kids to school, and his face just fell," Damon said. "He was very kind, but he was like, 'You bastard.' Because he should be able to do that, too. And he can't."
Matt Damon 'got lucky' with his celebrity
Esquire noted that Damon's life was less chaotic than Pitt's for a number of reasons. He lived in New York at the time, away from the more celebrity-centric Hollywood. The Departed star also credited his marriage for his quieter life.
"I got lucky," Damon said. "I fell in love with a civilian. Not an actress and not a famous actress at that. Because then the attention doesn't double – it grows exponentially."
For Damon, living a normal, regular life doesn't lend the media much material to work with.
"But I don't really give them anything. If I'm not jumping up and down on a bar, or lighting something on fire, or cheating on my wife, there's not really any story to tell," Damon shared. They can try to stake me out, but they're always going to get the same story — middle-aged married guy with four kids. So as long as that narrative doesn't change too much, there's no appetite for it."
Is Matt Damon's net worth higher than Brad Pitt's?
Matt Damon has accumulated a hefty sum over the course of his career. According to Celebrity Net Worth, his work has netted the star $170 million over the years. This is in no small part thanks to the Bourne Trilogy, which alone earned Damon $87 million.
However, Celebrity Net Worth asserts that Brad Pitt's earnings are higher than Damon's. Pitt's net worth is $300 million. This is due to his pedigree as an actor. Celebrity Net Worth claimed that Pitt earned $20 million per movie as a leading man after becoming an established actor. Although he took a pay cut to star in Ocean's Eleven, he received a percentage of the movie's backend receipts. This had him earning over $30 million for the film.
Celebrity Net Worth also notes that Pitt is a successful producer. So much so the website theorized that it's possible he earned more for producing than he has for acting.
RELATED: Why Matt Damon Never Used His Trailer While Making 'The Last Duel'