Why Brad Pitt's Acting Method Means He Can't Recite His Most Famous Lines: 'I Delete the Files'
Brad Pitt has come a long way as an actor. He almost got kicked off the set in one of his first films, but he has gone on to win multiple Oscars. Pitt's acting career goes back to the late 1980s and includes dozens of TV and movie roles, so he's delivered thousands of lines over the years. Just don't ask him to recite any of them off the top of his head because Pitt's acting method includes "deleting the files."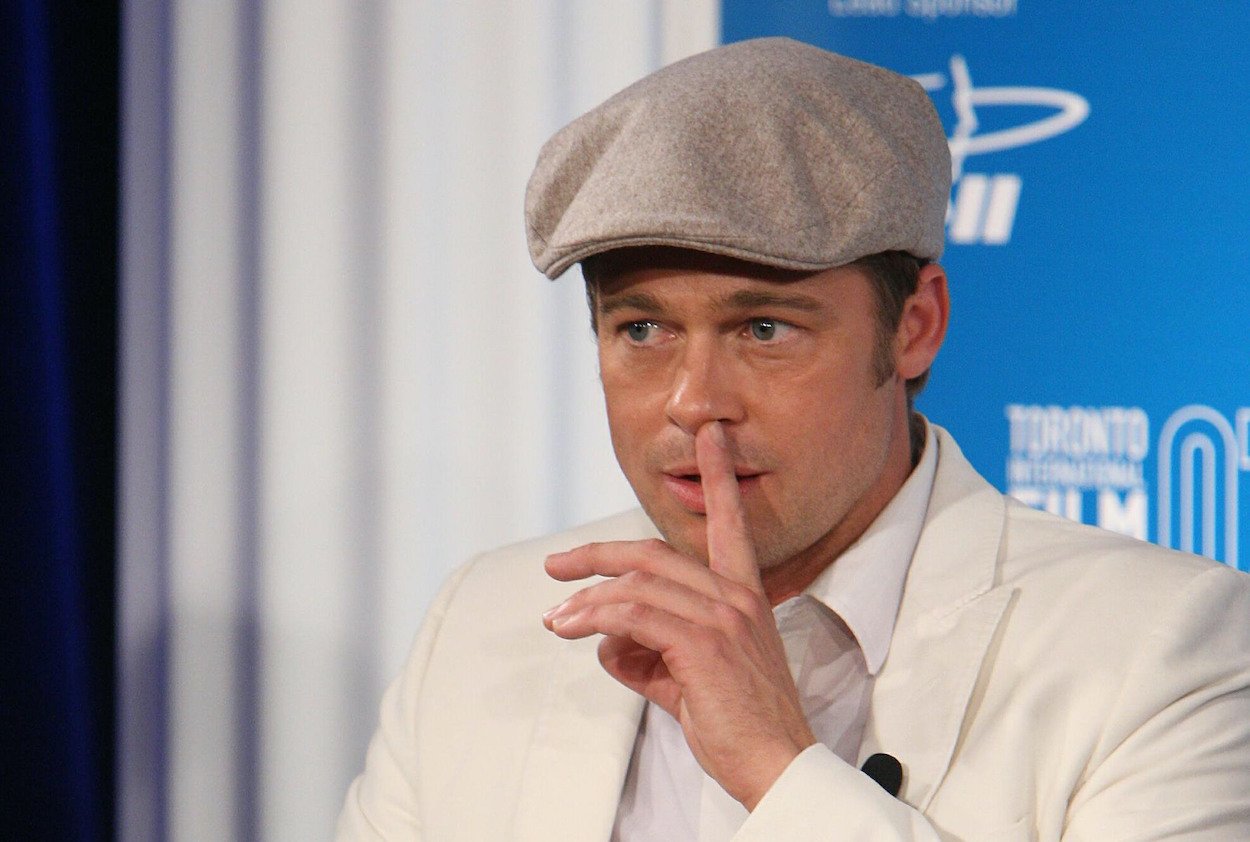 Pitt's process of getting into character while filming
Like many newcomers, Pitt had ups and downs when his acting career started. One casting director told him to take acting lessons. He had uncredited movie parts, one-off appearances on TV shows, and a few TV movies to his name, but it took his low-paying part in Thelma & Louise for him to break through. Pitt's career took off from there, and he later revealed he has a unique method for connecting with the characters he plays.
In a conversation with Jeffrey Brown of PBS NewsHour (via YouTube), Pitt said he chooses one line from each script that represents the heart of his character.
"It's funny, I do, with each film, have one line from the script that I hold onto throughout the film because I hear the character in the one line," Pitt said.
Pitt relies on one line to find the heart of his character, but don't ask him to recite any of his famous movie quotes. Pitt's acting method has him move on once he leaves the set and the film is in the can.
Pitt's acting method has him 'delete the files' when he finishes shooting
Pitt's acting career is full of outstanding movies that are nearly universally acclaimed, such as A River Runs Through It, Se7en, Fight Club, and Moneyball. Just don't put him on the spot and ask Pitt to recite any lines his characters said.
During the conversation with PBS, Brown asked Pitt which movie line was important or meant something to him. Pitt chuckled, looked to the ceiling, and admitted he lets go of a character as soon as shooting wraps.
"Oh my God, I'm so bad at that," Pitt said. "I kind of delete the files when I finish the film, and I just reboot for the next one." 

Brad Pitt
Later in the interview, which happened in 2019 around the time Ad Astra and Once Upon a Time… In Hollywood hit theaters, Pitt tried to recall which line from the script he used to get into his Once Upon a Time character. He couldn't do it.
"I eject," Pitt said. "I delete, I eject, and I move on."
Pitt's acting method includes wiping the slate clean, but there is one line that has remained with him for years.
One line a character said remains with him
So Pitt erases lines from his memory so he can wipe the slate clean and start fresh as he prepares for each role. But that doesn't mean his brain is a black hole gobbling up movie dialogue and sending it into the void.
There is one line he remembers, and it might not be a line most fans immediately think of.
It's not, "You do not talk about Fight Club," or "What's in the box?" from Se7en. It's not, "When your enemy is making a mistake, don't interrupt him," from Moneyball.
No, the movie line Pitt remembers most is one he called poetic and beautiful from 2007's The Assassination of Jesse James By the Coward Robert Ford, as he revealed to Brown.
"I don't have [a quote] that means anything to me, but I think of the poetry of Jesse James, and there was a line that said, 'I look at my mean hands and my red face, and I wonder about that man that went so wrong.' I just thought it was beautiful."
There you have it. Pitt's acting method has him delete his character's line from his memory, but one piece of dialogue has remained with him over the years.
RELATED: 'Cry-Baby' Isn't the Only Movie Brad Pitt Was Too Pretty For