Bradley Cooper Was Way More Involved in the Making of 'Joker' than You Realized
Joker fans, you have Bradley Cooper to thank for your new favorite film.
The divisive discourse around Joker made the film one of 2019's most-talked-about releases. We're certain the Clown Prince of Crime himself would get a kick out of the chaos his (first?) solo film caused. First, of course, Joker led to a lot of prerelease concern about potential security concerns. Then, since its October 2019 release, its extraordinary success has only heightened the discussion.
Warner Bros. played an uncertain hand when it gave director Todd Phillips the green light for Joker. The $55 million wild card paid off to the tune of a worldwide box office take of more than $1 billion. Moreover, the film earned an unexpected 11 Oscar nominations and is all but certain to provide star Joaquin Phoenix with his first Oscar win.
Joker is largely the product of Phillips and Phoenix's partnership. But it also had some unexpected assistance from producer Bradley Cooper. In fact, Cooper was even more hands-on than Joker fans might realize.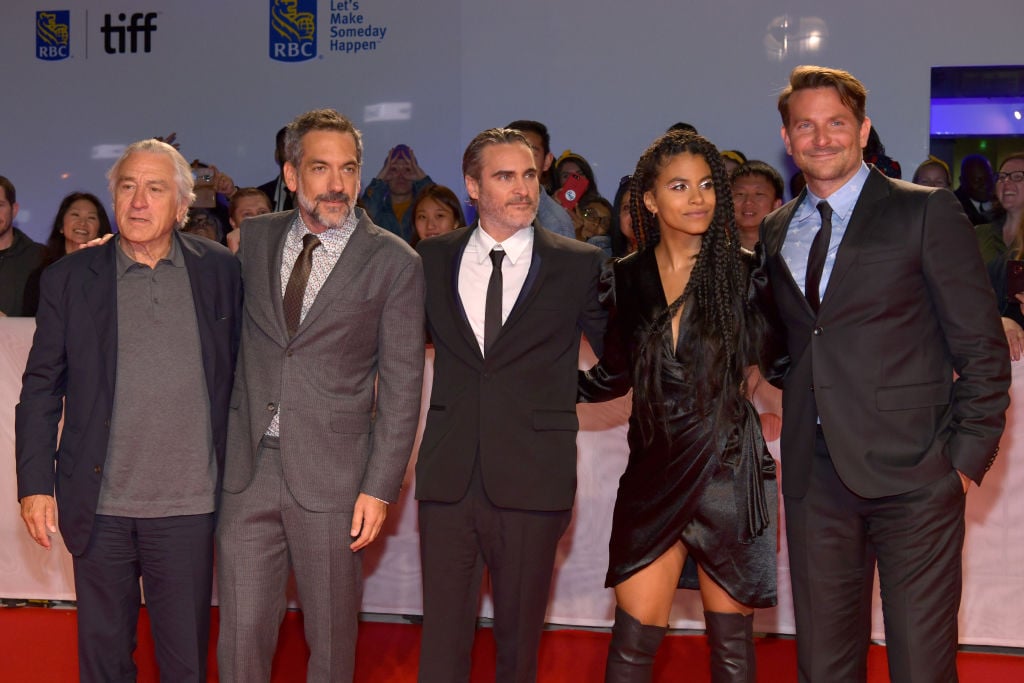 Todd Phillips and Bradley Cooper have a long history
Cooper has served as a producer on films in the past. However, these projects have traditionally been ones in which he appears on-screen in at least a small role. Limitless, Silver Linings Playbook, and American Sniper all credited Cooper as a producer.
However, he doesn't show up at all in Joker. So fans might wonder why the actor/director lent his name to the film. Phillips actually directed one of Cooper's most popular films, 2009 comedy The Hangover, and its sequels. So there is precedent for the two to collaborate on a long-term project.
After Cooper's Oscar-winning directorial debut, it makes sense why Phillips would seek out his friend and colleague to lend a guiding hand. After all, Phillips had mostly focused on comedies such as The Hangover trilogy. And Cooper had just proved with A Star Is Born he has a deft touch for dramatic storytelling.
Bradley Cooper's role in the production of 'Joker'
Yet, it's never clear what a producing credit means for an individual's contribution to a project. In the case of Joker, Cooper proved instrumental in the editing process. Collider recently spoke with the movie's editor, Jeff Groth, and he revealed a glimpse behind the scenes of Joker.
For instance, Groth and Phillips didn't rely on the traditional "friends and family" screenings that typically precede a film's release. Instead, they worked hard to protect the mysteries behind Joker.
"We kept this one pretty close to us. We screened it more personally for people and filmmakers," Groth told Collider. "Bradley Cooper definitely came in a couple of times. … We could call him if we got stuck with something and be like, 'Hey, can you come over and take a look at things?'"
Groth goes on to say Cooper watched the film with them "many times" and had a meticulous eye for the details.
"He doesn't miss a thing," Groth said. "He would watch stuff and pick out even some of the smallest things and what are some of the things that can be picked out for us to address. He was definitely a huge help. I think he got a lot more experience in editing than most people would realize."
Joaquin Phoenix also assisted with editing
Given the ambiguity baked into the core of Joker's storytelling, Groth welcomed all the help. In fact, Phoenix himself lent a hand in crafting the film's final edit.
I think probably he was in the edit room more than any other actor that I've worked with… What was interesting to have him come in is that he would always be looking to get the feeling from what was on screen to mimic the feeling that he had on the day [he shot it]. It was a really interesting perspective to have in the room. Of course, you're putting together what you're putting together, but then to have somebody saying like, 'I lived that moment and here's what I'm feeling.' It's another interesting perspective, so kudos to Todd for having him come in.
Best Film Editing is one of Joker's 11 Oscar nominations. So clearly Groth's work — as well as the Cooper's and Phoenix's assistance — paid off. We'll see on Feb. 9 which trophies Phillips and his team win. If the film picks up Best Picture, Cooper will finally become an Oscar winner himself. Despite eight nominations, the actor/director/producer has yet to win one.