'Cinderella': Whitney Houston Was Supposed To Play the Disney Princess, Not Brandy
Impossible things are happening every day! At long last, the Brandy Cinderella (aka Rodgers and Hammerstein's Cinderella) is arriving on Disney+ on Feb. 12. The beloved Whitney Houston and Brandy Norwood-led musical premiered in 1997, and fans have wondered why it's not on Disney+. Come Feb. 12, they can watch it to their heart's delight.
One fascinating thing about the film is that Brandy wasn't supposed to play Cinderella at first—Houston was slated to take the title role. So, how did she end up playing the Fairy Godmother?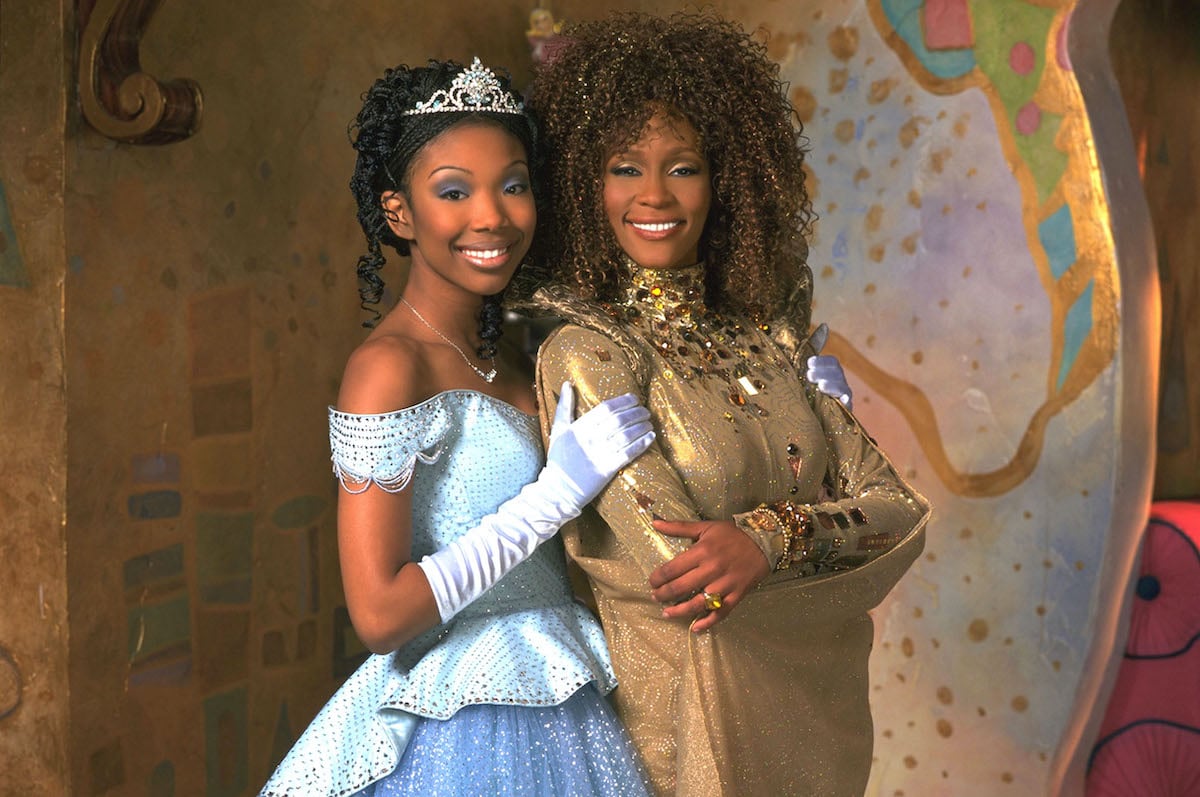 Is Brandy 'Cinderella' on Disney+?
The movie musical was part of ABC's Wonderful World of Disney series. It debuted on on Nov. 2, 1997 on the network, meaning it never came out in theaters.
It frequently played on TV, and real fans know there's been a grainy version on YouTube for years. Now, the film will soon be available to stream on Disney+ and will be included in its "Celebrating Black Stories" collection.
Brandy herself announced the exciting news on The View with her Cinderella co-star, Whoopi Goldberg on Feb. 4. She said:
"To be cast as the first Black princess in a multi-cultural cast of diverse artists telling this amazing, iconic story—at the time I didn't really grasp it all because my dreams were coming true at the same time, but the impact that it had on me and the lives of so many families and girls that look like me was just unbelievable."
Who produced 'Cinderella' with Brandy?
Brandy made history as the first Black woman to play Cinderella on screen. The movie had a famously diverse cast, which was a rarity in the '90s. Keke Palmer later made history when she was the first Black woman to play the princess on Broadway in the revival of the Rodgers and Hammerstein classic.
The Brandy Cinderella was nominated for seven Emmys, winning the Outstanding Art Direction for a Variety or Music Program category. In addition to starring in the film, Houston served as the executive producer.
"My childhood dreams were to be a singer, touch as many people as I could and to meet Whitney Houston, just meet her," Brandy told People in August 2020.
"So to meet her, hang out with her and sing with her," the star continued, "it was unbelievable. For her to cast me in such a role, the first Black princess, I don't know the words to really describe what that feels like."
Whitney Houston chose Brandy to play Cinderella
Houston was the main reason the movie was made. She first tried to get it off the ground in 1993. It was even her idea to make it a TV movie, and she planned on playing Cinderella herself, as she shared in a behind-the-scenes video.
The movie wasn't green-lit until four years later, when Houston was 33. At that point, she felt she had aged out of the role and suggested Brandy to the producers instead. She called the young singer to offer her the role, and Brandy left her on hold to freak out over the call.
"Whitney called me at home on my house phone in Carson, California. Imagine — anyone could have picked up!" Brandy said in a 2017 with Shondaland. "Luckily I grabbed it, and I hear Whitney on the other end, 'Brandy, what do you think about being Cinderella?' 'Cinderella-Cinderella?' I asked."
She continued:
"And she said, 'Yes, I think you would be great in this role.' I mentioned that I thought she was going to be Cinderella, because it was going around that the movie was going to be made. I'd heard through the grapevine that Whitney was going to be Cinderella, and I thought that was great casting. But she said, 'No, I'm gonna be your Fairy Godmother.'"
As the Moesha alum added, "I screamed at the top of my lungs and ran all around my house. I left Whitney Houston on hold!"
Brandy also told the "I Wanna Dance With Somebody" singer she would only play the princess if she played the Fairy Godmother. And the rest is history.