Bravo's 'Camp Getaway': Nile Lundgren Reveals He Partied With Kyle Cooke From 'Summer House' in College
Nile Lundgren from Camp Getaway revealed that he went to college with Kyle Cooke from Summer House and the two used to party together.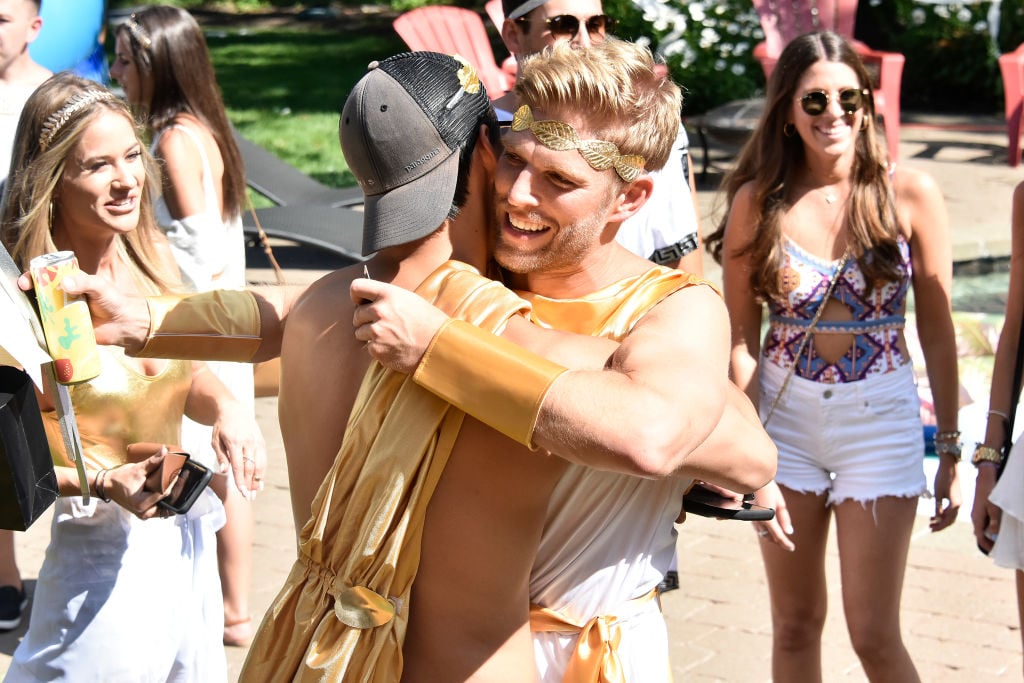 Apparently they both attended Trinity College in Hartford, Connecticut where Cooke studied Political Science and Architecture. Cooke was also in the fraternity, Psi Upsilon. Lundgren studied English at the school and they both attended between 2003 and 2006.
Both Lundgren and Cooke live in New York and share the attitude that "summer should be fun." Lundgren dished about knowing Cooke and even joked about how he'd swap out senior social coordinator Adam Mizrahi for Cooke.
They partied together in 2003
Lundgren revealed to Amir Yassai on Instagram that he knew Cooke. Yassai played a game with Lundgren, asking him if he could replace any of his friends from Camp Getaway from someone from another Bravo show, who would get replaced?
Lundgren told Showbiz Cheat Sheet he really enjoyed getting to know Mizrahi. But he shared with Yassai that he'd give Mizrahi the boot. "If I was going to replace anybody, I would replace Adam with Kyle Cooke," he explains. "The reason is that Kyle and I actually went to college together. So we used to party back in 2003. We were buddies and we used to all hang out."
"He was at a fraternity that was like a rival fraternity of mine," Lundgren continues. "We'd all party together. But I just think Kyle's an awesome personality and he brings a lot to the table."
Lundgren wants to see other Bravo shows come to camp
Lundgren jokes about how he and Cooke are ready to bring it, whereas Mizrahi just wants to chill by the lake with a beer. "I think Adam is a great guy like I've gotten to know him and I think he's a really awesome guy. I was a little skeptical at first."
"But I think he's very much in camp mode," Lundgren continues. "Which is like, 'Let's just chill.' Like, 'Let's just drink beer and go by the lake.' So he's not as action-driven. I'm like, 'Where's the party? Can I push any buttons over here?'"
Not only does Lundgren think Cooke would be a good addition, he thinks Bravo should feature all the shows at camp. "I think what we should do is if we do a next season, we should have all of the Housewives, we should have Summer House come visit us, I think that would be amazing. Andy [Cohen] if you're listening, let's make it happen buddy."
Maybe Lundgren should join the next 'Summer House' virtual party
Carl Radke from Summer House recently shared with Showbiz Cheat Sheet that the cast creates and implements all the wild parties seen on the show. "Even the parties you watch on the show, we put a lot of effort into planning and preparing for those," he said. "They don't show it as well as I'd like, but a lot of the weight of those plans falls on us."
The cast of Summer House recently led a Zoom party along with cast members from Vanderpump Rules and Southern Charm. The party drew more than 500 participants and a huge response from excited fans. Radke shared that the group may host another virtual party in the coming months.
"I'd love to do another one, but we just don't know what that looks like just yet," he said.