'Breaking Bad' and Fried Chicken: 10 TV Shows and the Food They Make You Crave
Breaking Bad was a genre-defining TV series. It also included some of the best-looking fried chicken on the silver screen. So many TV shows — and not just cooking shows — feature food either as a sort of character quirk, or a detail that helps define the series' tone and setting. And when it works, it works. In fact, sometimes it works too well, to the point where you're binge-watching Breaking Bad again and wishing on a star that Los Polls Hermanos were a real restaurant.
Here are the top 10 non-food-related TV shows that still make your mouth water — and the foods that you want while watching them.
1. 'Breaking Bad'
Fried chicken. The tricky part of bingeing this show, other than the emotional rollercoaster you're taken on, is the fact that Walter White utilizes a fried chicken joint, Los Pollos Hermanos, as a front for his, you know, hustle.
Whoever the food stylist on Breaking Bad was? Great work. The chicken looks simply delectable.
(Also an acceptable answer: roof pizza.)
2. 'Riverdale'
Diner milkshakes! Riverdale really, really wants you to buy into their Twin Peaks/50s-diner aesthetic. Which is probably why those kids who all look like models are chugging chocolate milkshakes the size of their face every time they hang out.
It doesn't make sense, but then again, neither does your supersonic metabolism in high school. (Neither does the plot of the show Riverdale, most of the time).
3. 'The X-Files'
Sunflower seeds. From the pilot episode of The X-Files on, Agent Fox Mulder is obsessively munching on those seeds whilst working on the spookiest cases in the FBI.
For this one, it's less about the food itself and more about the character aspect to the habit. It's not necessarily that you want sunflower seeds, it's that you want to be the type of person who is so committed to your search for the Truth that you don't have time for frivolous things like "meals."
Those aliens aren't gonna find themselves, after all.
4. 'The Good Place'
Froyo, of course! Much like Michael's fake "Good Place" in the first season of the show, frozen yogurt is cloyingly sweet, and not totally satisfying. (It's no ice cream, we'll say that).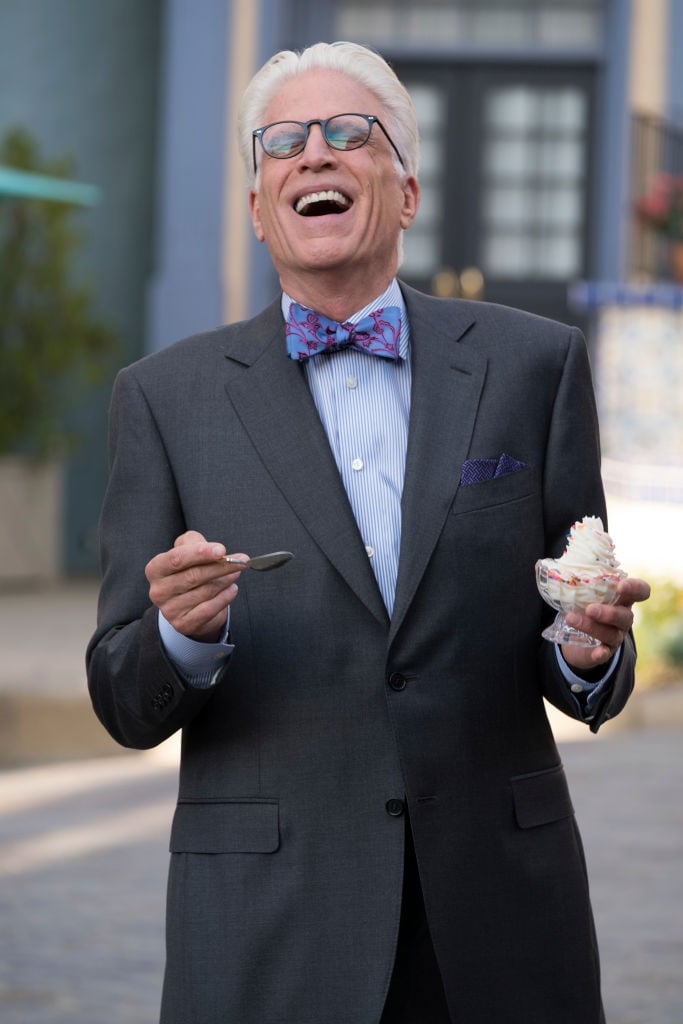 Also, similar to the main characters of The Good Place finding themselves in "heaven," you'll find yourself eating froyo — which somehow always ends up with way too many conflicting toppings — asking yourself: "how did I get here?" But it's sugar, and that's a lot to think about, so you carry on.
5. '30 Rock'
Night cheese is a solid option for 30 Rock viewing. (If you're not familiar, that's when you eat hard cheeses in a Snuggie in the middle of the night while singing "Workin' On My Night Cheese.")
See also: putting a doughnut in the microwave.
But the ultimate answer to honor Liz Lemon? It has to be the Cheesy Blasters.
As the commercial goes: "You take a hot dog, stuff it with some jack cheese, fold it in a pizza. You've got Cheesy Blasters!"
They don't exist in real life (except perhaps in some Frankenstein version in a Tasty recipe video) which makes the intensity of the craving that much stronger. We want what we can't have! Cheesy Blasters sound disgusting, but just disgusting enough, if that makes any sense.
Thanks, Meat Cat!
6. 'House of Cards'
Ribs. Ribs, ribs, ribs, ribs, ribs.
Early seasons of House of Cards showed Frank Underwood eating a lot of ribs. At all hours of the day. Often in the early morning.
It doesn't make logical sense — who wants ribs at 7 a.m.? And yet: if you happened to be binge-watching the series — perhaps you even stayed up all night doing so — you kinda got where Frank was coming from. Freddy's ribs looked downright tantalizing at any hour of the day or night.
7. 'Friends'
Coffee from Central Perk, of course.
(Also: cheesecake, just because of that one episode where they eat it off the floor.)
8. 'Gilmore Girls'
These gals from Stars Hollow knew how to eat. (Given their diets, it doesn't make any sense that either Lorelai or Rory Gilmore lived past age 30, but hey, that's the magic of television, right? Oh, to be able to eat like Rory and look like Alexis Bledel.)
While Gilmore Girls, it's impossible to name just one food. The CW show inspires cravings for an entire junk-food trifecta: Pop-Tarts, Luke's cheeseburgers (another fictional meal that we'll only find in dreams), and an outrageously extravagant display of movie-night candy.
9. 'Parks and Recreation'
Duh, waffles! (TV characters love a diner, huh?)
To quote the great Leslie Knope and Ron Swanson:
"Why would anybody ever eat anything besides breakfast food?"
"People are idiots, Leslie."
(Calzones, we regret to inform you, are not an acceptable answer.)
10. 'Scandal'
Red wine and popcorn. But you knew that already.