'Bridgerton': Phoebe Dynevor Called this Sex Scene 'Miserable' to Shoot
Though it's been less than two months since Bridgerton premiered, it's clear that Netflix has a hit on its hands. The show has already been streamed by over 82 million households and has been renewed for season 2. Furthermore, much of the world is obsessed with the Bridgerton cast and can't stop buzzing about Phoebe Dynevor and Regé-Jean Page in particular. The pair, who play Daphne Bridgerton and Simon Bassett, have undeniable chemistry and their romance and sex scenes have sparked quite the dialogue.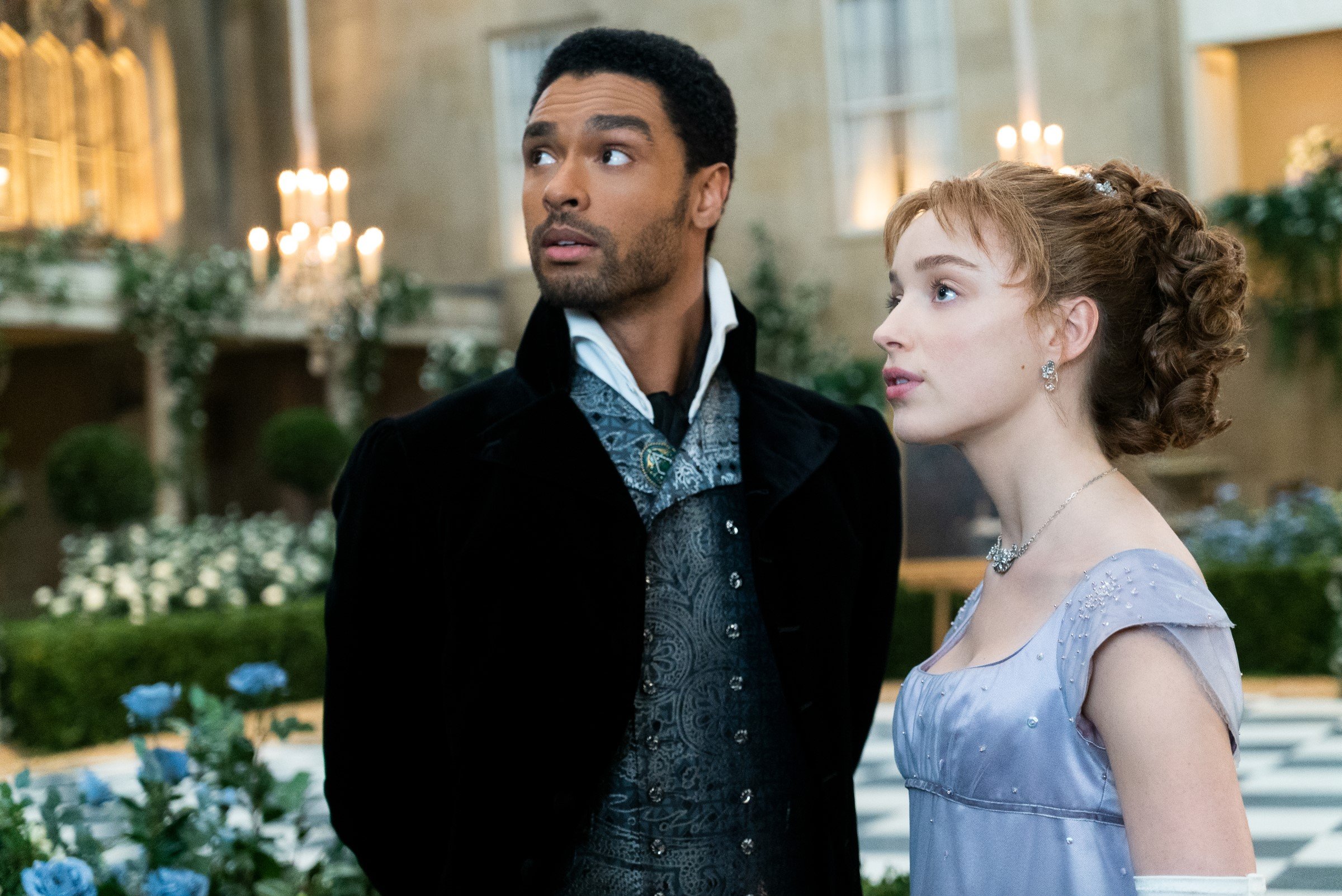 Though Bridgerton is set in the Regency era, the show brings a new type of vibrance to a typically restricted era. A prime example of this is the music that was utilized during the sex scenes. Fans quickly recognized instrumental renditions of modern songs from the likes of Taylor Swift, Ariana Grande, and more. But as fun and exciting as it was for fans of the show to watch the sex scenes, it wasn't always that way for the Bridgerton cast.
The 'Bridgerton' cast had the help of an intimacy coordinator for the sex scenes
Both Page and Dynevor have shared that the sex scenes weren't the hardest part of filming Bridgerton. Because the pair got comfortable with each other while filming dance scenes there was already a camaraderie between them before they started filming. Furthermore, because there was an intimacy coordinator on set, the more intimate scenes were highly-choreographed.
"Even the intimacy scenes were actually really easy to shoot because we knew exactly what we were doing — it was like blocking out a stunt," Dynevor shared in an interview with Shondaland. However, there was one scene in the first season of Bridgerton that Dynevor really struggled with. Funnily enough, it had nothing to do with the intimacy required and everything to do with the location and weather.
Phoebe Dynevor called this sex scene 'miserable'
"But I will say one sex scene that comes to mind is in episode six, when we're doing it outside and it's raining and it was freezing cold and I was very miserable," Dynevor shared. Page quickly chimed in to his fellow Briddgerton cast member. "In fairness, it wasn't meant to be raining," he shared. But Dynevor quickly fired back that Page wasn't remembering correctly. She continued on to remind him that there were two rain machines utilized for the sex scene that was filmed in the pagoda and her hair was wet for the entire exchange.
"I was miserable," Dynevor recalled about the scene. "I was like, 'Come on let's shoot this so I can get into pajamas and have a hot chocolate.'" We can certainly see how the elements made the scene spectacular to watch but not fun to film for the Bridgerton cast. It's a testament to Dynevor's talent and professionalism that fans couldn't tell that she was miserable filming the memorable scene. While Season 2 of Bridgerton is supposed to focus on Anthony Bridgerton, we know fans are hoping to see more of Simon and Daphne's love story also.