'Bridgerton' Costume Designer Reveals Wardrobe 'No-No' Besides Bonnets
The latest TV show from Shonda Rhimes, Bridgerton is all about the Bridgerton family navigating high society and romance. While the Netflix original series is set in Regency era-London, Daphne Bridgerton (Phoebe Dynevor), Simon Basset (Regé-Jean Page), and the rest don't wear historically accurate costumes.
To help give the costumes a more modern feel, the Bridgerton costume designer steered clear of two specific items common in the 1800s.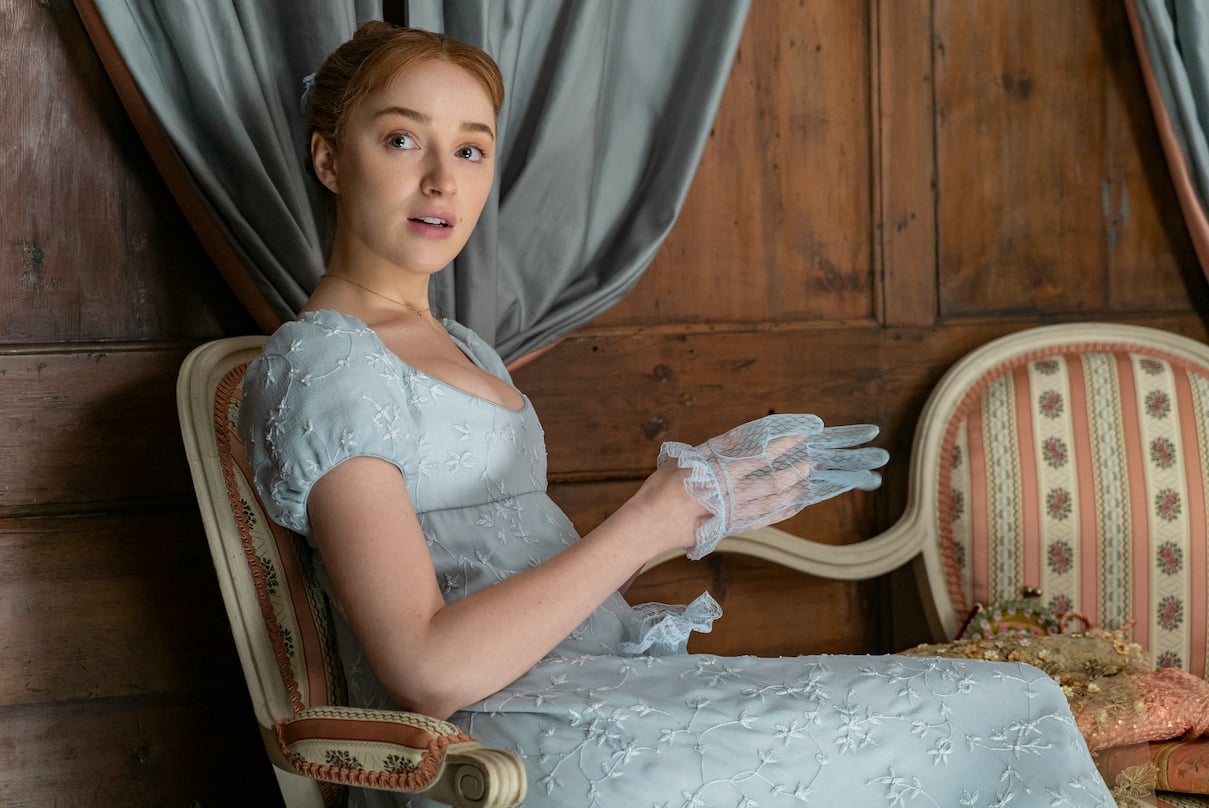 'Bridgerton' features approximately 7,500 costume pieces
Each family and character tells a story through their clothes. Given the sheer number of people on camera, the Bridgerton costume department had to create elaborate outfits complete with headpieces and gloves. Quickly numbering in the thousands, the show had an entire warehouse dedicated to wardrobe and 238 people in the costume department. 
"It was like a Bridgerton city of elves working continuously and they were brilliant," Bridgerton costume designer, Ellen Mirojnick, told Vogue in December 2020. "In the end, there were about 7,500 pieces — from hats to shawls, to overcoats — that made up the [estimated] 5,000 costumes that went before the camera." 
Dynevor (Daphne) had 104 costumes in Bridgerton Season 1, she added before noting, "That's a big number, even for a principal player."
Bonnets and muslin dresses aren't part of the Netflix show's costumes
See a period film from the 1800s and chances are bonnets will make an appearance. But in Bridgerton there aren't any. Asked whether or not bonnets were banned, Mirojnick said the show pays homage to them through other headpieces. 
"There were no bonnets, but we do nod to them with our hair accessories," she said. "We took that half-moon shape and created these straw [pieces] accented with flowers or feathers that sit on top of the head." 
Bonnets aren't the only thing the costume department avoided. 
"Another no-no were muslin dresses," Mirojnick added. "There's a limpness to them that we didn't want."
Instead, the costume designer focused on updating the clothing of the time. That meant not shying away from color. The Bridgertons dress in shades of blue and pink. Meanwhile, the Featherington family goes a little bolder and brighter with orange, green, and purple hues. 
Another major focus was silhouettes and showing skin. 
"This show is sexy, fun and far more accessible than your average restrained period drama and it's important for the openness of the necklines to reflect that," Mirojnick said. "When you go into a close-up, there's so much skin. It exudes beauty."
'Bridgerton' Season 2 not confirmed
Although millions of people all over the world have streamed the series there's still no word from Netflix on Bridgerton Season 2. However, all signs point to more episodes in the future.
Season 1 ended with plenty more to tell after viewers learned the identity of Lady Whistledown (voiced by Julie Andrews). Not only that but the Bridgerton books by Julie Quinn, which inspired the TV show, are many. The author has eight novels about the Bridgerton family — each one focused on a different sibling — meaning there's still lots of material to cover. 
Bridgerton Season 1 is streaming on Netflix.