'Bridgerton': How Old Are Daphne, the Duke of Hastings, and the Other Characters Supposed to Be?
Though it just premiered on Christmas, Bridgerton has quickly become Netflix's fifth most popular original show. While fans were clearly intrigued by the storylines in the show, there were some questions that viewers were left with. Since season 1 sort of just throws viewers into the lives of the characters, we miss some background information on them. For instance, we know Daphne Bridgerton is of dating age, but just how old is she, how is Eloise Bridgerton? Are the older Featherington sisters twins?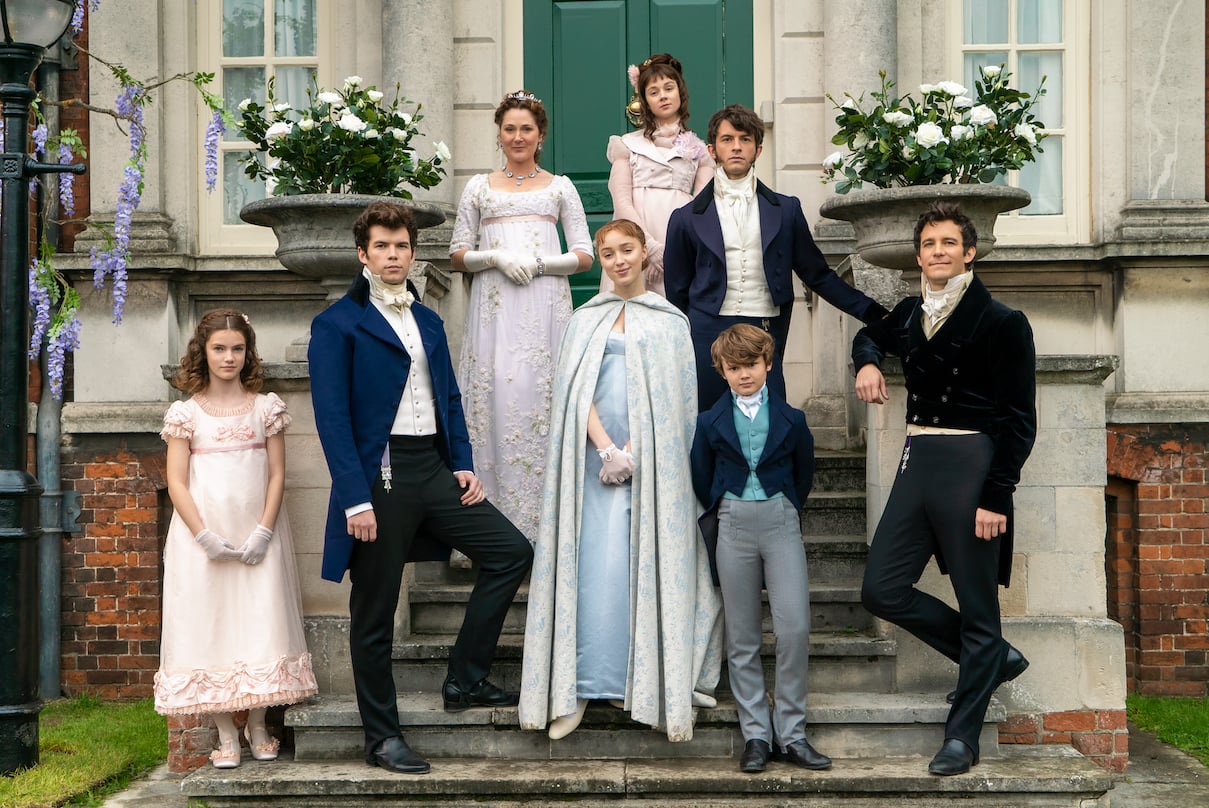 Season 1 of 'Bridgerton'
Season 1 of Bridgerton introduced us to the Bridgerton family just as Daphne was about to make her debut on the dating scene. After being named the Diamond of the Season, Daphne had a number of suitors lined up and waiting to take her out. Unfortunately, her older brother Anthony scared all of her suitors away, leaving her desperate to find a match. Luckily for Daphne, the Duke of Hastings, Simon Basset, returned to town to settle his late father's affairs and has no interest in finding a wife. After meeting, the two struck a deal to pretend to be courting to peak other men's interest in Daphne and make it appear that Simon was off the market.
Meanwhile, the Featheringtons and several other nobles in town were hiding scandals of their own from the town gossip, Lady Whistledown.
RELATED: 'Bridgerton': The Season 2 Spoiler You Might Have Missed in the Closing Scene
How old are the characters?
Though we know that the Bridgertons are named alphabetically according to their age, we don't actually know many of their ages. Since the series is based on a set of eight novels by Julia Quinn, we can use the ages in her 2000 novel The Duke And I to determine how old the characters are.
In the novel, Daphne is 21, which is a little older than she seems to be on screen. Since Simon went to university with Daphne's brother Anthony, he must be older than her. Some outlets have listed him as being 29. This age makes sense as at the beginning of the show, it is mentioned that Anthony is 30. Anthony's younger brother Benedict is 27, according to Cosmopolitan. Colin, the third Bridgerton, is just a bit older than Daphne, at 22. Eloise, Daphne's younger sister is supposed to be 17 in the series, which is why it made sense that she was allowed to delay her debut onto the dating scene.
Penelope Featherington is the same age as Eloise. In the beginning of the series, she also asks to put off her debut in order to focus on her studies but her mother rejects her pleas. The ages of her sisters Phillipa and Prudence are not mentioned in the book or the show but we know that they are older than Penelope, but not too much older as it's also their first social season on the dating scene.
RELATED: 'Bridgerton': Season 2 Will Focus on 2 Unexpected Characters
The Bridgertons also have three more siblings but Francesca was away during the whole first season and Gregory and Hyacinth were too young to be involved in any of the scandals of season 1 so viewers don't learn a lot about them.
There has been no release date for season 2 of Bridgerton set yet.