'Bridgerton': Julia Quinn's Historical Romance Novels in Order
Already watched all eight episodes of the Netflix original series, Bridgerton? Want more from Daphne Bridgerton (Phoebe Dynevor), Lady Whistledown (Julie Andrews), Simon Bassett, Duke of Hastings (Regé-Jean Page), and the rest of London's society set? Look no further than the TV show's inspiration; the Bridgerton novels by best-selling author Julia Quinn.
Julia Quinn released her first 'Bridgerton' book in 2000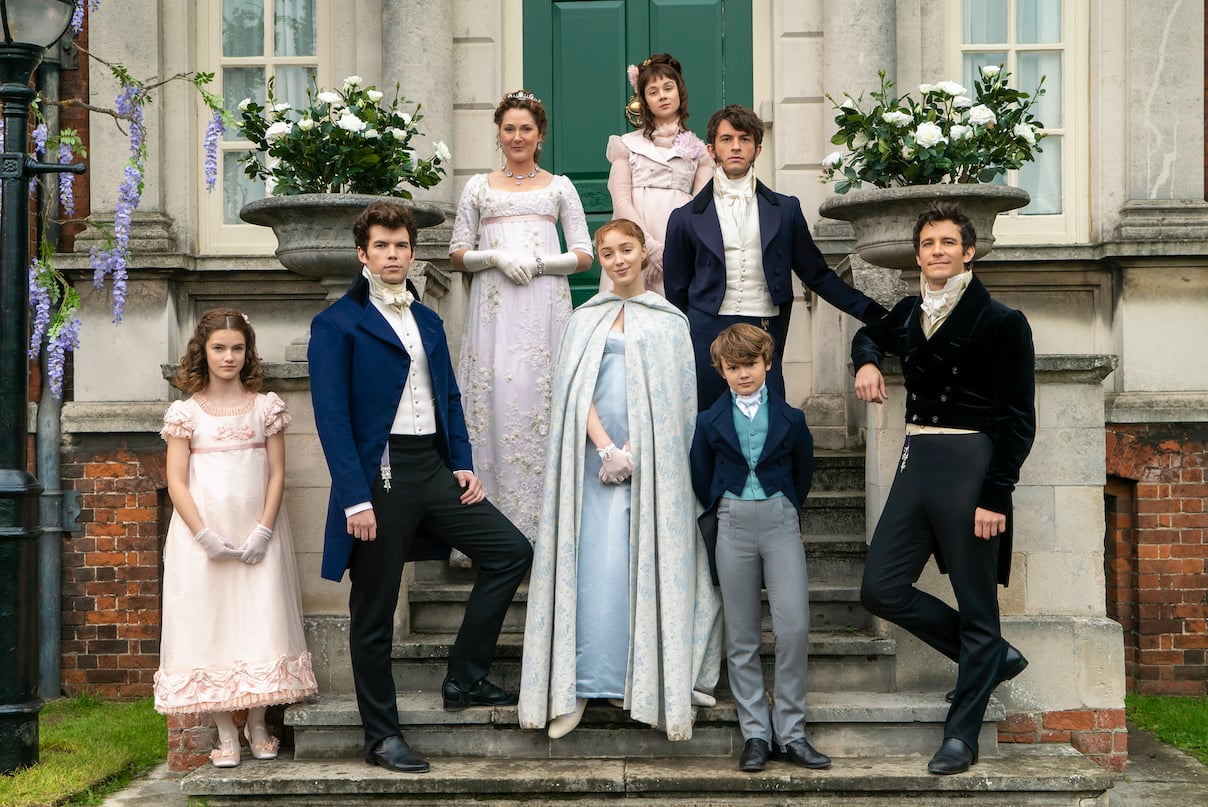 RELATED: Shonda Rhimes' Netflix Deal: How Many Netflix Originals is She Creating, and When Will They Premiere?
The beginning of Quinn's Bridgerton series goes back to 2000 when The Duke and I hit shelves. Centering largely around Daphne and Simon's romance, they looked like a young couple in love. However, they were faking their courtship.
Simon wanted to keep society mothers away and Daphne wanted to attract eligible suitors. Of course, things didn't go as planned because Daphne found herself actually falling for Simon.
Each of Quinn's subsequent books in the Bridgerton series centered around one of Daphne's siblings: Anthony, Benedict, Colin, Eloise, Francesca, Gregory, and Hyacinth.
According to Quinn's website, every book takes place between 1813 and 1827. And as she said, she didn't set out to write a series of eight books but a trilogy.
8 books make up the 'Bridgerton' series
Want to read the Bridgerton books in order? Quinn suggests reading them in the following order:
Book 1: The Duke and I
Book 2: The Viscount Who Loved Me
Book 3: An Offer From A Gentleman
Book 4: Romancing Mr. Bridgerton
Book 5: To Sir Phillip, With Love
Book 6: When He Was Wicked
Book 7: It's In His Kiss
Book 8: On The Way to the Wedding
RELATED: 'Bridgerton' Release Time, Plus What to Know About New Shonda Rhimes Historical Romance
After getting through these eight titles don't think that's the last of the Bridgerton family. Quinn explained on her website that following the last installment in the series fans asked her about what happened to the characters as they got older.
So she gave an "update" in what she called "2nd Epilogues." Originally published as short stories, they are all available in one place as part of The Bridgertons: Happily Ever After. There are also two novellas about Lady Whistedown. 
Julia Quinn doesn't have any new 'Bridgerton' books in the works
Discussing the Netflix adaptation of Bridgerton with Oprah Magazine on Zoom, Quinn confessed she didn't spend much time writing in 2020. The author's been focused on her own family rather than the Bridgerton family.
"I hadn't done a whole lot of work writing fresh stuff this past year in part because of my husband," she said, adding that he's an infectious disease specialist. "He's been so busy, exhausted, and overwhelmed that this past year I've been taking a little time back from work and supporting with family stuff."
At the time of publication, Netflix nor Shondaland have confirmed Bridgerton Season 2. Although it's still early for the series. It debuted on Dec. 25, 2020. 
Stream Bridgerton Season 1 on Netflix.
RELATED: The Sneaky Way Shonda Rhimes Helped Sandra Oh Nail Her 'Grey's Anatomy' Audition