'Bridgerton: Nicola Coughlan Calls Idea of Filming Love Scenes With Luke Newton 'Mildly Terrifying'
Bridgerton Season 2 just dropped on Netflix on March 25, but series star Nicola Coughlan is already thinking about what the future holds for her character, Penelope Featherington (aka Lady Whistledown).
Penelope has long nursed a secret crush on her best friend's older brother, Colin Bridgerton (Luke Newton). But will the clueless Colin ever notice that Penelope is in love with him? There's a good chance that Colin and Penelope eventually end up together in the show, and that has Coughlan feeling a little nervous.
Colin and Penelope's romance is the focus of 'Romancing Mister Bridgerton'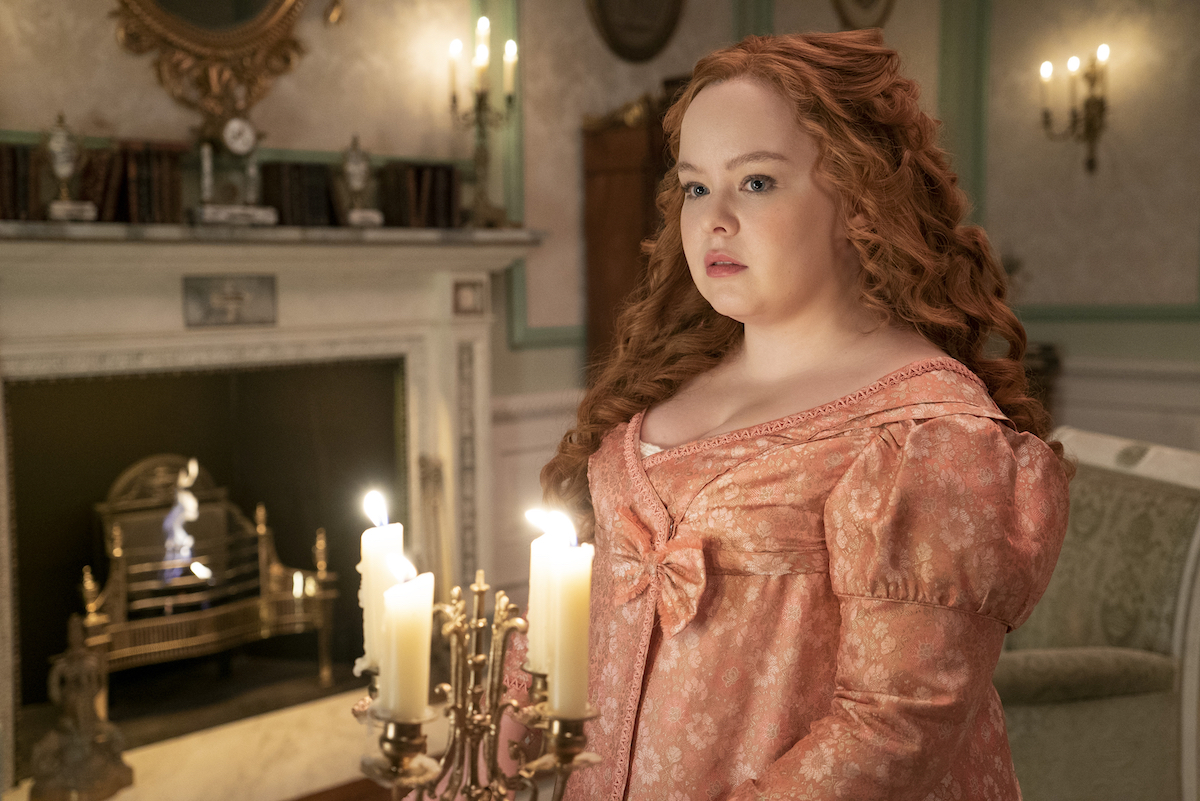 RELATED: 'Bridgerton': Nicola Coughlan Says Penelope's Love Story Will Be 'a Massive Challenge for Me'
Bridgerton is based on a series of novels by Julia Quinn. Each book — and so far, each season of the show — focuses on a different Bridgerton sibling. Daphne (Phoebe Dyvenor) took center stage in season 1, while Anthony (Jonathan Bailey) is at the heart of season 2. The third Bridgerton book, An Offer From a Gentleman, is about Benedict (Luke Thompson) and his romance with a mysterious woman he meets at a masked ball. The fourth, Romancing Mister Bridgerton, tells Colin and Penelope's story. 
Netflix has already renewed Bridgerton for seasons 3 and 4. If the series continues to draw heavily from Quinn's books, some steamy scenes between Colin and Penelope are in the cards in a future season of Bridgerton.
Nicola Coughlan says Colin and Penelope's season will be 'quite racy' 
Coughlan is well aware that her and Newton's characters eventually end up together in Quinn's novels. In a recent interview with the Belfast Telegraph, she spoke about how she feels about the possibility of having to shoot one of the show's famous sex scenes. 
"Luke Newton, thankfully, is the sweetest person in the world, and I actually was texting him last night being like, 'Oh my god, it's gonna be so mad that it's us one day,'" Coughlan said.
Bridgerton makes use of intimacy coordinators to make sure that actors feel comfortable when filming sex scenes, which is a plus for Coughlan.
"I have such trust in them," the Derry Girls star said. "And I've definitely thought about it. It's mildly terrifying, and also, I feel like Colin and Penelope's series is going to be quite racy! I don't know anything really, I just have a feeling. That's a big part of it for the fans of the book as well — I know the scenes the readers want. Don't worry, I've been sent the fan art!"
'Bridgerton' Season 3 might focus on Penelope and Colin
If Bridgerton continues to follow the books, season 3 should focus on Benedict. But it's possible the show will shake things up next season and shift the attention to Penelope and Colin. 
"We're not necessarily going in order, but we're going to be seeing each one of the siblings and their stories," executive producer Shonda Rhimes told ET (via Twitter).
Creator and showrunner Chris Van Dusen has pointed out that the show has done "a lot of work in these first two seasons as far as setting up Penelope and Colin's love story."
"There's so much yearning and so much angst there that it's going to be really satisfying when the show gets to really focus on the two of them," he told E! News.
For his part, Newton says he doesn't know what the future holds for his character.
"We have no idea how close they're going to stay to future relationships or how it's gonna go," he told E! News.
"You never know what storylines are gonna overlap. So maybe, we have a shift in time," he added.
Bridgerton Season 2 is currently streaming on Netflix.
Check out Showbiz Cheat Sheet on Facebook!
RELATED: 'Bridgerton' Season 3 Might Be About Colin and Penelope's Love Story