'Bridgerton:' What Colin's Book Reveals About the Direction of His Show Counterpart
Colin Bridgerton's story on the Netflix hit show started very differently from Julia Quinn's The Duke and I. Since the romance novel focused mainly on his sister, his own love life is not touched upon until the fourth book, Romancing Mister Bridgerton. 
When audiences last see Colin (Luke Newton) in the series, he takes Penelope Featherington's (Nicola Coughlan) advice to travel the world. His heart is still broken from Marina Thompson's deception about their relationship and her baby, but he comes to accept it. 
Marina Thompson exists within the book series but as a 'referred to' character and has more connection to Eloise than Colin. Because the show forged a relationship between the two, Colin's trajectory as a character will be different from the book. That doesn't mean we can't still learn something. Here's what you need to know about Romancing Mister Bridgerton. 
(Spoiler alert: This article contains possible spoilers for upcoming seasons of Bridgerton and definite spoilers for the book Romancing Mister Bridgerton)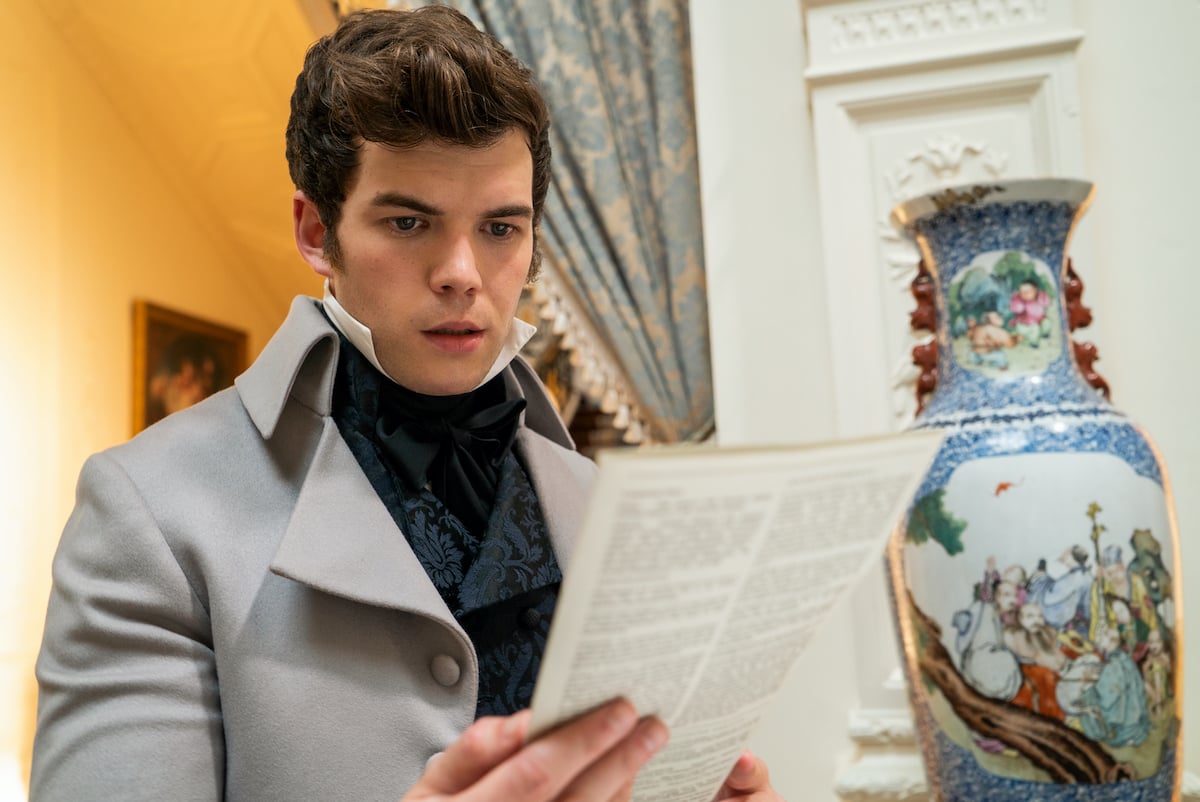 'Romancing Mister Bridgerton' starts with a time jump where Colin Bridgerton comes home
The story opens with a seven-year time jump from the ending of Benedict's book, An Offer from a Gentleman. Colin is now 33 and finally coming home from traveling around Europe. Like she did with his older brothers, his mother is focused on getting him married to any eligible English lady. 
Colin doesn't have any named lovers before this book, though it is implied that he is experienced. With no desire to settle down, he continues to chat up Penelope at balls.
Penelope is 28 and officially a spinster. Though the show revealed in the season 1 finale that Miss Featherington was Lady Whistledown, book readers don't get a confirmation on her identity until this book. 
Colin finds his old friend has changed. Penelope is more confident and assured of herself. They flirt, and at one point, Penelope even begs him to kiss her because she knows she may never get the chance as a spinster. This starts to confuse Colin's feelings for his friend.
Lady Danbury offers a reward to whoever unmasks Lady Whistledown
As the two get closer, Colin notices that his sister Eloise starts acting strangely. She is sneaking around and often has ink on her hands. This leads Colin to assume that she is Lady Whistledown, which he tells Penelope about.
While all this is going on, Lady Whistledown has retired, officially done reporting on the ton. That doesn't stop Lady Danbury from offering a reward for her unmasking. 
Colin is the first Bridgerton to discover Lady Whistledown's identity in the book series
As Colin and Penelope get closer, Cressida Twombley née Cowper (the mean blonde who spilled a drink on Penelope in season 1) also flirts with Colin and at one point admits she is Lady Whistledown. Unable to accept that her bully will take the credit for her life's work, Penelope goes to deliver a final Society Paper unaccompanied.
Of course, Colin sees her and gets upset. He follows her into her location, where he confronts her and demands to see her delivery. 
He finally finds out the truth, and after arguing in the carriage, the two start to make out. Once they realize that the Featherington butler has most likely noticed the carriage sitting in front of their estate, Colin tells her to marry him. 
After a hilarious announcement to Penelope's family, the two go through the engagement festivities, questioning their true feelings for each other. Cressida figures out that Penelope is Lady Whistledown and starts to blackmail her, complicating Colin and Penelope's fragile relationship further. 
Here's how Netflix's 'Bridgerton' could incorporate Colin's book
Because the show put Marina and Colin together in the first season, Colin finding out about Lady Whistledown's identity would complicate his reaction further. Instead of friends to lovers, we could see a friends to enemies to lovers storyline. It is possible that the two won't end up together in Bridgerton at all. However, Penelope and Colin are one of the most shipped pairings by fans of the book. It is likely we will see them together, but the road there might be even rockier.