'Bridgerton': You'll Never Guess How Many Costumes Are Worn in the Netflix Eight-Episode Series Debut
Fans are still swooning over the Netflix series Bridgerton. Aside from the racy sex-scenes, characters, and storylines – many adore the costumes. As it turns out, there are thousands of costumes in the eight-episode series premiere.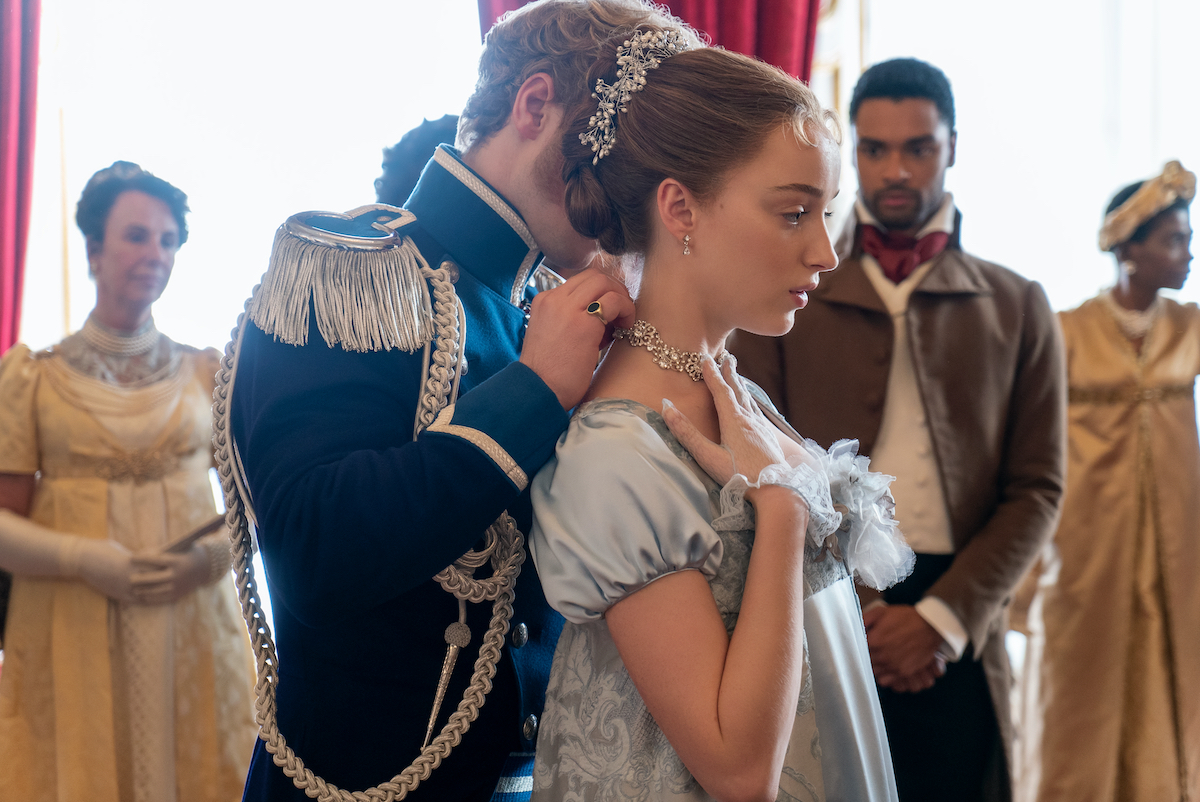 Who is the costume designer for 'Bridgerton?'
The woman behind the beautiful costumes for Bridgerton is 71-year-old New York native, Ellen Mirojnick.
Mironjnick's resume in costume design is long. Her work includes Fatal Attraction, Wall Street, and Basic Instinct. Her work is award-winning, taking home the Emmy for her costume design in the 2013 Steven Soderbergh's Liberace biopic Behind the Candelabra.
Mironjnick's The Greatest Showman and Maleficent: Mistress of Evil.
Creating Regency-era costumes for Bridgerton, she looked to do something fresh and fantastical. It started with a meeting with Shonda Rhimes and spiraled from there.
Related: 'Bridgerton' is Officially One of the Biggest Netflix Shows of All Time
Mironjnick's told Vogue in a recent interview how she came to be part of the creation.
"Sara Fischer, their head of production, called me. I went in to talk to Sara, [creator] Chris [Van Dusen] and [executive producer] Betsy [Beers] to see if it'd be possible to create something on this scale," she said.
I also knew the Shondaland aesthetic and understood that this was not going to be like a Jane Austen adaptation. How could we shift the aesthetics of a period drama to make it feel scandalous and modern? Then they asked if I wanted to do it and I jumped in because the challenge was too great. I'd never put together a costume house before.

Ellen Mirojnick, Vogue
There are 7,500 costumes in Bridgerton
Creating the full look for Bridgerton proved to be a massive undertaking, larger than Mironjnick anticipated. Mironjnick headed up of over 200 and it took several months to finalize everything.
Related: 'Bridgerton': Everything We Know About (a Possible) Season 2
"It took five months to prepare before we went to shoot. The costume team came to 238 people," Mironjnick revealed. "This is inclusive of the pattern cutters, the extraordinary Mr. Pearl who was our corset maker, a tailoring department, an embellishing department, embroiderers, and my co-captain John Glaser, among others. It was like a Bridgerton city of elves working continuously and they were brilliant."
It turned out that no one wore the same costume twice. "In the end, there were about 7,500 pieces — from hats to shawls, to overcoats — that made up the [estimated] 5,000 costumes that went before the camera," Mironjnick told Vogue. "For Phoebe [Dynevor, who plays Daphne Bridgerton] alone, there were 104 costumes. That's a big number, even for a principal player."
'Bridgerton' has been a massive hit
The show has been a hit since its debut on Christmas Day 2020. Bridgerton remains trending in the top 10 on Netflix and fans are already anticipating a second season.
The series is derived from the book series, which in total is eight novels. Many are hoping the series follows suit of the novels with eight seasons. The novels give hints to what the subsequent seasons may look like.
Many anticipate season 2 with main characters Daphne and Simon taking a back seat, as they did in the second novel. Also, Eloise's attempt to unmask Lady Whistledown continues. A release date for the second season has not been revealed yet.