'Bringing Up Bates': A Guide to Every Member of This Super-Sized Family
'Bringing Up Bates' premieres September 19. Here's a refresher on who's who in this massive family.
You can tell Jinger from Jessa and John David from Jedidiah, but what about Nathan and Lawson and Erin and Alyssa? The 19 alliteratively named Duggar kids might be members of the most famous super-sized family in America, but they're not the only big brood on TV.
Duggar family friends the Bates also have their own TV show. Bringing Up Bates airs on family-friendly UPtv. With the second half of season 8 set to premiere on September 19, here's a quick guide to every member of this massive family. 
Gil and Kelly Jo Bates have 19 kids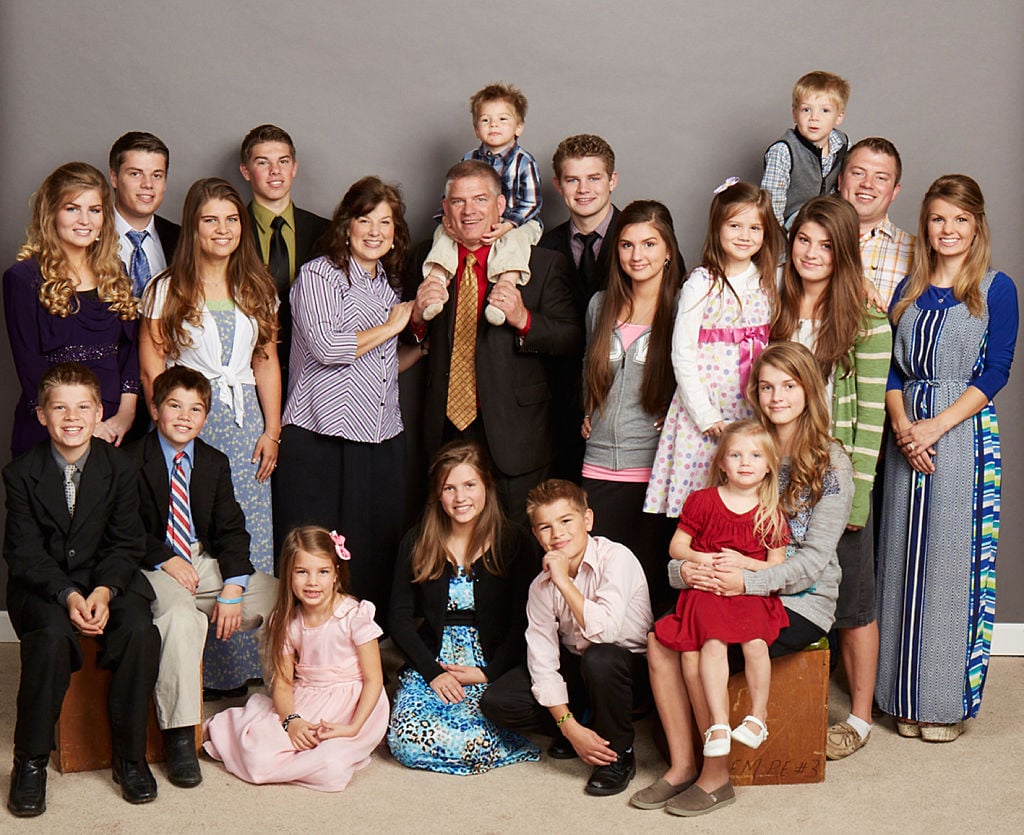 Like the Duggars, Gilvin "Gil" Bates and his wife Kelly Jo Bates have 19 kids. The couple met in college and married soon after. Kelly Jo got pregnant not long after their wedding. Their first child, a son named Zach, was born in 1988. 
Over the next 20-plus years, the Bates went on to have 18 more kids, who now range in age from 30 to 7. Seven of the older children have married and most have gone on to have kids of their own. Gil and Kelly now have 10 grandchildren with another three on the way. 
Meet the Bates children 
Keeping track of the 19 Bates children is a challenge. Here's a cheat sheet on who everyone is. 
Zach, 30, is married to Whitney. They have two children and are expecting a third. 
Michaella, 29, is married to Brandon Keilen. The couple have no children, and Michaella has opened up about her infertility struggles on Bringing Up Bates. 
Erin, 28, is married to Chad Paine. They have one son and two daughters. Another daughter is due in December. 
Lawson is 27 years old and single, though there have been rumors that he might be courting Jana Duggar. 
Nathan is 26 years old and also single. 
Alyssa, 24, is married to John Webster and has three daughters. 
Tori, 23, is married to Bobby Smith and has a son. 
Trace, 22, recently announced he's dating Chaney Grace.
Carlin, 21, married Evan Stewart in May 2019. The couple are expecting their first child, who is due in February.
Josie, 20, is married to Kelton Balka and has one daughter. 
Katie, 18
Jackson, 17
Warden, 16
Isaiah, 14
Addallee, 13,
Ellie, 12
Callie, 10
Judson, 9
Jeb, 7
Why did the Bates have so many kids?
The typical American family has just two kids, but the Bates aren't your typical family. The couple decided early on that they would embrace having as many kids as God decided to give them. After reading through the Bible, they opted to stop using birth control and see what happened. 
"How did we end up with 19 kids? It was really nothing we planned for, but it was something we believe God led us to trust in Him," Gil Bates told the Christian Examiner. "We didn't know it would be 19 kids, but I don't think we would have seen and experienced some of the amazing blessings we've seen in life had we not chosen to trust God."
Gil Bates added that he and his wife, who are conservative evangelical Christians, wrestled with the idea of putting their family on TV, but ultimately decided to do it. He explained that they see it as "outreach" and a "ministry."
"[W]e see it as, 'This is how we have sought the Lord and how we think He'd like us to raise our family,'" he said. 
Bringing Up Bates airs Thursdays at 9/8c on UPtv.