Britney Spears and Her Pop Idol Madonna Are the Same Height
Britney Spears and Madonna have more than blond hair and successful music careers in common.
Britney Spears is finally free of the conservatorship that dominated a large part of her adult life. Fans are thrilled for Spears and have eagerly followed her journey on social media, where the singer documents her day-to-day activities, vacations, and new outfits. While Spears enters a new phase of her life alongside fiancé Sam Asghari, loyal followers have been looking back on Spears' journey to pop supremacy, including influences such as Madonna. 
The Princess of Pop's music has taken a back seat to her personal life
Britney Spears began performing when she was only a child, winning singing competitions in her hometown of Kentwood, Louisiana. Born in 1981 in Mississippi, Spears proved to be a musical prodigy, and her parents worked tirelessly to get their daughter in front of the right people after they relocated to Louisiana. When Spears was 15, she signed to Jive Records, where she developed her signature pop sound.
Her debut album, …Baby One More Time, launched Spears to worldwide stardom, and her follow-up, Oops!…I Did It Again, solidified her status as pop royalty. The media soon dubbed Spears the "Princess of Pop," and according to AllMusic, her albums helped shape the sound of pop music in the early 2000s and beyond.
In recent years, Spears' music has taken a back seat to the media controversy surrounding her personal life and the issues connected to her conservatorship. But to fans, songs such as "Toxic," "Circus," "Womanizer," and "3" remain endlessly danceable tunes that prove Spears is one of the all-time greats in pop music. 
Britney Spears and Madonna share more in common than their success in pop music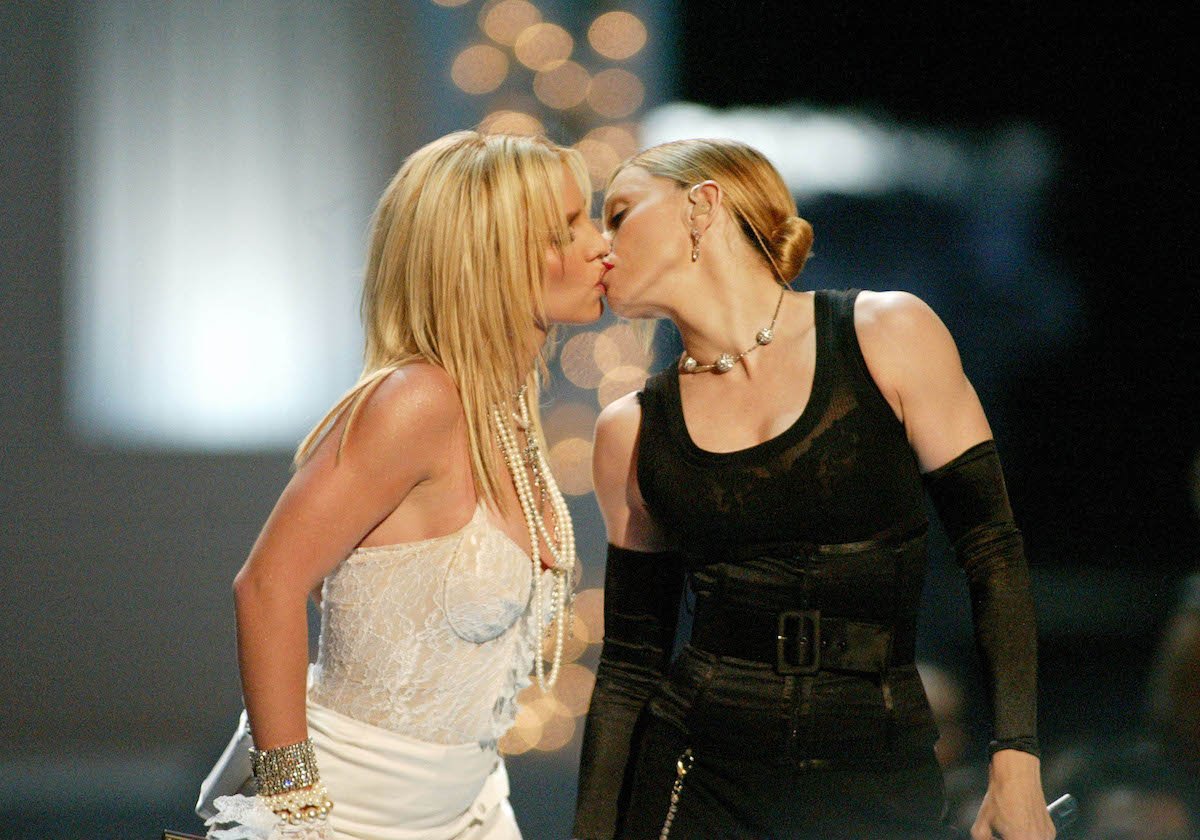 Just like most other music artists, Britney Spears has a handful of influences, performers who have inspired her to craft her own public image. Spears has always been open about her adoration and intense respect for Madonna.
As early as 2002, Spears was singing Madonna's praises, revealing that Madge's stage presence has always inspired her.
"I just love the fact that when she gets on stage, she is so amazing … she is one of the best entertainers, I think, of all time," Spears said.
"I just love the way she controls an audience. And the fact that she's been able to do it all. I respect that — that she's been able to do movies and also have a beautiful kid."
Spears and Madonna have several things in common. Not only are they both blond, beautiful music superstars, but they are the same height too. At her peak height, Madonna stood 5 feet 4, according to CelebHeights, while Spears is the same height.
If the two were to stand back-to-back (or even face-to-face), there would be virtually no difference in height between the pop icons. 
Britney Spears recently revealed a surprise pregnancy
These days, Britney Spears is focusing on her growing family with Sam Asghari. Recently, the singer took to Instagram to share that she and her fiancé are expecting their first child.
Though Spears has two sons with her ex-husband, Kevin Federline, she has long expressed her desire to have more children. And it appears her wish has come true. 
As of this writing, it's unclear whether Spears' new addition is a boy or a girl. But she'll likely keep fans posted as her pregnancy progresses.