The Broadway Version of Disney's 'Frozen' Features 12 Songs Excluded From the Original Animated Film
Disney's 'Frozen' included songs like 'For the First Time in Forever' and 'Love Is an Open Door.' The musical version of this film also includes several original, fan-favorite tracks.
For the first time in forever, Disney's Frozen musical resumed its North American tour. This stage show features new songs included in the Broadway production — 12 pieces, to be exact. 
Here's what we know about the artists behind these songs added to the story of Disney's Frozen.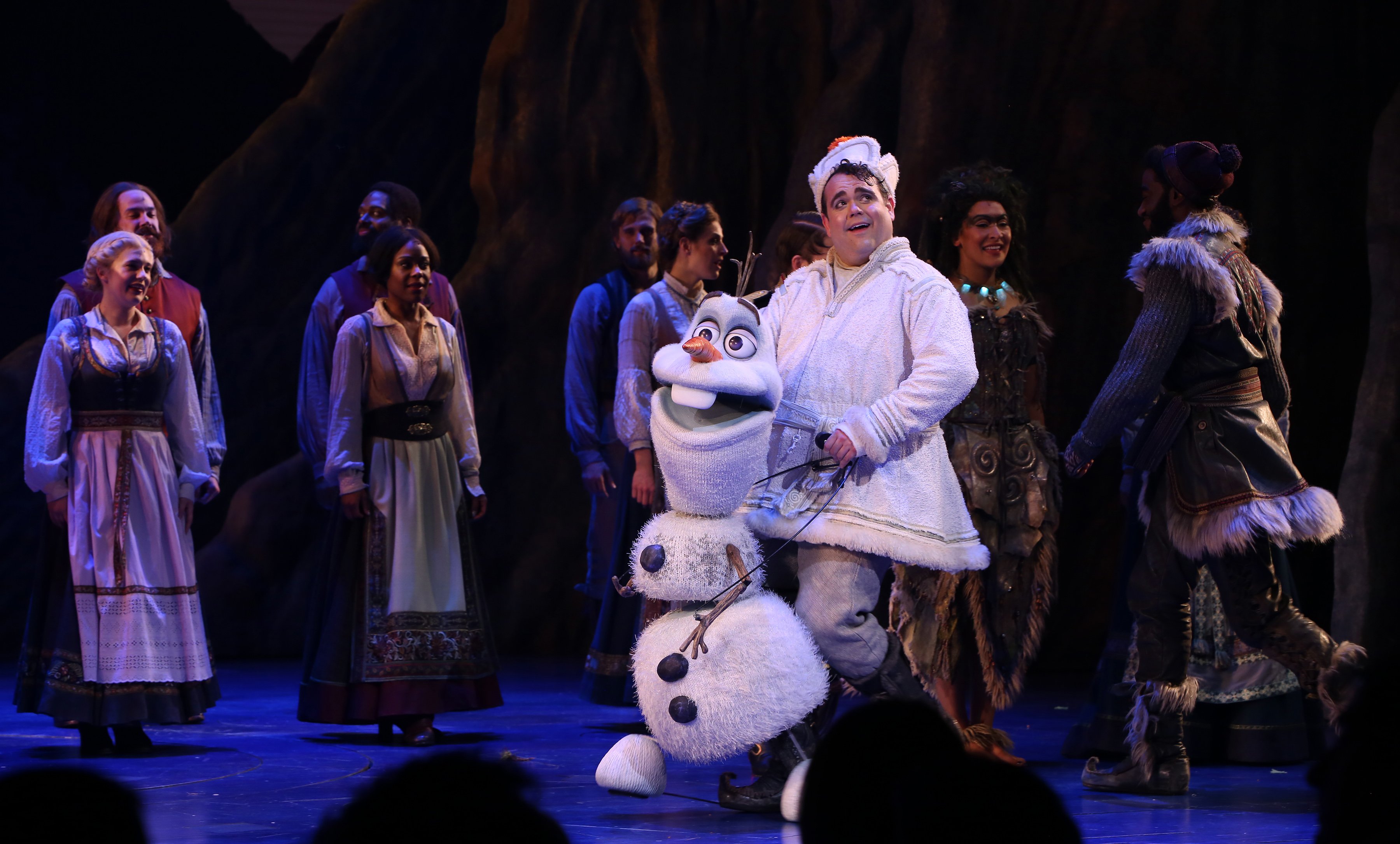 Disney's 'Frozen' premiered in 2013, introducing viewers to the sister duo Anna and Elsa
Love thaws a frozen heart, even one who, you know, survived the wrath of her ex-boyfriend and climbed the north mountain. In addition to Olaf, the talking snowman with an affinity for warm hugs, Disney fans know Disney's animated film Frozen for its original songs. 
"Love Is An Open Door" had viewers singing about finishing each other's sandwiches. The dynamic duo behind the Frozen soundtrack is Robert Lopez and Kristen Anderson-Lopez.
These two even earned an Academy Award in the Best Achievement in Music Written for Motion Pictures, Original Song category for "Let It Go." The duo earned a Golden Globe nomination for the same song in the ​​Best Original Song – Motion Picture category.
Disney's 'Frozen' premiered on Broadway in August 2021
Following the success of Frozen, Disney transformed this animated film into a Broadway production. This wouldn't be the first time Disney created a stage production, as shows like Beauty and the Beast, Aladdin, and The Lion King previously made their Broadway debut.
Among the songs included in this Broadway production are "Dangerous to Dream" and "Monster" performed by Elsa, "Hans of the Southern Isles" performed by Prince Hans, and "Kristoff Lullaby" performed by Kristoff. This musical also includes fan-favorite musical numbers from the original animated film, including "Let It Go."
"We did get to find a lot more of Kristoff's humor while working on the Broadway version—where the sweet spot for Kristoff is as this sort of modern Marlboro Man," Anderson-Lopez said during an interview with Playbill. 
"We had to really whip the score up very fast for Frozen Broadway," Lopez added. "We would sometimes say to Jen, 'For the coronation, in your mind, how is she feeling?' And Jen would write a page of inner monologue, a free-write as Elsa." 
This duo wrote for other Broadway musicals, including Avenue Q and Book of Mormon. They went on the create the soundtrack for the Disney+ original Marvel series, WandaVision.
Disney's 'Frozen 2' includes an original soundtrack and several new songs performed by Anna Elsa, and their friends
While creating the music for Frozen on Broadway, this songwriting duo also worked on the soundtrack for the Frozen sequel, released in theaters in 2019. This film featured most characters from the first movie, this time performing new songs. 
For Elsa (voiced by Idina Menzel,) that included "Into the Unknown," which the actor later performed at the Academy Awards. Jonathan Groff, of the original Broadway cast of Hamilton, performed a full-length song as Kristoff — "Lost In the Woods."