'Brooklyn Nine-Nine' Actor Stephanie Beatriz Donates $11K to the National Bail Fund and Urges Other 'Blue' Actors Do the Same
The pressure is on from actors who portray police on TV to speak up against criticism they aid in making the police look like heroes. There is truth to the story Hollywood made cops look like good guys for decades due to a partnership to seemingly help each other, according to Vox. If one chooses to disbelieve this, the facts are the same that movies and TV seldom show the realities of police making mistakes.
Actors on shows like Brooklyn Nine-Nine are now caught in this debate, making it possible all future cop shows and movies will soon shift directions. In the meantime, specific cast members are starting to donate money to the National Bail Fund to uphold their support. Other "blue" actors have joined in.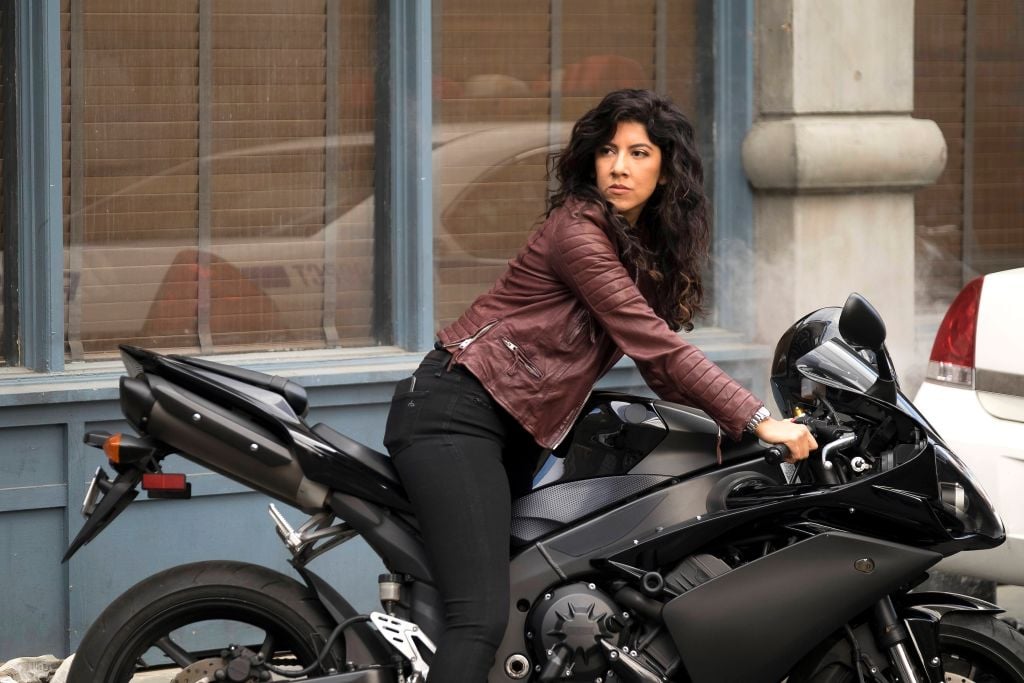 Brooklyn Nine-Nine leads the way in supporting protestors
After the senseless death of George Floyd by Minneapolis Police on May 25, protests against police brutality have erupted. It's no wonder so many have turned to social media to criticize TV police procedurals as making cops look unrealistic. NBC's Brooklyn Nine-Nine was placed at the center of this firestorm.
As a way to show support, the show's producer, Dan Goor, posted a statement on Twitter saying he and cast members would donate to the National Bail Fund. This organization helps bail out peaceful protesters after being arrested and thrown in jail. While this sounds like a leadership role by a showrunner, it really snowballed thanks to one of the actresses on the show.
Stephanie Beatriz inspired her fellow castmates to donate
Those who watch Brooklyn Nine-Nine regularly will know Stephanie Beatriz as Rosa Diaz, the show's co-star next to Andy Samberg's Jake Peralta. Beatriz was the first one of the cast to speak up about the protesters and ultimately donated $11,000 of her own money to the aforementioned bail fund.
Said Beatriz in her tweet: "I'm an actor who plays a detective on tv. If you currently play a cop? If you make tens or hundreds of thousands of dollars a year in residuals from playing a cop? I'll let you do the math".
The fact that she said this early when the protests were just beginning opened a lot of eyes, including her peers. Other actors who portray cops on police procedural shows started reacting to the criticisms of one-time fans.
With Blue Bloods being hit with the same scrutiny, one former actor from the show also came forward with a strong message. He was the one who ultimately inspired Beatriz to take action.
Actor Griffin Newman stepping forward to donate
If Beatriz inspired her fellow Brooklyn Nine-Nine actors to give back, actor Griffin Newman started the entire process. Those not familiar with Newman will remember when he played Sam Johnson on two episodes of Blue Bloods nine years ago. Better known more recently for starring in The Tick, Newman took to social media to remind everyone he played a cop once on TV.
His initial challenge was for any actor making money playing a cop to give money back to the protestors and bail them out. The phrase he used was picked up by Beatriz above who encouraged actors who make "tens of thousands of dollars" portraying cops to give money from their own pockets.
Now other actors playing police on TV or in movies are being encouraged to do the same. Many are, though it points to a possible new direction in how cops will be portrayed in fiction from now on. The fact that a white actor called this out early may be the first sign every cop show next season will start showing the realities rather than upholding heroic fiction.