'Brooklyn Nine-Nine' Cast and Showrunner Donate $100k in Solidarity With Protesters
More cop shows than ever are on TV, something holding steady on television for a good 60 years. Most of those shows present police in a positive light, other than maybe once in a while when depicting cops going over the line. Brooklyn Nine-Nine is one of the rarities in bringing a satiric side to what cops go through when dealing with criminals. Not often, though, do these shows deal with the realities of police brutality and other serious issues.
Recently, the showrunner and cast of Brooklyn Nine-Nine donated money to protesters rallying against the murder of George Floyd by Minneapolis police. The cast did so as a response from fans and critics who think their show and dramatic police procedural shows are "propaganda" for long making cops look good.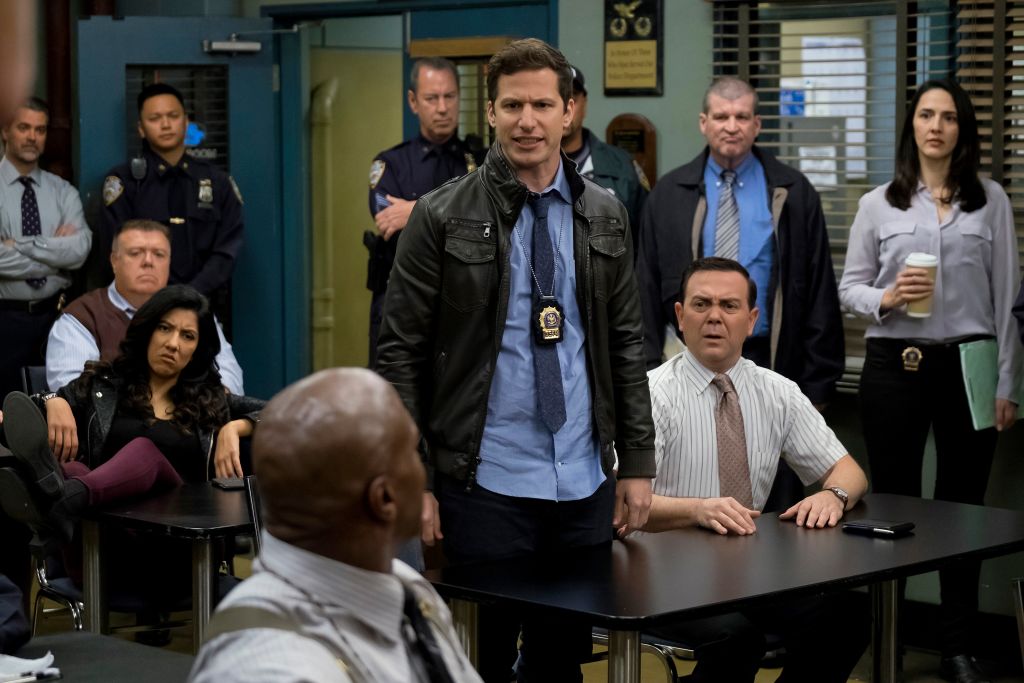 Is it true shows like Brooklyn Nine-Nine don't depict police reality?
One thing to remember is Brooklyn Nine-Nine is a satire, meaning most of the situations the show presents are exaggerated for the sake of laughs. This might be a harder sell now in the wake of national protests against police violence.
When Brooklyn Nine-Nine first began on Fox back in 2013, it became an instant cult hit that almost meant cancellation five years later. Once NBC picked it up last season, it became a genuine, mainstream hit, with the fast, witty dialogue sharper than ever.
Set in the 99th precinct of the NYPD, it follows a team of detectives who seem to be nothing but idiots, yet somehow still have the ability to make arrests and solve cases. A plot like this might seem a little too ironic right now, and it may face challenges when it comes back for the eighth season.
Despite the show being satiric, critics have still slammed it and other cop shows for giving a public voice to police in making them look benevolent, according to the NY Post. Worse, the cop characters sometimes make unconstitutional actions taken look acceptable.
The Brooklyn Nine-Nine cast donated money to protesters
Following online criticism of these shows, cast members of Brooklyn Nine-Nine took the opportunity to show support of Black Lives Matter protesters. They did so by giving to bail funds to help peaceful protesters get out of jail.
The showrunner tweeted "The cast and showrunner of Brooklyn 99 condemn the murder of George Floyd and support the many people who are protesting police brutality nationally. Together we have made a $100,000 donation to The National Bail Fund Network. We encourage you to look up your local bail fund: the National Bail Fund Network is an organization that can lead you to them". 
Other cast members took this blanket statement and posted it to their Twitter accounts, including star Melissa Fumero (who plays Amy Santiago). They were far from the only ones donating to funds like this. Other police procedural show producers and cast members spoke up about the criticism and gave money to protest funds as well.
Producer Dick Wolf (the king of cop procedurals) took action from within his own franchise. He fired a writer from one of his spinoff shows because former threatened looters with violence on his Facebook account, according to PageSix.
Can cop shows overcome this new public perception?
What the cast of Brooklyn Nine-Nine did in giving to the Black Lives Matter movement is an important step. However, it does not take away from the evolution of how police are depicted in fiction nowadays.
As Vox recently noted, Hollywood once depicted cops like dolts in the early part of the 20th Century. Things changed when the movie industry needed to become simpatico with law enforcement to cover for their own misdeeds. Since then, Hollywood built up cops in TV and movies to look like heroes.
Based on the overwhelming criticisms of shows like Brooklyn Nine-Nine, it may require having to shift gears and stop making the cops always be the heroes. Reminding that they're human beings with internal biases who sometimes partake in brutality may have to be broached on TV, no matter if disguised through a satiric frame of mind.