'Brooklyn Nine-Nine' Episode Recap: Jake Creates His Own 'Parent Trap'
The first two episodes of season 8 of Brooklyn Nine-Nine premiered on NBC on Aug. 12. Season 8 episode 2, titled "The Lake House," takes inspiration from The Parent Trap as Jake Peralta (Andy Samberg) desperately tries to reunite Captain Raymond Holt (Andre Braugher) and his husband, Kevin Cozner (Marc Evan Jackson).
[Spoiler Alert: This article contains spoilers for season 8 episode 2 of Brooklyn Nine-Nine.]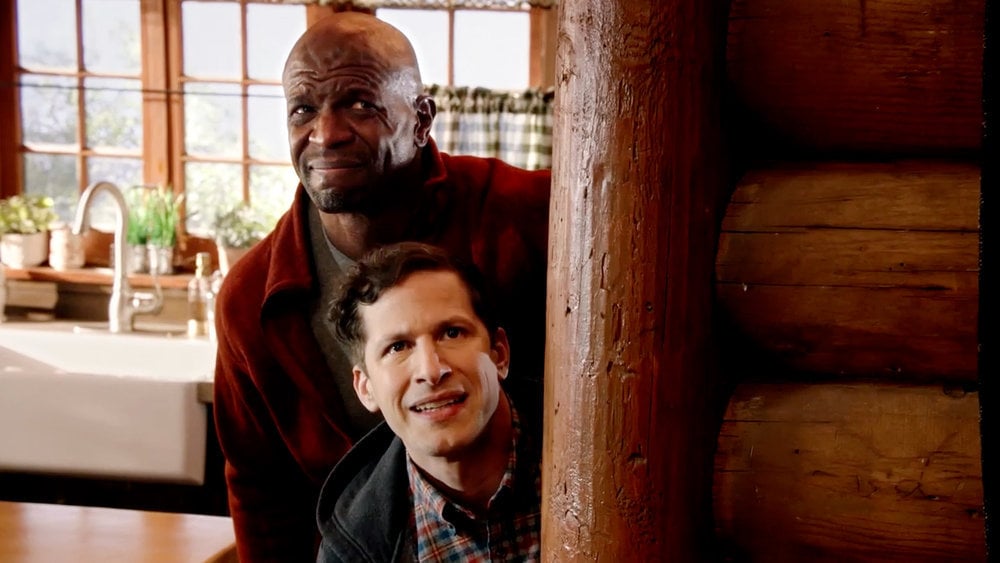 Jake wants Captain Holt and Kevin to get back together in 'Brooklyn Nine-Nine'
After learning that Captain Holt and Kevin are separated, Jake begins to spiral. At the start of the Brooklyn Nine-Nine episode, he meets with his wife Amy Santiago (Melissa Fumero), Rosa Diaz (Stephanie Beatriz), Charles Boyle (Joe Lo Truglio), Terry Jeffords (Terry Crews), and Scully (Joel McKinnon Miller) to try and come up with a plan to reunite them.
Everyone in the group refuses to help Jake, and Terry instead suggests that they all spend a weekend with Captain Holt at his lake house. As soon as they arrive, Terry realizes Jake is up to something. Jake admits that he messed with Captain Holt and Kevin's calendars just as Kevin arrives.
Because she is no longer a cop, Rosa decides to take multiple edibles to spend the entire weekend high. Meanwhile, Charles attempts to help Amy get her and Jake's son Mac to sleep, and Scully attempts to find the perfect potato chip flavor without being able to call Hitchcock (Dirk Blocker).
Jake's plan almost works at reuniting Captain Holt and Kevin
With Terry's secret assistance, Jake sets up a number of carefully planned traps. His end goal involves Captain Holt and Kevin accidentally stumbling upon a romantic picnic. His plan nearly works, until bees overtake the picnic site.
As a result, Kevin is stung, causing his eyes to swell shut. At first, Jake is upset that his plan failed. He then notices that Captain Holt and Kevin begin to bond while Kevin cannot see. Captain Holt describes a bird to him, and they spend the rest of the hike holding hands as Captain Holt guides Kevin back to the lake house.
Jake triumphantly reports to his friends that Captain Holt and Kevin reconciled, only for Captain Holt to reveal that as soon as they made it back to the house, Kevin coldly decided to leave. At dinner that night, Captain Holt sadly admits that Jake's plan was not for nothing because it helped him see that his marriage is over.
Jake manages to reunite his surrogate dads after all in 'Brooklyn Nine-Nine'
Just when Jake was feeling defeated about Captain Holt and Kevin officially divorcing, he realizes that Kevin does not want a divorce after all.
Terry and Jake rush to Captain Holt's room, and Jake tells Captain Holt that while they were bird watching, Kevin secretly knew it was Captain Holt making a bird call instead of an actual bird. How did Jake figure this out? Because on the hike Kevin confided that Captain Holt is terrible at making bird calls.
"But he went to it anyway," Jake tells Captain Holt.
"Because he was going to you, not the bird!" Terry exclaims. "He still loves you."
With Jake and Terry's encouragement, Captain Holt speaks to Kevin, and they agree to start couple's counseling.