'Brooklyn Nine-Nine' Episode Recap: Jake's Friendship With Doug Judy Is Tested
Brooklyn Nine-Nine is known for its annual episodes that feature Doug Judy (Craig Robinson) or a Halloween heist. Every year, fans of the show can count on these types of episodes to be highlights of the season. On Aug. 26, Doug Judy returned for a final time, and once again, his friendship with Jake Peralta (Andy Samberg) was put to the test in the Brooklyn Nine-Nine episode.
[Spoiler Alert: This article contains spoilers for season 8 episode 5 of Brooklyn Nine-Nine.]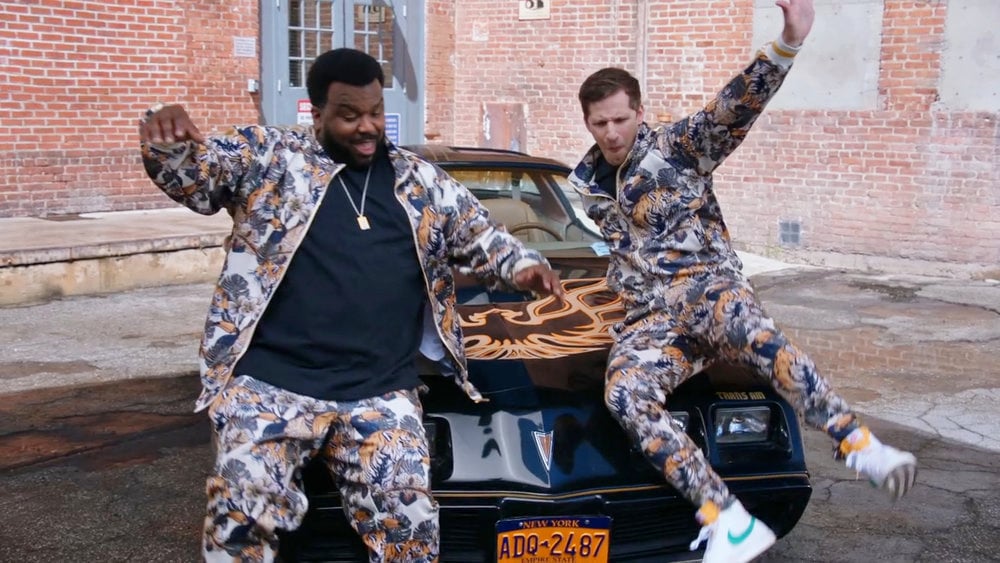 Doug Judy must go to prison in 'Brooklyn Nine-Nine'
Season 8 episode 5 of Brooklyn Nine-Nine is titled "PB&J." During the episode's cold open, Doug's sister Trudy Judy (Nicole Byer) comes to visit Jake and Amy (Melissa Fumero) to ask if they can pet sit her dog while she is on vacation.
She lets it slip that Doug can't watch her dog because he was arrested and is going to prison. Jake goes to visit Doug and asks if there is anything he can do to help. Doug tells him that even though his record in New York was wiped, he stole a car years before in another state and there was a warrant out for his arrest.
Jake decides to drive Doug to prison to help him "focus on the journey and not the destination." Jake rents a car and gets matching outfits and PB&J rings for him and Doug to wear on the drive. Before they leave, Doug demonstrates a trick he learned and shows Jake how he can undo his handcuffs using a pen.
Charles disrupts Jake and Doug Judy's road trip
In nearly every episode of Brooklyn Nine-Nine that features Robinson's character, Doug manipulates Jake and escapes. This began to change after Doug had his record cleared and he stopped stealing cars, but episodes featuring Doug always include some sort of elaborate scheme.
Worried that Jake will be manipulated by Doug again, Charles (Joe Lo Truglio) shows up to crash the road trip. Doug admits that Charles is right and he plans to escape anyway. Jake and Doug argue over who is the worse friend and play a trivia competition to test each other's knowledge of one another.
Doug wins the game, but Jake lets him know the trivia competition was only a stalling technique. However, Doug one-ups him and tells him that he knew something like this would happen, and he changed all of Jake's contacts so that he didn't actually text the squad for backup.
Jake makes a bold decision in 'Brooklyn Nine-Nine'
Charles and Jake are able to get in touch with Captain Holt (Andre Braugher), and he agrees to have state troopers escort Jake and Doug to the prison. Jake decides to switch vehicles to make sure Trudy won't be able to find them.
As they drive to the prison, Jake is still angry at Doug for putting him at risk of being fired. Doug points out that being a police officer is just a job and is not the same as his freedom. This seems to affect Jake, and it is not the first time this season that Jake has doubted being a cop.
Jake begins to suspect Doug is tricking him, and he refuses to follow the state troopers any longer. This leads him right to Trudy and three men she hired from Craiglist to help. When one of the men threatens to shoot Jake, Doug disarms him while Trudy escapes. The men are arrested, and Doug agrees to go to prison. Jake and Doug hug one last time.
Two weeks later, Jake receives a call from Doug. It turns out when they hugged, Jake slipped his pen to Doug which helped Doug undo his handcuffs and escape prison. Over the phone, the two admit they love each other and say goodbye.