'Brooklyn Nine-Nine' Finally Revealed Captain Holt's Mystery Tattoo
On Brooklyn Nine-Nine, Captain Raymond Holt (Andre Braugher) is often full of surprises. Despite appearing formal and robotic, Holt occasionally shows a more emotional and impulsive personality. During the series, Jake Peralta (Andy Samberg) discovered that Holt had a mystery tattoo. In season 8 episode 3, "Blue Flu," Rosa Diaz (Stephanie Beatriz) was shown Holt's tattoo, but viewers were still left guessing.
The series finale of Brooklyn Nine-Nine, titled "The Last Day," premiered on NBC on Sept. 16. In the finale, Holt finally revealed his tattoo to other characters on Brooklyn Nine-Nine.
[Spoiler Alert: This article contains spoilers for season 8 episode 9 and season 8 episode 10 of Brooklyn Nine-Nine.]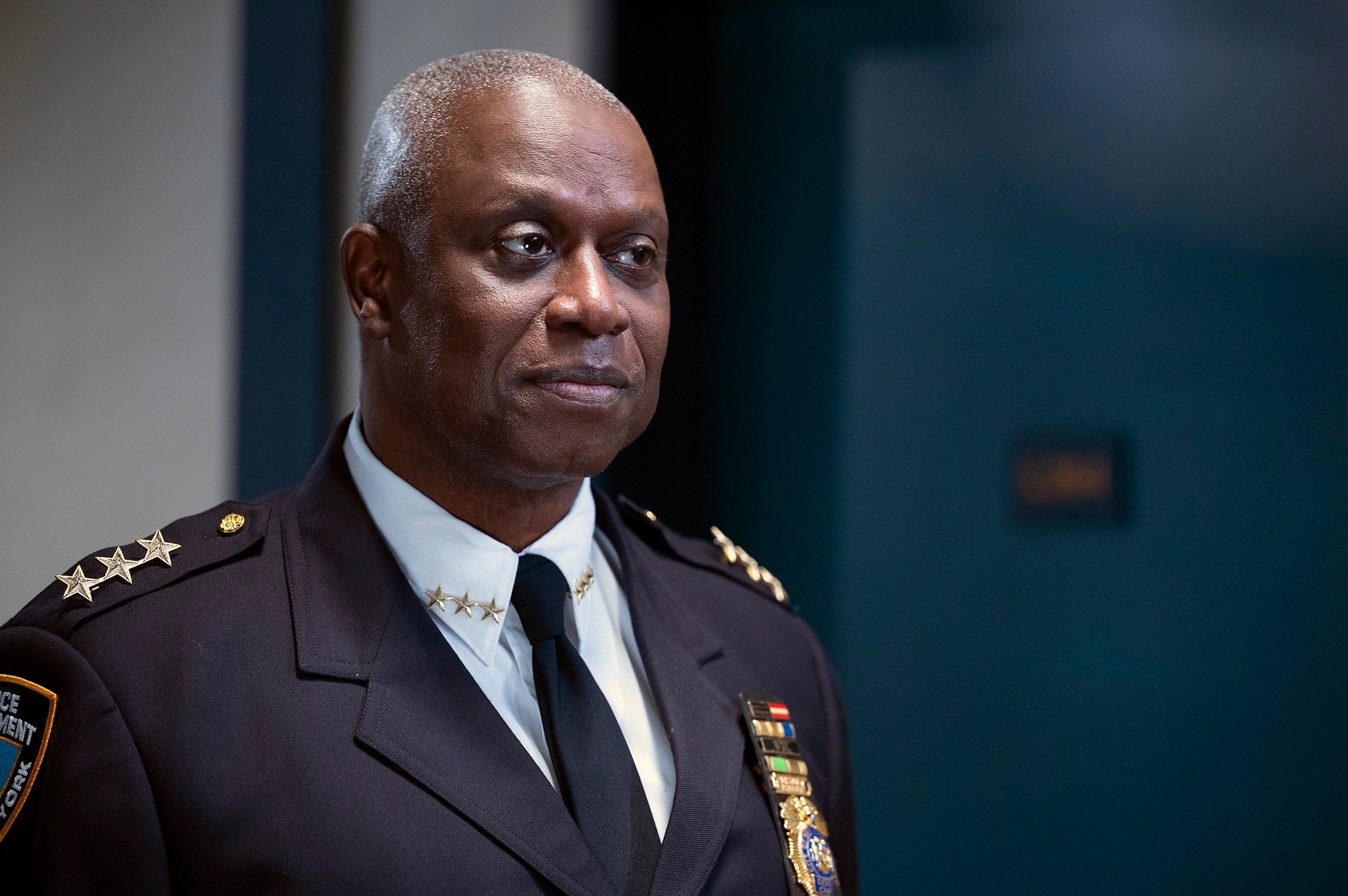 Only Rosa knew about Captain Holt's real tattoo in 'Brooklyn Nine-Nine'
In "Blue Flu," Rosa works as a private detective for Holt as he tries to work against Frank O'Sullivan (John C. McGinley), the head of the patrolman's union.
As payment, Rosa asks to see Holt's tattoo, and he accidentally reveals that his tattoo is in fact a "tramp stamp." Rosa tells him that Jake is paying her money to see what exactly Holt's tattoo is.
Later in the episode, Rosa shows Jake a picture of Holt's tattoo, and Jake is disappointed that it is merely a single decimal point. However, it is then revealed that Holt paid Rosa more money to give Jake a fake picture.
Even though it is confirmed the decimal point tattoo is not real, fans do not get to see the real thing and only Rosa knows Holt's secret.
RELATED: Review: 'Brooklyn Nine-Nine' Takes Some Risks in Season 8 — Does It Pay Off?
Captain Holt shows the squad his tattoo in the 'Brooklyn Nine-Nine' finale
In "The Last Day," Jake decides to organize a final heist. While tracking down clues, Holt, Jake, Rosa, Amy Santiago (Melissa Fumero), Charles Boyle (Joe Lo Truglio), and Norm Scully (Joel McKinnon Miller) all take an elevator together. To distract them, Holt decides to show everyone his tattoo.
"This is unfortunate. I didn't want to have to reveal it this early," Holt says.
"Reveal what this early?" Jake asks.
"My most precious secret," Holt answers. "My tattoo."
He steps out of the elevator and pulls up his shirt to reveal a tattoo of his husband Kevin's (Marc Evan Jackson) head on their dog Cheddar's body.
"I asked for a tattoo of Kevin and Cheddar. I don't know why he combined them," Holt says of the tattoo.
RELATED: Episode Recap: 'Brooklyn Nine-Nine' Returns for Season 8
"It's… it's…," Jake stammers.
"It's the ultimate distraction," Holt says just as the elevator doors close, leaving everyone else behind.
There was another surprise in the series finale
At the start of the Brooklyn Nine-Nine series finale, fans knew Holt and Amy were leaving the Nine-Nine to help implement police reform throughout the NYPD. While planning the heist together, Jake tells Amy that he has decided he wants to be a stay-at-home dad with their son Mac.
Given that Brooklyn Nine-Nine has revolved around Jake's love of being a detective, this comes as a shock to Amy and the rest of the Nine-Nine. However, Jake is sure of his decision, and once the heist is completed Holt tells Jake he is proud of him for growing up so much over the years.