'Brooklyn Nine-Nine' Series Finale Recap: How Did the Show End?
On Sept. 16, the series finale of Brooklyn Nine-Nine aired on NBC. The two-episode finale, titled "The Last Day," showed Jake Peralta (Andy Samberg), Captain Holt (Andre Braugher), Rosa Diaz (Stephanie Beatriz), Amy Santiago (Melissa Fumero), Terry Jeffords (Terry Crews), Charles Boyle (Joe Lo Truglio), Hitchcock (Dirk Blocker), and Scully (Joel McKinnon Miller) going through one final heist together.
[Spoiler Alert: This article contains spoilers for season 8 episode 9 and season 8 episode 10 of Brooklyn Nine-Nine.]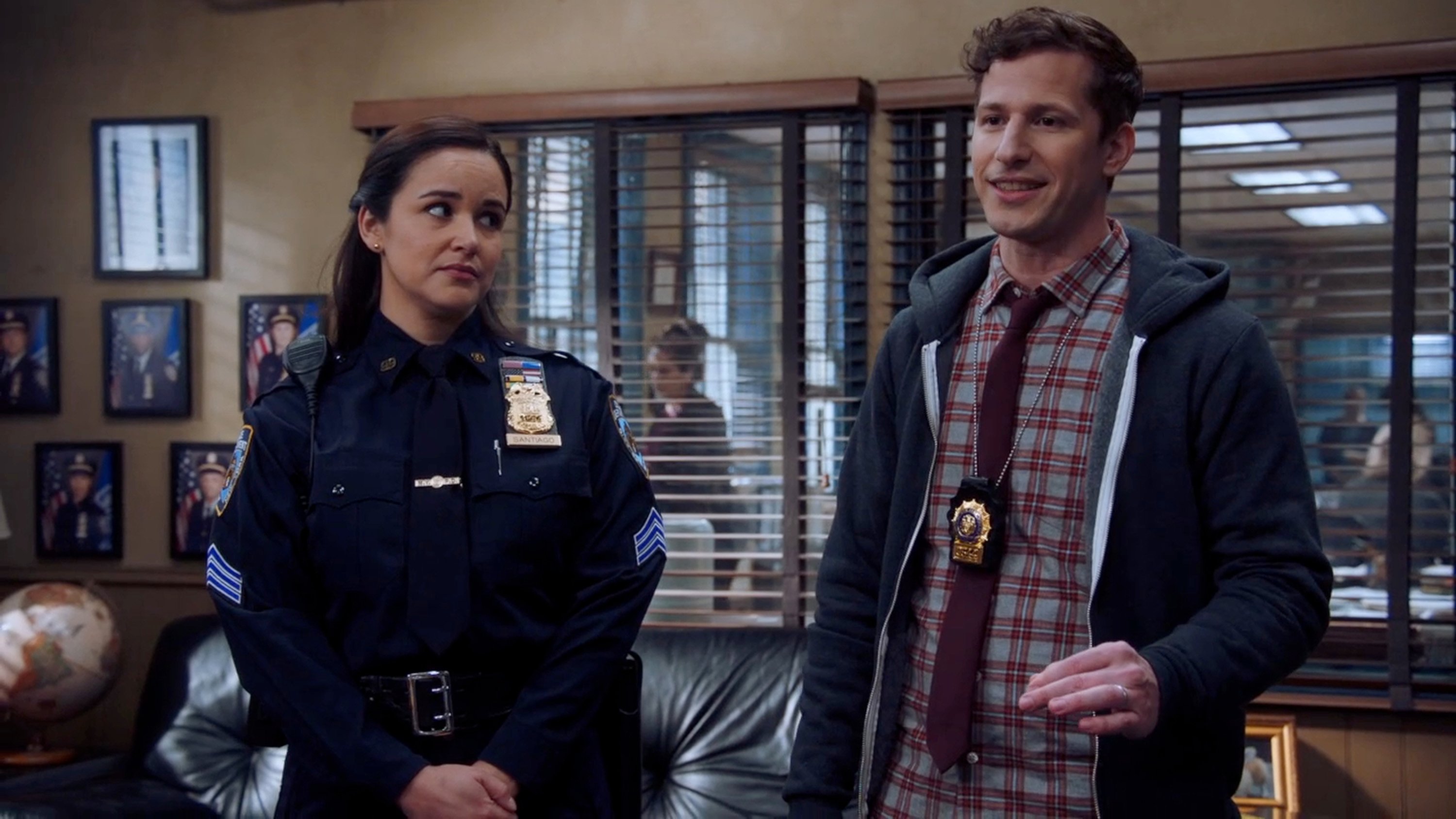 Jake has an important announcement in 'Brooklyn Nine-Nine'
In season 8 episode 8, "Renewal," Holt is made a deputy commissioner of police reform, and he decides to promote Amy to chief to help him implement the reform, meaning both characters are leaving the squad.
Jake decides to plan a final heist under the guise of celebrating Holt and Amy, but before the heist takes place he reveals that he plans to quit his job. Over the course of the season, fans have seen Jake appear torn about remaining a detective.
By quitting his job, Jake tells Amy he will be able to be a stay-at-home dad with their son Mac. At first, Amy pushes back against this idea, but Jake admits that being the best parent to Mac is his new dream.
The final heist in 'Brooklyn Nine-Nine' is utter chaos
Over the years, multiple characters have won the annual heist in Brooklyn Nine-Nine. To raise the stakes for the final heist, Jake decides that whoever wins will be crowned "The Grand Champion of the Nine-Nine" while all past winners are considered irrelevant.
Even though Jake meticulously planned for the heist to go a certain way so he could say goodbye to his co-workers, things immediately go awry due to everyone's schemes.
With it being a series finale, the final Brooklyn Nine-Nine heist features appearances from Holt's former assistant Gina Linetti (Chelsea Peretti), Rosa's ex-fiancé Adrian Pimento (Jason Mantzoukas), Amy's ex-boyfriend Teddy (Kyle Bornheimer), Jake's former cellmate Caleb (Tim Meadows), Boyle's lookalike Bill (Winston Story), and Mlepnos (Fred Armisen).
Who wins the final heist?
With everyone attempting to outsmart each other, the entire heist gets out of hand and ends with Bill locking Jake, Amy, Rosa, Holt, Terry, Gina, and Charles in a storage unit with a cellist named Caroline Saint-Jacques Renard, who is played by Samberg's wife Joanna Newsom.
Thanks to Terry, the group makes it out of the storage unit. When they return to the precinct, Hitchcock is waiting with the prize. It turns out, Hitchcock never actually retired and when he showed up to the precinct, Bill sold him the vessel for $40.
This makes Hitchcock "The Grand Champion of the Nine-Nine." Toward the end of the episode, Holt admits to Jake that he is proud of him, causing Jake to tear up.
The episode ends with Terry as the new Captain of the Nine-Nine. As he addresses Charles, Hitchcock, Scully, and new detectives, Jake appears. Holt, Rosa, Gina, and Amy soon follow. Jake then reveals that even though he left his job, he cannot let Hitchcock be the final winner of the heist. Jake reinstates the Halloween heist, and he announces that it will be an annual event once again.