'Brooklyn Nine-Nine': Some Fans Think Jake Will Quit Being a Cop in the Series Finale
Brooklyn Nine-Nine is currently in its eighth and final season on NBC. An hour-long series finale will air on NBC on Sept. 16. Leading up to the finale, some fans of Brooklyn Nine-Nine suspect that Jake Peralta (Andy Samberg) could quit his job as a detective with the NYPD in the final episode. Given how much Jake loves being a cop, this may seem like a surprising twist. However, multiple scenes in the eighth season have possibly foreshadowed Jake giving up his job.
[Spoiler Alert: This article contains spoilers for season 8 of Brooklyn Nine-Nine.]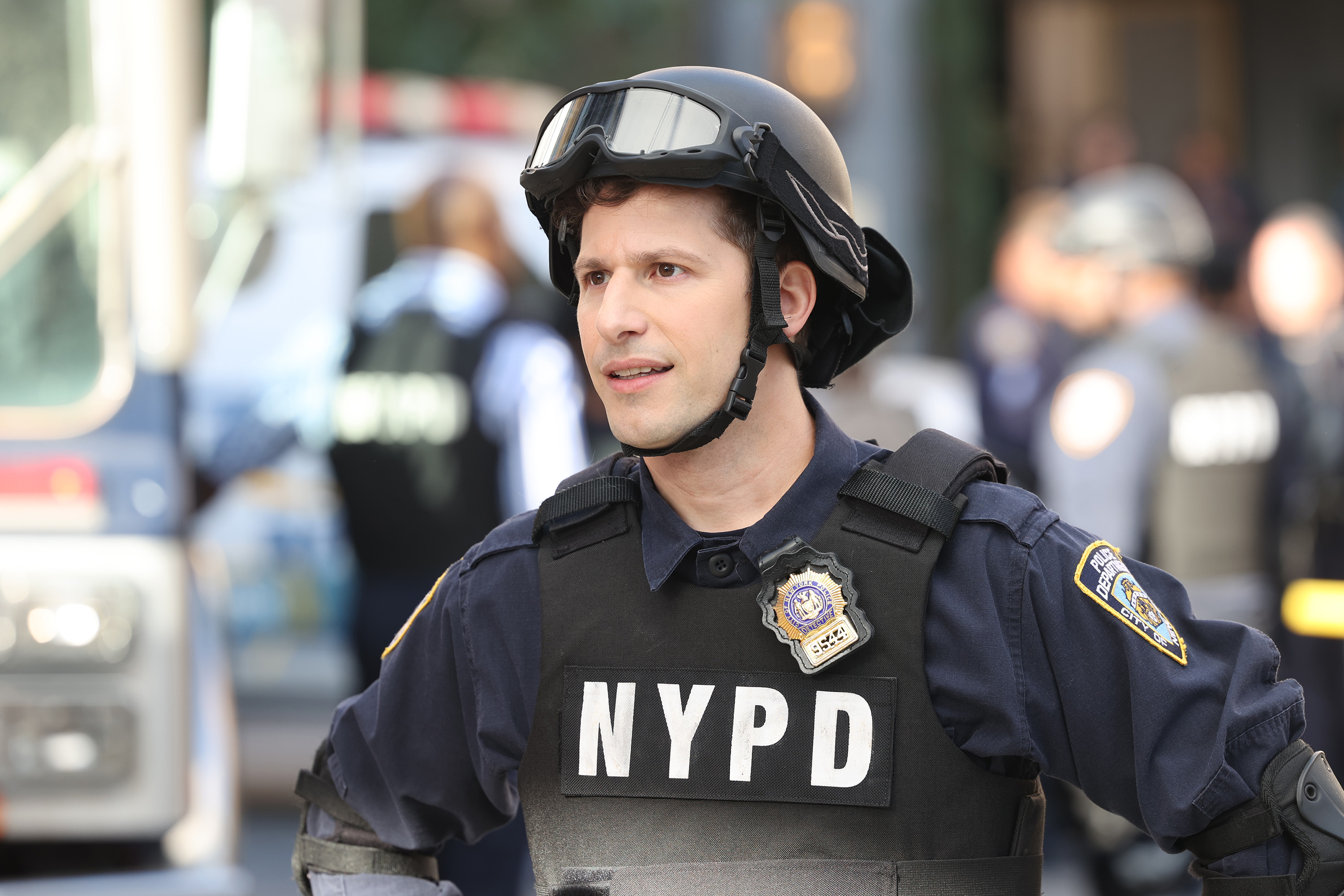 Jake takes offense when Rosa quits the force in 'Brooklyn Nine-Nine'
In season 8 episode 1 of Brooklyn Nine-Nine, "The Good Ones," Rosa (Stephanie Beatriz) decides to quit working for the NYPD. She starts a job as a private investigator to help victims of police brutality. While other characters on the show support Rosa's change in career, Jake takes offense to her choice.
He sets out to prove to Rosa that not all cops are bad, but the two are faced with repeated instances of the NYPD and police officers being corrupt. The two get into an argument about policing because Jake feels insecure about his decision to remain a cop and he worries about how Rosa and others perceive him.
The two later reconcile, and Jake admits to Rosa that his way of thinking makes him "part of the problem." At one point during their conversation, Jake seems to doubt his decision to remain a police officer.
Jake takes a step back from his job in multiple episodes
Throughout the rest of season 8 of Brooklyn Nine-Nine, there have been multiple instances of Jake not being as sure about the importance of his job.
In season 8 episode 4, "Balancing," Jake tries to track down his arch-nemesis, a serial killer named Johnny Franzia. When the case gets in the way of his parenting duties, Jake lets Charles Boyle (Joe Lo Truglio) take over the case.
Instead of catching Franzia, Jake stays home to watch his young son Mac while his wife Amy (Melissa Fumero) stays at work. As a result, Jake witnesses Mac pull himself up for the first time.
During the next episode, "PB&J," Jake makes a surprising call and helps his friend Doug Judy (Craig Robinson) escape from prison by slipping him a pen that allows Doug to undo his handcuffs. Jake makes this decision after Doug points out that his freedom is more important than Jake's job.
In season 8 episode 8, "Renewal," Amy receives a huge promotion that will make balancing her career and taking care of Mac more difficult. Jake reassures Amy everything will work out, possibly hinting he will be a stay-at-home dad or cut back on hours.
Some 'Brooklyn Nine-Nine' fans think Jake will quit his job
After "Renewal" aired, a number of fans of the NBC series became convinced the show will end with Jake leaving the force.
"Jake's gonna retire isn't he? This wasn't Holt's last cast, but Jake's," a Reddit user speculated.
"Jakes going to leave it feels like. And it makes me both sad, and happy at the same time. He will be able to be the father figure he always wanted to have without anything standing in the way. So that's great," a fan wrote on Reddit.
While some fans think Jake could be a stay-at-home parent, others speculate Jake could join Rosa as a private investigator.
One fan wrote on Reddit, "I'm thinking he could leave the force but become a part time PI with Rosa- still gives him some cases to solve but let's him have more time at home with Mac while Amy brings home the big bucks?"
The series finale of Brooklyn Nine-Nine will premiere on NBC on Sept. 16.