​Bryce Dallas Howard Doesn't Work With Stylists Because of Sample Sizes
Easily recognizable due to her brilliant red hair and dazzling smile, Bryce Dallas Howard is outspoken and opinionated, especially when it comes to style.
Bryce Dallas Howard comes from a prestigious entertainment family, but she's managed to carve out an impressive career on her own merits. The actor/director is the oldest child of iconic filmmaker Ron Howard. She's starred in several feature films, including Jurassic World and Terminator Salvation.
Easily recognizable due to her brilliant red hair and dazzling smile, Bryce Dallas is outspoken and opinionated. In 2016, she opened up about fashion, revealing the reason why she chooses not to work directly with stylists. 
What is Bryce Dallas Howard best known for?
Bryce Dallas was born in 1981. Thanks to her father, she developed an intense love for the entertainment industry at a young age. While acting in stage productions, she caught the eye of director M. Night Shyamalan, according to IMDb. He cast her in his 2004 movie The Village.
In the following years, Bryce Dallas appeared in high-profile movies like Kenneth Branagh's As You Like It and Sam Raimi's Spider-Man 3. Some of her best-known roles include the intensely unlikable Hilly Holbrook in The Help and tough, determined Claire Dearing in the Jurassic World franchise.
In recent years, Bryce Dallas has earned critical acclaim for her directing. In particular, her work in the Star Wars universe has endeared her to fans. The 41-year-old lent her unique touch to episodes of the Disney+ series The Mandalorian as well as The Book of Boba Fett. 
Bryce Dallas Howard doesn't work with stylists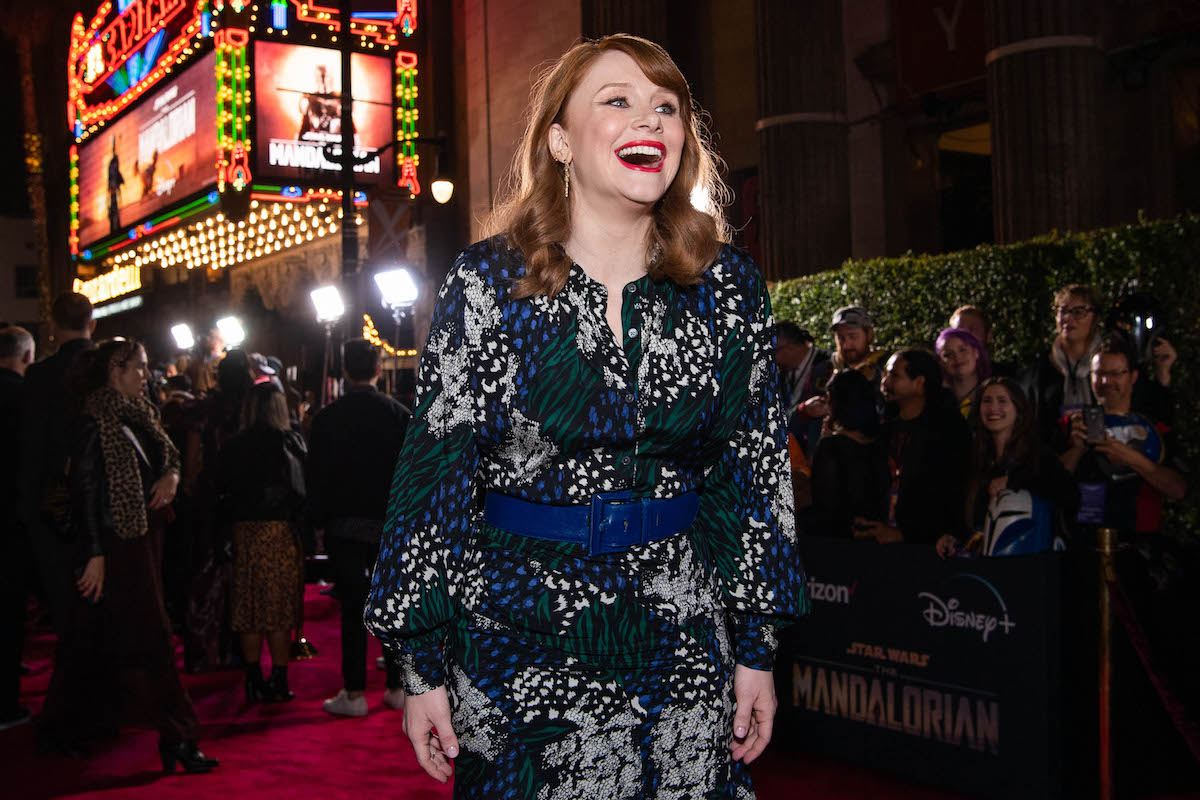 Bryce Dallas might be a staple on red carpets. But the actor doesn't usually work with stylists to help her perfect her outfits. In 2016, she opened up about why she likes to shop for her own dresses. As People reports, Bryce Dallas said:
"That's the comfortable way to go through these things. I alluded to this a little before, but it's when you're not 'sample' size, or when you don't have a direct relationship with a designer, or if you don't have a lot of notice, those types of size 6 dresses just aren't available that much."
Many celebrities utilize stylists to pick and choose exactly what they'll wear down to the jewelry and shoes. Since most designer clothing is sized for very thin models, it makes sense that any stars who aren't incredibly thin would struggle to find clothing that works for them.
Bryce Dallas Howard likes to keep her fashion and makeup looks low-key at home
Certainly, Bryce Dallas' fondness for shopping online rather than turning to a stylist's services doesn't mean she ever looks less-than-fabulous. In fact, she is known for selecting bold dresses and bright colors, often choosing shades that complement her bright red hair and fair skin. Still, when it comes to her off-time, Bryce Dallas opts for comfort and doesn't usually dress up. 
In a 2018 profile for Good Housekeeping, Bryce Dallas showed off a few of her favorite looks, which include chic white overalls, striped shirts, and preppy, high-waisted pants.
As far as makeup goes, she is similarly laid-back. "I don't wear a lot of makeup, but I love Blinc mascara," Howard admitted. Bryce Dallas always makes sure to wear sunscreen to protect her fair skin and has a special fondness for Dior lip oils. The actor also never goes to bed with makeup on, removing it with a cleansing oil before turning in for the night.