BTS Almost Went With This Surprising Name for Their Fandom Before Deciding on 'ARMY'
What would BTS be without their ARMY? The dedicated fan base helped the group go from relatively obscure to one of the biggest bands in the world. Because of how supportive they are, "ARMY" is the perfect name for BTS' fans as they work together to stand by the group through thick and thin.
While it's likely impossible for their fans to imagine being called anything else, it turns out that BTS had a different name in mind for their fandom when they were first starting out — and it's one that might come as a surprise to some.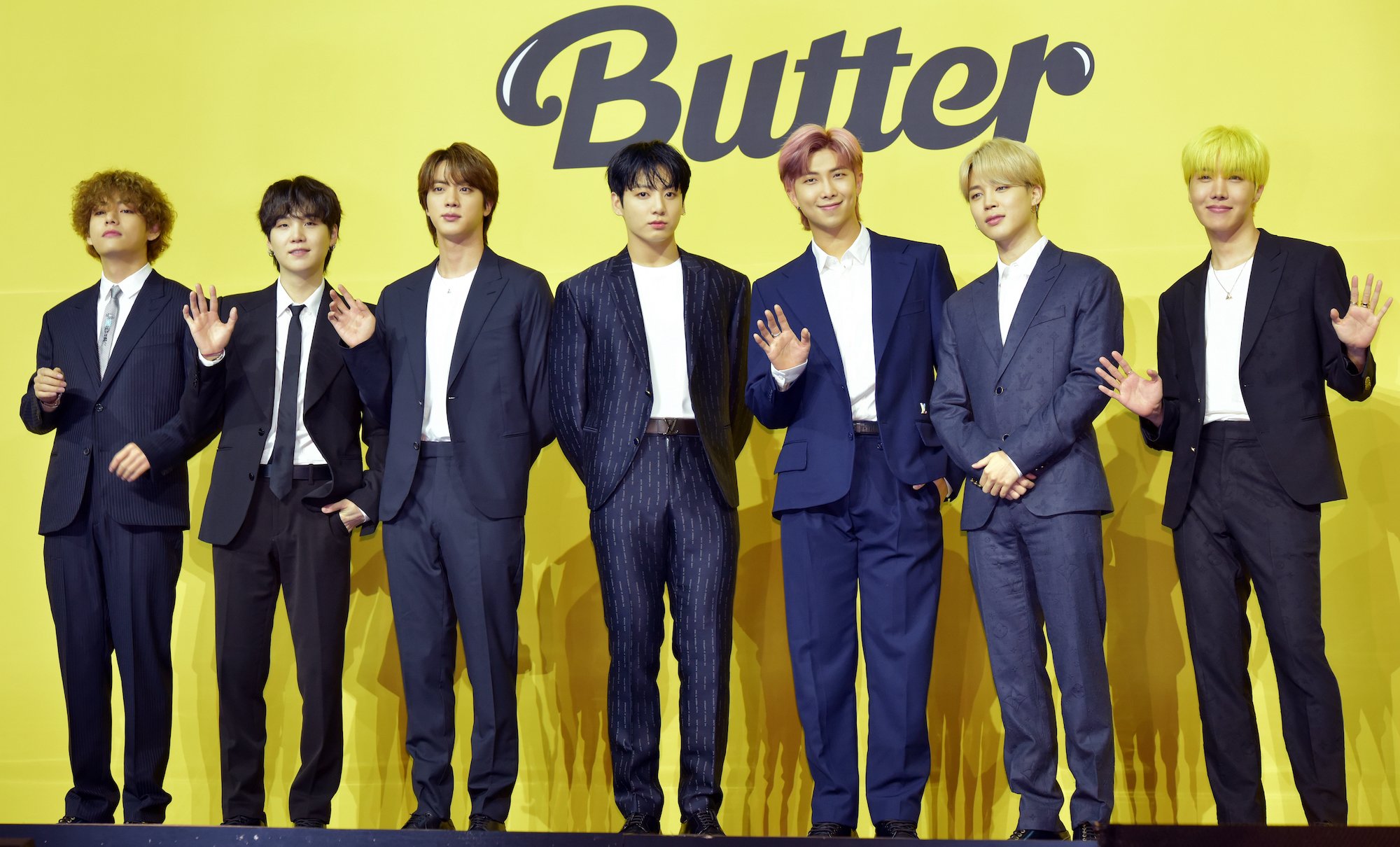 BTS reveals that their fandom was almost called 'Bell'
On July 14, BTS appeared on The Tonight Show Starring Jimmy Fallon to promote their newest singles, "Butter" and "Permission to Dance." Before getting into their new music, the band was asked to clear up a few rumors about themselves that have been circulating through the internet, which they eagerly agreed to.
First, BTS spilled some major tea about their fan base, revealing that it was originally going to be called "Bell" before the group decided on "ARMY."
RELATED: BTS Kind of Dropped Hints About a New Tour on 'The Tonight Show Starring Jimmy Fallon'
"It's kind of true. When you say BTS, it stands for 'bangtan' in Korean, not 'behind-the scenes,' for your information," explained RM, who makes up the group with V, Jungkook, Jimin, Jin, Suga, and J-Hope. "When you say 'bell' in Korean, it sounds like 'bang wool.' It starts with the same word, 'bang.'"
RM continued, "So when we think of the fan[dom] name, someone brings up the idea, like, 'What about the bell thing?' Everybody rings their bells and [we're] like, 'Make some noise!' and the Bells are like 'ring-a-ling-a-ling. ' But thank God… ARMY is so much better."
One of the group members was also close to having a different name
After the group set the record straight on those rumors surrounding their fan base's moniker, Fallon asked Jimin about his stage name, which was close to being Baby G or Baby J, before he decided to use his real name.
"When I thought about saying, 'Hi, I'm Baby J,' that sounded really weird," Jimin said. "So I just decided to go on with my real name."
The singer then joked that the next time he performs, he will go by Jimin Fallon after the late-night host.
Moving on to V, Fallon asked the singer if it's true that he never intended to join BTS and originally went to the tryouts for the band to support one of his friends.
V confirmed this story, sharing that his friend "failed" the audition, and he reigned victorious in the end.
BTS has grown a deep love and admiration for their ARMY
As fans know, ARMY was established as BTS' fandom name on July 9, 2013, soon after the band released their first single, "2 Cool 4 Skool."
Since then, the ARMY has stood by the group through every triumph as they've catapulted to superstardom.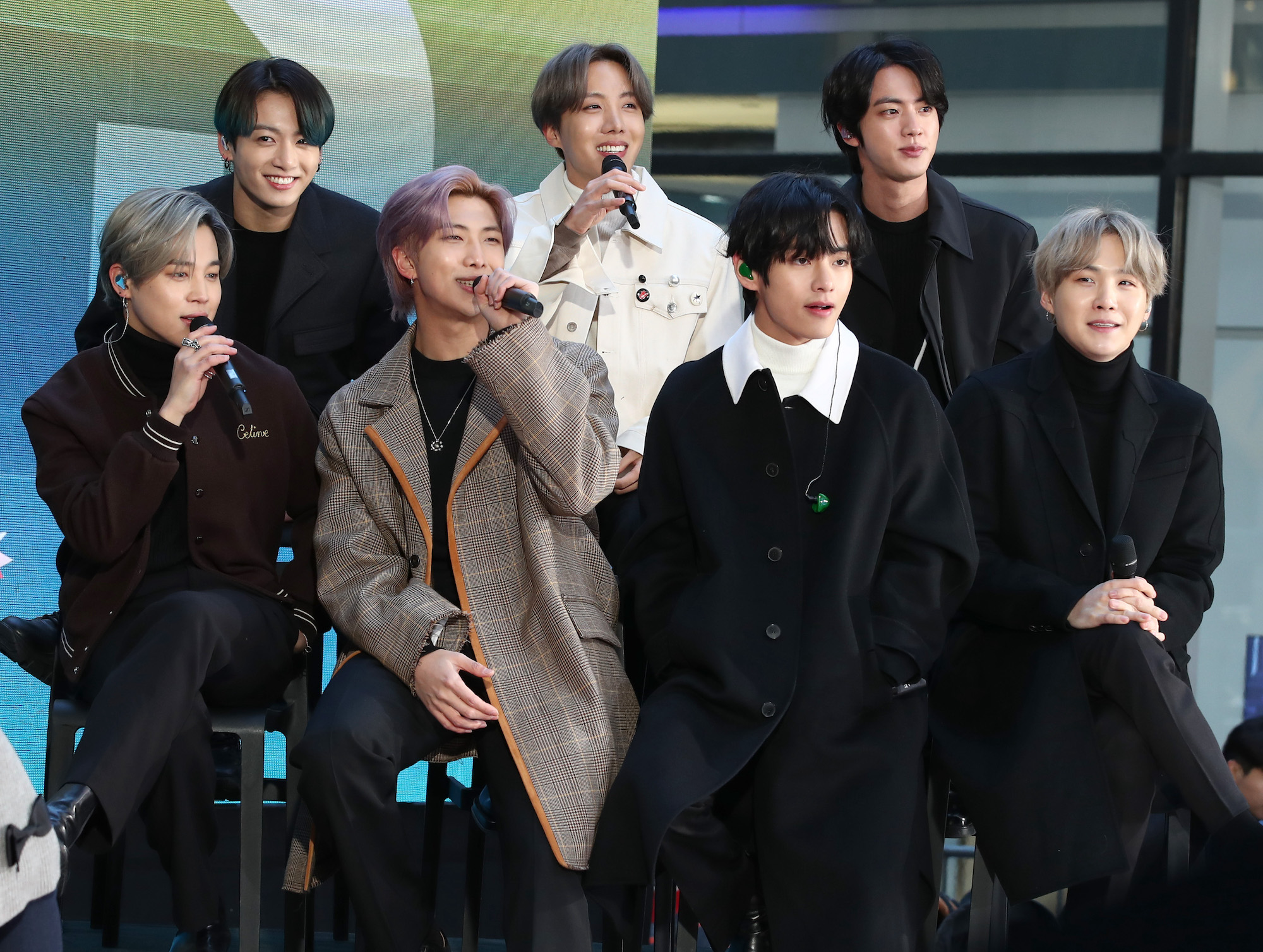 RELATED: BTS' RM Shares Study Tips and Motivation With BTS ARMY: 'You Will Be Craving to Study'
Not only has the ARMY supported the band's career endeavors, but it's also used its power for social and political action around the world, including raising money to regrow rainforests, feeding LGBTQ refugees, and much more.
In November 2020, BTS expressed deep admiration for their fan base, telling Esquire that they greatly appreciate fans channeling their message of positivity to become advocates for social good.
"We and our ARMY are always charging each other's batteries," RM told the magazine. "When we feel exhausted, when we hear the news all over the world, the tutoring programs, and donations, and every good thing, we feel responsible for all of this."
He continued, "We've got to be greater; we've got to be better. All those behaviors always influence us to be better people, before all this music and artist stuff."