BTS Are Taking Over 'The Tonight Show Starring Jimmy Fallon' for an Entire Week
Starting Sept. 28, 'The Tonight Show Starring Jimmy Fallon' will put on a week of special episodes called 'BTS Week.'
Starting Sept. 28, BTS will perform on The Tonight Show Starring Jimmy Fallon for five nights in a row. Jin, Suga, J-Hope, RM, Jimin, V, and Jungkook will also take part in skits and a virtual interview with Jimmy Fallon. The special episodes will be known as "BTS Week," and for one of the performances the Korean band will perform their new English-language single "Dynamite."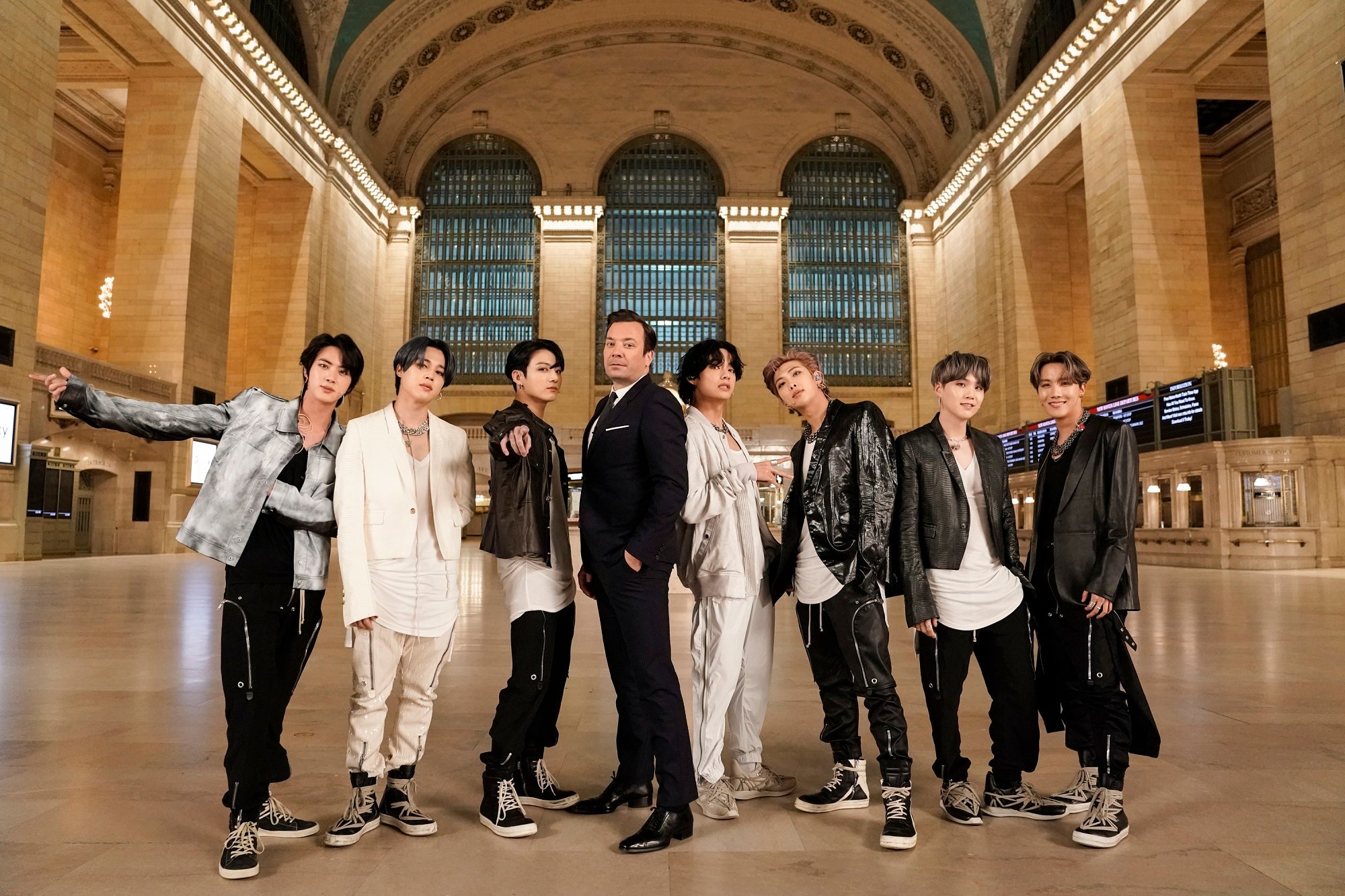 What 'BTS Week' will entail
"BTS Week" will kick off on Sept. 28 on NBC, and the group will appear on The Tonight Show Starring Jimmy Fallon for the next five days.
A press release from NBC reveals more information about the weeklong special, writing:
"'BTS Week' will feature a unique performance each night, including a rendition of their chart-topping new single, 'Dynamite,' comedy bits with host Jimmy Fallon and a virtual interview. Throughout the week, viewers will get to see BTS unlike they've ever seen them before on The Tonight Show as they join Fallon in some of the show's iconic segments. On Sept. 30, the group will serve as lead guest.

'We love having BTS on the show. These guys are incredible, and you just know they're going to go above and beyond to make their performance unforgettable,' Fallon said. 'Last time we had them on we took over Grand Central Terminal, so we had our work cut out for us to top that. And what's better than one night with BTS … a full week!'"
RELATED: BTS: 'Dynamite' Remains in the Top 10 of the Billboard Hot 100 in its Third Week
ARMY can't wait for 'BTS Week' on 'The Tonight Show Starring Jimmy Fallon'
Five nights of BTS is pretty much the best thing any fan could imagine. Not only will the members of BTS be interviewed, they will get to show their comedic skills that fans normally get to see on their variety show Run BTS!
Right now, "Dynamite" is the only song BTS are confirmed to perform. However, the band has performed their 2017 song "Spring Day" multiple times this year to give hope to people amid the coronavirus (COVID-19) pandemic. Because of this, "Spring Day" seems like it will definitely be one of the songs BTS perform for "BTS Week."
"Ahh we're feasting next week! This month has been such a treat for the fandom and I'm so thankful they're working so hard for us. My guess on the setlist: Dynamite, Mikrokosmos, Spring Day… hmm maybe two other B-sides we haven't heard recently, like what they did with Save Me last night. I'm really, really excited! I hope they do another live band set," a Reddit user wrote.
"This promo run has been amazing omg. Five new BTS performances (+ interview, skits, comedy bits) for a whole week sounds like a dream," wrote a Reddit user.
RELATED: BTS Wow Fans With Their Performance of 'Dynamite' on 'America's Got Talent'
The group's success with 'Dynamite'
"BTS Week" on The Tonight Show Starring Jimmy Fallon comes in the midst of promotions for "Dynamite." The K-pop group released the song on Aug. 21, and the "Dynamite" music video became the biggest YouTube premiere of all time with 3 million concurrent viewers. It also set the record for the most-viewed video within its first 24 hours on YouTube with 101.1 million views.
"Dynamite" then debuted at No. 1 on the Billboard Hot 100 chart, and BTS became the first all-South Korean group to hit No. 1 on the Hot 100. Fans can catch the group's next performance of "Dynamite" on The Tonight Show Starring Jimmy Fallon.