BTS: 'Break the Silence' Shows What Sets the Group's Music Apart From Other Artists
The first few episodes of BTS's new docu-series Break the Silence are out for ARMY to enjoy. Break the Silence follows BTS during their Love Yourself World Tour and World Tour Love Yourself: Speak Yourself. Over the past couple of years, BTS have broken record after record, and the Korean band does not show any sign of slowing down. Based on Break the Silence, it's clear to see what sets BTS apart from other artists.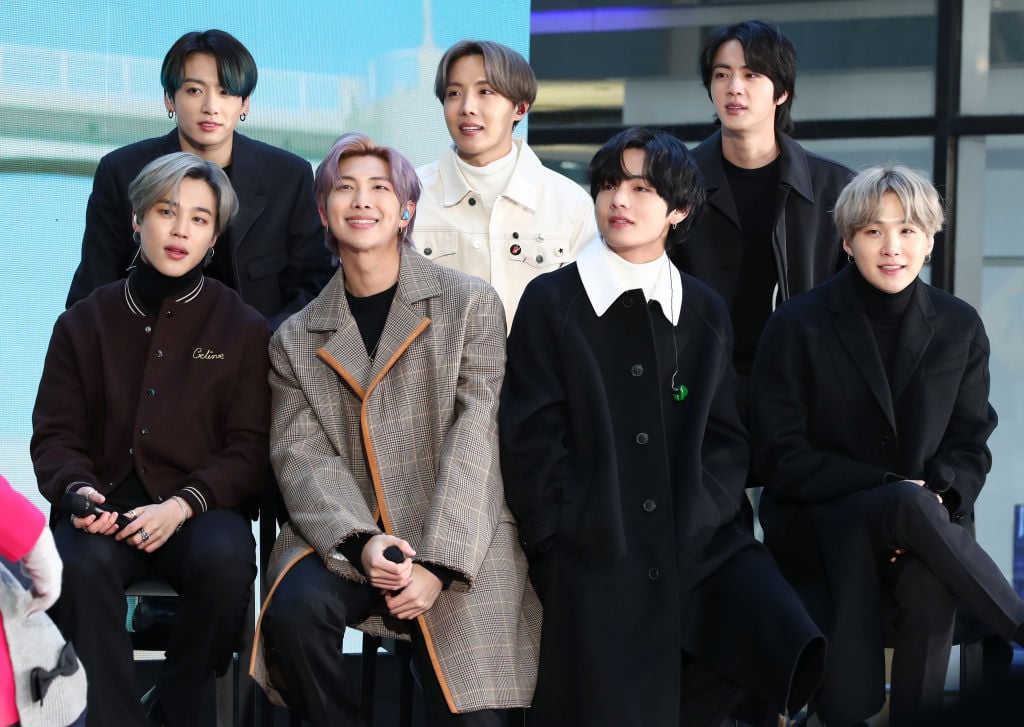 BTS's album 'Map of the Soul: 7' reached No. 1 on the Billboard 200
BTS released their most recent album Map of the Soul: 7 on Feb. 21, 2020. On March 1, 2020, Billboard reported that the album debuted at No. 1 on the Billboard 200 chart. This is an impressive feat, but there is more to it.
By achieving this, BTS also achieved their fourth No. 1 album in less than two years. Their albums Love Yourself: Tear, Love Yourself: Answer, Map of the Soul: Persona, and Map of the Soul: 7 all reached No. 1 in a little over one year and nine months.
The group also reached a career best with the album's lead single "ON." The single peaked at No. 1 on the Billboard Hot 100 chart. BTS achieved this with essentially no radio play, which typically boosts Hot 100 rankings.
'Break the Silence' shows the reason the group makes their music
While BTS consistently tops music charts around the world, the K-pop group does not make music for that purpose. In Break the Silence, Suga reflected on how he makes music.
"'Now that we're successful singers, I'll use this song to top the charts.' If I approach it in that way, it just becomes meaningless," he said.
Map of the Soul: 7 is an album with BTS at the top of their game, and it received critical acclaim and was commercially successful upon its release. However, it is also one of BTS's most introspective works to date. It's an album of reflection that combines both nostalgia and looking towards the future as BTS examines the legacy they've created over the past seven years and their relationship with music.
RELATED: Album Review: BTS Find Balance and Strength With 'Map of the Soul: 7'
BTS is making another album with purpose
Due to the coronavirus (COVID-19) outbreak, BTS had to postpone their Map of the Soul Tour. However, the group is trying their best to show that life must go on despite all the challenges brought on by the pandemic.
Currently, the group is in the process of making a new album. However, the members are giving ARMY a look at their creative process. In addition to their normal songwriting and producing duties, each member has an assigned role and the group is self-producing the album with minimal guidance from Big Hit Entertainment.
During a meeting that the group shared with fans on YouTube, the members discussed what they wanted the album to be like.
RELATED: BTS Wants to Make Another Song Like 'Spring Day' on Their New Album
"I'd like for the album to not be very dark. Rather than explicit comfort, I'd like it if we could offer a more metaphorical message like 'Spring Day' to give hope to everyone," Suga said according to a translation by Soompi.
"I want to include the message that no matter what's going on in the outside world, our lives go on," RM said.
BTS released "Spring Day" in 2017, and it's one of their most popular songs due to its themes of loss and moving on. With their new upcoming album, it's clear BTS is looking to send a message of strength and comfort to fans in a time of hardship.