BTS Broke 2 More Guinness World Records With 'Dynamite'
The members of the South Korean boy band BTS are no strangers to making headlines and breaking records. For example, 2019's Map of the Soul: Persona made BTS the first band since the Beatles to see three singles at the top of the Billboard 200 in less than a year. The group is also consistently one of the most-streamed artists on Spotify, notching billions of plays on the audio platform.
That momentum hasn't slowed, either. In fact, BTS's hit single "Dynamite," retroactively included in the band's 2020 album Be, recently broke two more Guinness World Records.
It all began with BTS's 2013 debut album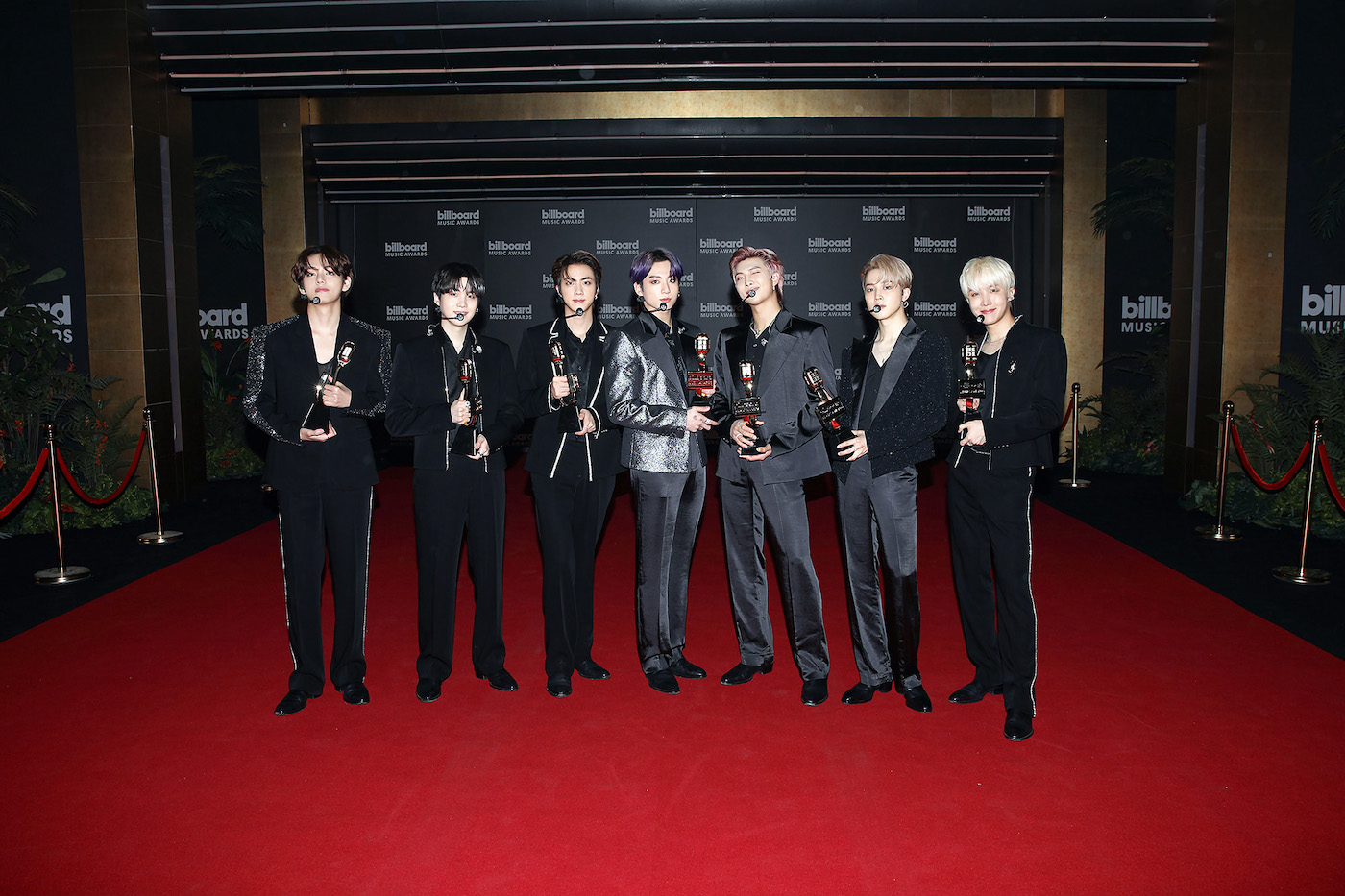 Although the concept of BTS began in 2010, the group's format and musical approach took several years to finalize. In June 2013, the bandmates released their debut album, 2 Cool 4 Skool. Their country, South Korea, quickly took notice.
In November 2013, they were "recognized as Best New Artist at South Korea's Melon Music Awards, their first major award," Billboard reported. "They would go on to win several similar awards throughout the 2013-2014 award season."
BTS released a Japanese-language album, Youth, and a Korean-language album, Wings, in 2016. Soon, the two records brought them widespread commercial success and marked their big break into the mainstream.
"Wings … was one of the most conceptually and sonically ambitious pop albums of 2016, becoming Korea's best-selling album of the year," Rolling Stone reported. The magazine also called BTS one of 2017's top 10 new artists to watch. That year, BTS expanded internationally with sold-out arena tours around the globe.
To date, BTS has released numerous multi-platinum albums and singles and won dozens of honors. They include numerous Billboard Music Awards, American Music Awards, and a Grammy nomination. But one of their most recent singles is breaking world records.
BTS's single 'Dynamite' broke records within 24 hours of its release
BTS released "Dynamite" on August 21, 2020. And it was an immediate success among fans, critics, and the music industry.
"True to its name, 'Dynamite' blew up big-time for BTS," Stereogum reported. "The K-pop superstars are undeniably the world's most popular pop group, but they'd never had a US #1 single before 'Dynamite' debuted atop the Hot 100 at the end of August."
Within the first 24 hours of its release, listeners streamed "Dynamite" nearly 7.8 million times, beating Taylor Swift's "Cardigan" to become the year's biggest global song debut, Forbes reported. The song also broke YouTube records for most-viewed video in just over an hour upon its release and shot to the top of Apple iTunes' music charts within eight hours.
In the spring of 2021, the International Federation of the Phonographic Industry (IFPI) released its much-watched list of the year's top-performing hits. The IFPI's global analysis found that "Dynamite" was the 10th-best-selling song globally for 2020 and had been streamed 1.28 billion times in less than five months.
And now, Guinness World Records has added "Dynamite" to its coveted listings.
'Dynamite' has now shattered several Guinness World Records
In 2020, Guinness World Records awarded BTS three distinctions for "Dynamite": most-viewed YouTube video in 24 hours, most-viewed YouTube music video in 24 hours, and most-viewed YouTube music video in 24 hours by a K-pop group. The same year, Guinness World Records also gave "Dynamite" the world record for having the most simultaneous viewers for a music video on YouTube Premieres.
And this year, the organization has awarded "Dynamite" even more world records. "BTS smash two more world records with single 'Dynamite,'" Guinness World Records explained in April 2021.
Thanks to "Dynamite" still appearing on several Billboard charts months after its debut, the single now holds two more world records. The band has claimed the most weeks on the U.S. Hot 100 by a K-pop track and the most weeks at number one on Billboard's Digital Song Sales Chart.