BTS Builds the Hype for 'Dynamite' With a New Group Teaser Photo
On Aug. 12, BTS released a group teaser photo for their upcoming single 'Dynamite,' building anticipation for the song.
If the teaser photos are any indication, BTS's new single "Dynamite" will be exactly what this year needs. On Aug. 12, the Korean band released a group teaser photo to promote the song, promising that "Dynamite" will be the fun summer anthem everyone expects. Fans will see one more set of teaser photos on Aug. 15 before the single drops on Aug. 21.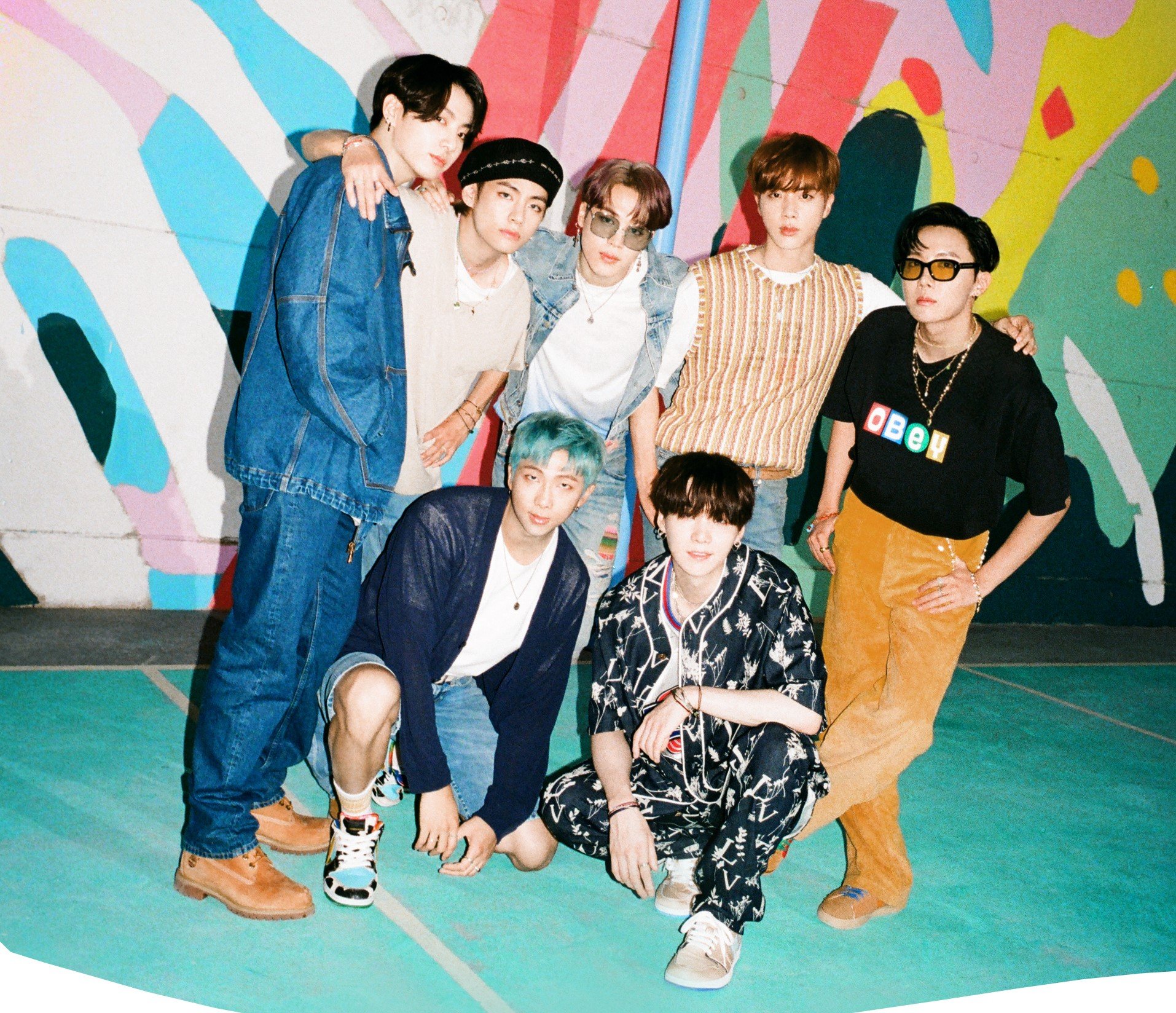 BTS's new teaser photo is 'bright and energetic'
In the first teaser photos released on Aug. 10, each BTS member posed in front of a white background. According to a press release from Big Hit Entertainment, "the members individually show off their carefree moods through their unique poses and styles" in the photos.
The new group teaser photo shows the BTS members as they pose in front of a basketball hoop and graffitied wall. A press release from Big Hit Entertainment explains that the first group teaser photo "for 'Dynamite' embodies a bright and energetic mood with vibrant colors and comfortable poses."
While it is a group teaser, the members still express their individual style through their accessories. Fans also have a better look at the details of their outfits, including Jungkook's Timberlands and Suga's "Tune Squad" basketball jersey, a reference to the 1996 film Space Jam.
After Big Hit Entertainment released the teaser photo, fans trended #2ndDynamiteTeaser on Twitter. With the hashtag, fans discussed how the new teaser photo gives off major '90s vibes and referenced classic '90s pop culture.
RELATED: BTS Will Perform 'Dynamite' at the 2020 MTV VMAs
What BTS revealed about 'Dynamite'
Based on hints from the group's "Bang Bang Con The Live" and the new teaser photo, some fans suspect "Dynamite" could be a throwback hip-hop track. However, the sky is the limit with BTS, and the group is known for always trying new things.
In an audio VLIVE on July 27, BTS first announced the song and gave a few details of what fans should expect.
"We have prepared a new single for ARMY, set for August 21. We are preparing an album for the second half of this year, but decided to first release a single because we wanted to reach our fans as soon as possible. Due to COVID-19, people around the world have been going through tough times and we wanted to share some positive energy with our fans," the band said in the broadcast.
RELATED: BTS: All the Important Dates ARMY Needs to Know About the Release of 'Dynamite'
Follow Eryn Murphy on Instagram and Twitter. 
BTS continued, "The song is upbeat and sung in English, just like 'MIC Drop' and 'Waste It On Me.' We thought that the song sounded perfect as it is in English. We recorded the guide version and felt that the result was something totally new and fresh."
'Dynamite' comes out on Aug. 21
Already, the anticipation for "Dynamite" is high, and there are still multiple promotional events for fans to look forward to. The last teaser photos drop on Aug. 15 at 11 a.m. EST and Aug. 16 at midnight KST. Following the teaser photos, a "Dynamite" music video teaser will be released at 11 a.m. EST on Aug. 18 and midnight KST on Aug. 19. 
Leading up to the music video's release, a "Countdown Live" will begin on YouTube at 11:30 p.m. EST on Aug. 20 and 12:30 p.m. KST on Aug. 21. The digital single and "Dynamite" music video drop at midnight EST and 1 p.m. KST on Aug. 21.
After the song premieres, a B-side "Dynamite" music video will be released on Aug. 24 at 11 a.m. EST and Aug. 25 at midnight KST. BTS will then perform "Dynamite" at the 2020 MTV Video Music Awards at 8 p.m. EST on August 30 and 9 a.m. KST on August 31.