BTS: This Clue Suggests a Collab With Coldplay Is on the Way
BTS has always shared their love for British rock band Coldplay. The even covered one of Coldplay's most iconic songs. Now fans are convinced that BTS is about to collaborate with Coldplay and they have a clue to back it up.
BTS is loved and celebrated worldwide for its gorgeous vocals, stunning sounds, and precise dance moves. However, that doesn't mean that Jin, V, RM, Suga, J-Hope, Jungkook, and Jimin don't admire other music artists in the industry. From their admiration of Jay-Z and Beyoncé to Ariana Grande and Coldplay, the guys haven't been shy about who they'd love to work with.
BTS has made it clear that they are huge Coldplay fans, even covering one of the band's biggest hits recently. Now, the BTS ARMY is convinced that the band is set to do an entire collab with Coldplay.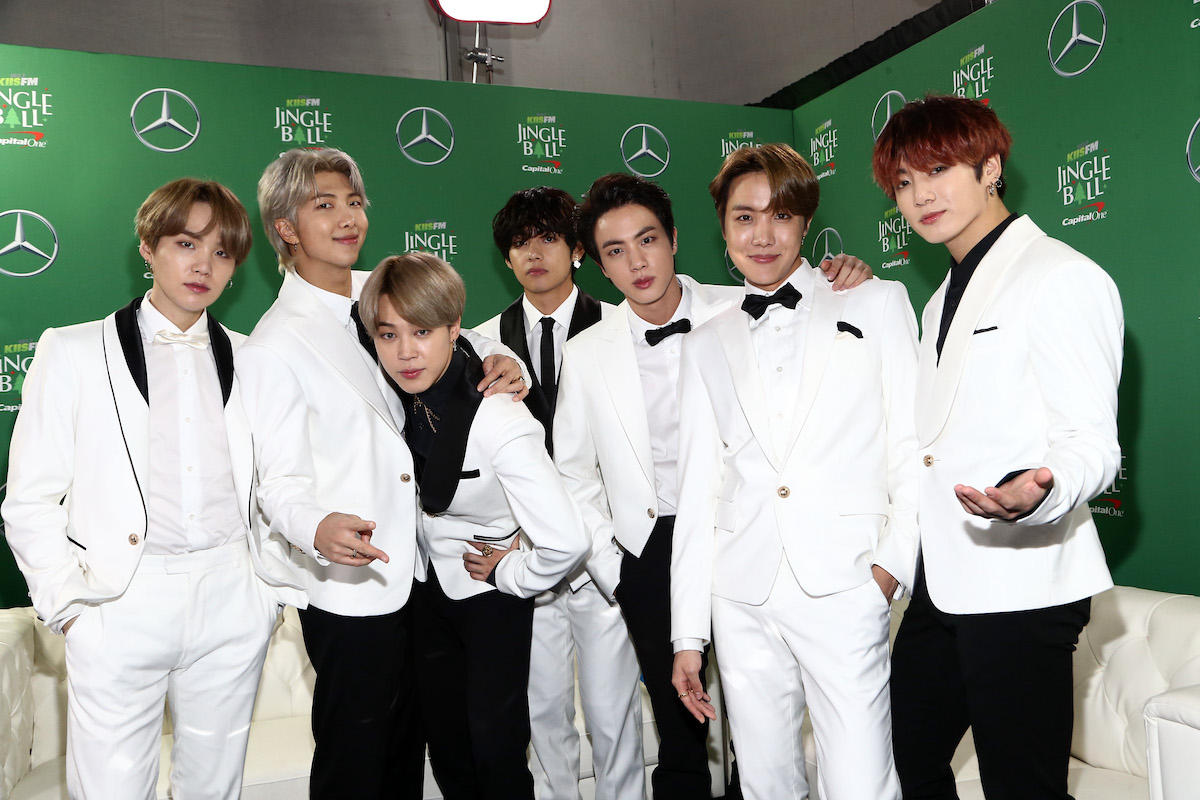 BTS are huge fans of Coldplay
BTS has always been huge fans of Coldplay. During a 2017 live stream, RM went off on a tangent about how much he adored the band. On the release of the BTS 2020 album BE, band members listed some of their favorite songs. Jin added "Fix You" to his playlist titled "Jin's Favorite Tracks."
During a press conference just before BTS's performance at Wembley Stadium V spoke about how much he loved the band. "For a long time, I have loved Coldplay and I have always enjoyed listening to their music. We turned on Coldplay when we got in the car in the UK. In the past, I had a chance to go to a Coldplay concert. If there's an opportunity, I would like to collaborate with Coldplay," V said according to The Korea Herald.
He reiterated this during an iHeart Radio Live after BTS released their EP Map of the Soul: Persona. V said, "I really want Coldplay" when asked about collaborations. RM added, "Chris Martin."
BTS covered Coldplay on 'MTV Unplugged'
BTS showcased their love for Coldplay during their Feb. 23 appearance on MTV Unplugged. During the show, BTS covered the 2005 Coldplay hit, "Fix You."
The British rock band absolutely loved BTS' rendition of one of their most beloved songs, and they tweeted "Beautiful" in Korean, along with grey heart emojis at BTS. They also signed it "Love c, g, w & j."
Now, it seems that the BTS ARMY has found evidence that BTS is about to do major collaboration with Coldplay.
Will BTS collab with Coldplay?
It all begin when an engle-eyed ARMY member said they allegedly spotted Martin at Incheon Airport in South Korea on Friday, April 16 via Instagram. This caused the ARMY to begin spiraling. Since BTS is set to debut a new album in May and we know they are putting the finishing touches on it, it may be likely that Martin is in town to work with BTS.
However, some ARMY members are urging others not to get their hopes up. Martin also has a confirmed collaboration in the works with Korean singer Younha, who posted a selfie with the rock star on her Instagram.
Still, just because Matin is collaborating with Younha doesn't mean a collaboration with BTS is totally off the table. We'll just have to wait and see.