BTS Embrace Their 'Carefree' Side in First Teaser Photos for 'Dynamite'
Promotions for BTS's new single "Dynamite" are well underway. On Aug. 10, the Korean band released the first set of teaser photos for the song. Two more sets of teaser photos will be released on Aug. 12 and Aug. 15, and BTS's song "Dynamite" drops on Aug. 21.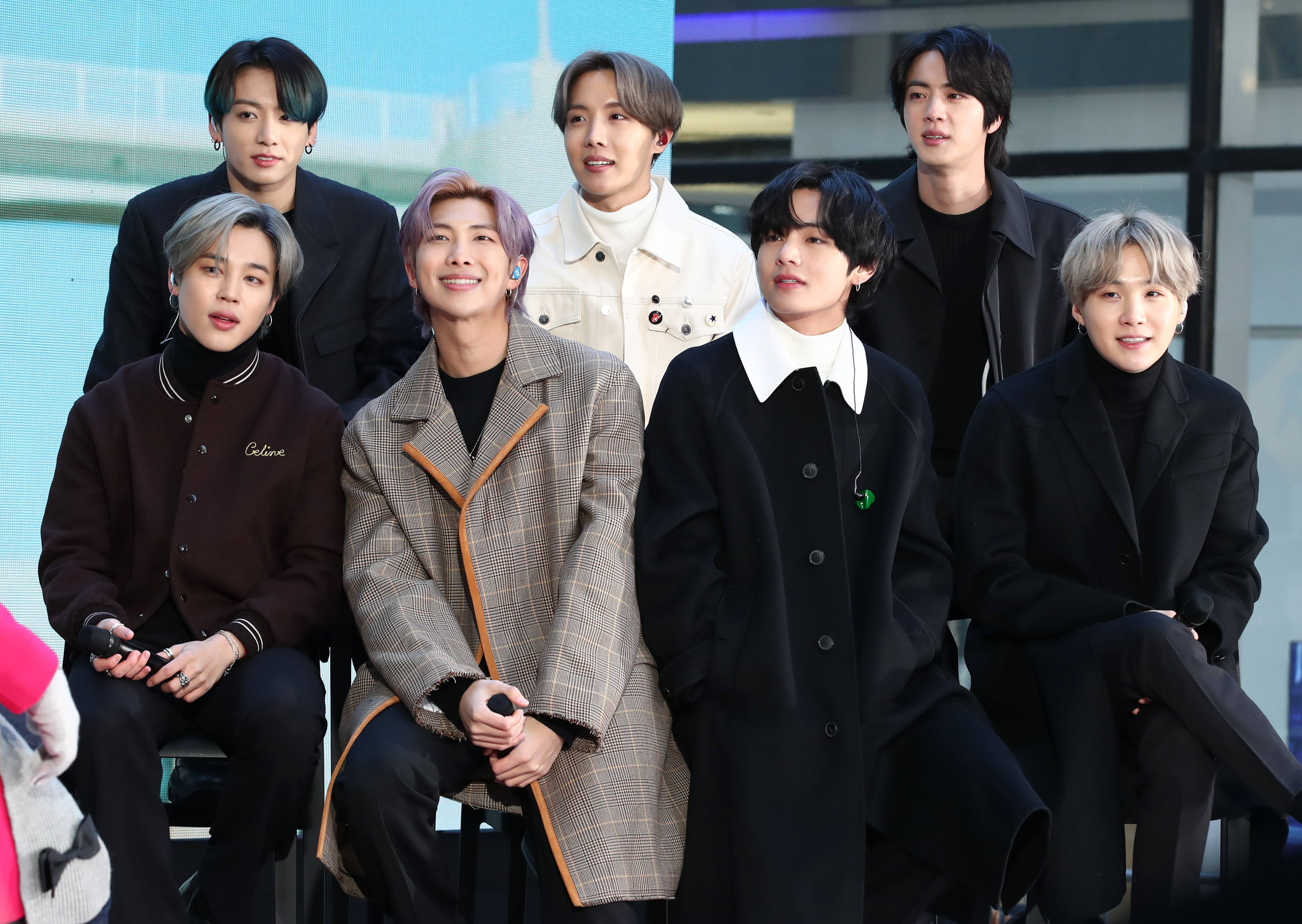 The teaser photos show BTS's carefree side
In the new teaser photos, each BTS member poses in front of a white background. According to a press release from Big Hit Entertainment, "the members individually show off their carefree moods through their unique poses and styles" in the photos.
Decked out in casual clothing, some of the members sported new hair colors for their comeback with "Dynamite." RM debuted blue hair, Jimin's hair was brown with purple highlights, V showed off a brown mullet, and Jin also had brown hair.
The first set of teaser photos clearly went over well with ARMY. Within minutes, the hashtag "#1stDynamiteTeaser" began trending on Twitter along with several phrases related to the photos.
RELATED: BTS Reveals 'Dynamite' Is the Title of Their New Single and Fans Already Know It Will Be a Summer Anthem
Fans should expect more teaser photos
This first set of teaser photos is just the beginning of Big Hit Entertainment's promotion schedule for "Dynamite." A second set of photos will be released at 11 a.m. EST on Aug. 12 and midnight KST on Aug. 13. The last teaser photos drop on Aug. 15 at 11 a.m. EST and Aug. 16 at midnight KST.
Following the teaser photos, there are other important dates related to "Dynamite" that BTS fans need to know. The "Dynamite" music video teaser will be released at 11 a.m. EST on Aug. 18 and midnight KST on Aug. 19. A "Countdown Live" for the music video will begin on YouTube at 11:30 p.m. EST on Aug. 20 and 12:30 p.m. KST on Aug. 21.
"Dynamite" and the accompanying music video drop at midnight EST and 1 p.m. KST on Aug. 21. On Aug. 24 at 11 a.m. EST and Aug. 25 at midnight KST, a B-side "Dynamite" music video will be released.
RELATED: BTS Will Perform 'Dynamite' at the 2020 MTV VMAs
Follow Eryn Murphy on Instagram and Twitter. 
BTS revealed 'Dynamite' is an upbeat song
The band first announced "Dynamite" on July 27 in an audio VLIVE. During the broadcast, they told fans that the single would be released in August and bring joy to fans around the world amid the coronavirus (COVID-19) pandemic.
"We have prepared a new single for ARMY, set for August 21. We are preparing an album for the second half of this year, but decided to first release a single because we wanted to reach our fans as soon as possible. Due to COVID-19, people around the world have been going through tough times and we wanted to share some positive energy with our fans," the group said.
BTS also revealed that the song features English lyrics, and they hope it will bring joyful energy to their fans.
"The song is upbeat and sung in English, just like 'MIC Drop' and 'Waste It On Me.' We thought that the song sounded perfect as it is in English. We recorded the guide version and felt that the result was something totally new and fresh," BTS said during the broadcast.
They continued, "We also needed a breakthrough during these unforeseen times, so we worked on this new song. This is a new challenge for us as well. When we first heard and recorded the song, we were energized and our spirits were lifted up. We can't wait to share this song with you all and enjoy it together."