How BTS Fans Are Celebrating Jin's Birthday in 2021
Jin is the oldest BTS member, celebrating a special birthday during December 2021. Here's what we know about the 'Moon' singer and some birthday projects in the works.
Jin is the oldest BTS member, with a significant birthday milestone coming up in 2021. From a moon-themed project at the Permission to Dance On Stage concerts to new streaming goals, here's how BTS fans are celebrating the "Worldwide Handsome" vocalist this December.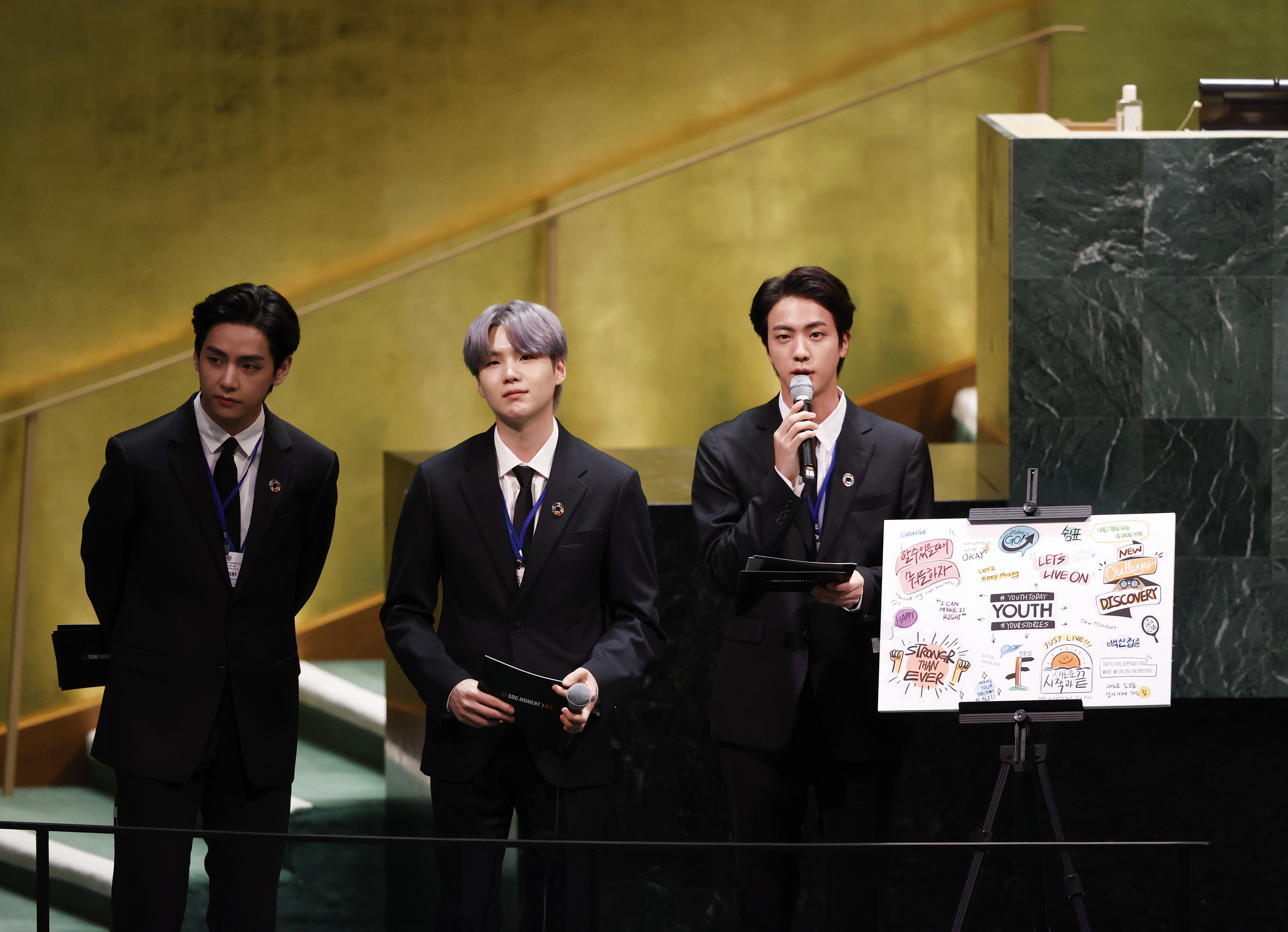 BTS' Jin celebrates his birthday on Dec. 4
Jin, Suga, J-Hope, RM, Jimin, V, and Jungkook are the performers behind songs like "Permission to Dance," "Dynamite," and "Life Goes On." In addition to being a member of the BTS vocal line, Jin co-wrote "Stay" and functions as the group's lead "visual."
Jin is one of two BTS members with December birthdays. The idol was born on Dec. 4, making him a Saggitarius sun sign. That also makes him a fire sign, which makes sense with his outgoing and fun-loving personality.
This year marks a special birthday for Worldwide Handsome Jin, as this idol turns 30 years old in 2021. (This is based on the Korean age system, which is somewhat different from his international age.)
ARMYs are celebrating BTS Jin's birthday in December 2021
In honor of Jin's birthday, ARMYs across the globe landed on new streaming goals for songs featuring this BTS member. (Fans are aiming for 112 million Spotify plays on the artist's solo song, "Moon.")
There are also themed headers available for ARMYs to add to their social media platforms. Days before his actual birthday, billboards celebrating Jin appeared in major cities across the globe. 
That includes two billboards in Singapore, which became available for viewing on Nov. 25. This is also an exciting birthday for members of the BTS ARMY attending the Permission to Dance on stage concert in Los Angeles. 
There, BTS will perform a concert on Jin's birthday, which inspired one birthday project for this Worldwide Handsome singer. ​​According to News 18, "the ARMYs have planned to place moon-shaped boxes over their Army Bomb and their cell phone to give the impression of a lit-up moon inside the stadium."
Jin was the recipient of several birthday projects since his debut with BTS
As with most BTS members, Jin is also the focus of a new charity project created by ARMYs. One fan announced 2021 would bring the revival of the Eat Jin Campaign, named in honor of Jin's love of food. This year's nonprofit organization benefits an orphanage.
In 2020, ARMYs donated money and pet food to the Susy Utzinger Organization to help those affected by three typhoons — Quinta, Rolly, and Ulysses. In 2019, according to Showbiz Cheat Sheet, donations went to Korea Animal Rights Advocates.
Some ARMYs hosted "Cafe Events," where BTS fans met in person to celebrate the members' birthdays. However, 2020's in-person celebrations were impacted by the coronavirus (COVID-19) pandemic. 
Music by BTS featuring Jin, including their recently released album, Map of the Soul: 7, is available for streaming on Spotify, Apple Music, and most major platforms.