'BTS Goes Retro' in More Than Just Their 'Dynamite' Music Video
There's a new video on YouTube that has ARMY tweeting 'BTS Goes Retro.' Here's what we know about the boy band's latest projects, including 'Dynamite.'
Most people want to turn back the clock to a time before 2020. BTS, with their latest single and the theme of their 2021 "Season's Greetings" special, are doing just that for their ARMY. As a result, some fans took to Twitter, trending "BTS Goes Retro."
Learn more about this K-pop group and its latest projects here. 
'BTS Goes Retro' trended on Twitter following a new video from the K-pop group
This K-pop group may be physically distant from fans, but they're still sharing plenty of content and well-wishes for the new year. Recently, BTS shared a new YouTube video titled "2021 Season's Greetings' Spot," earning 4 million views in a matter of hours.  
The preview showed each of the boys dressed in their retro best, complete with huge glasses, oversized t-shirts, bell-bottom pants, and even headscarves. 
They all settled together in one booth, drinking together and finally looking into the camera and smiling. With such iconic outfits, some fans took to social media, sharing their excitement regarding the new content. 
In anticipation of their new album, BTS released their retro, disco-y single, 'Dynamite'
This "Seasons Greetings" wouldn't be the only retro-themed clip of these K-pop idols. During summer 2020, the boys released a new single titled "Dynamite," J-Hope describing it as a "disco pop track." Their outfits were sure to match this vibe. 
When the performers appeared on The Late Show Starring Jimmy Fallon, the background of "Dynamite" was a retro rollerskating rink with a few disco balls hanging from the ceiling. They wore colorful outfits, similar to their performance on the MTV Video Music Awards.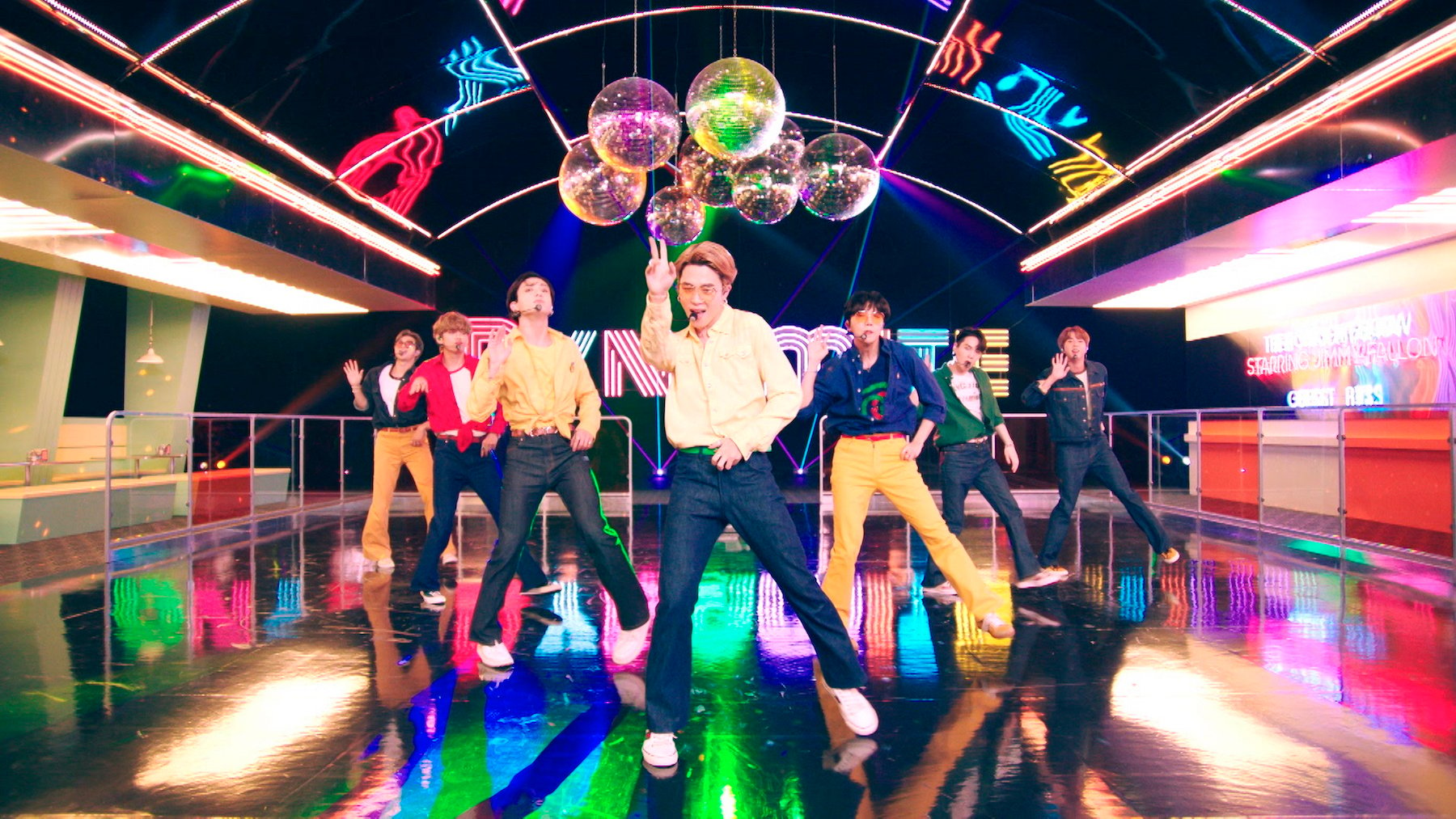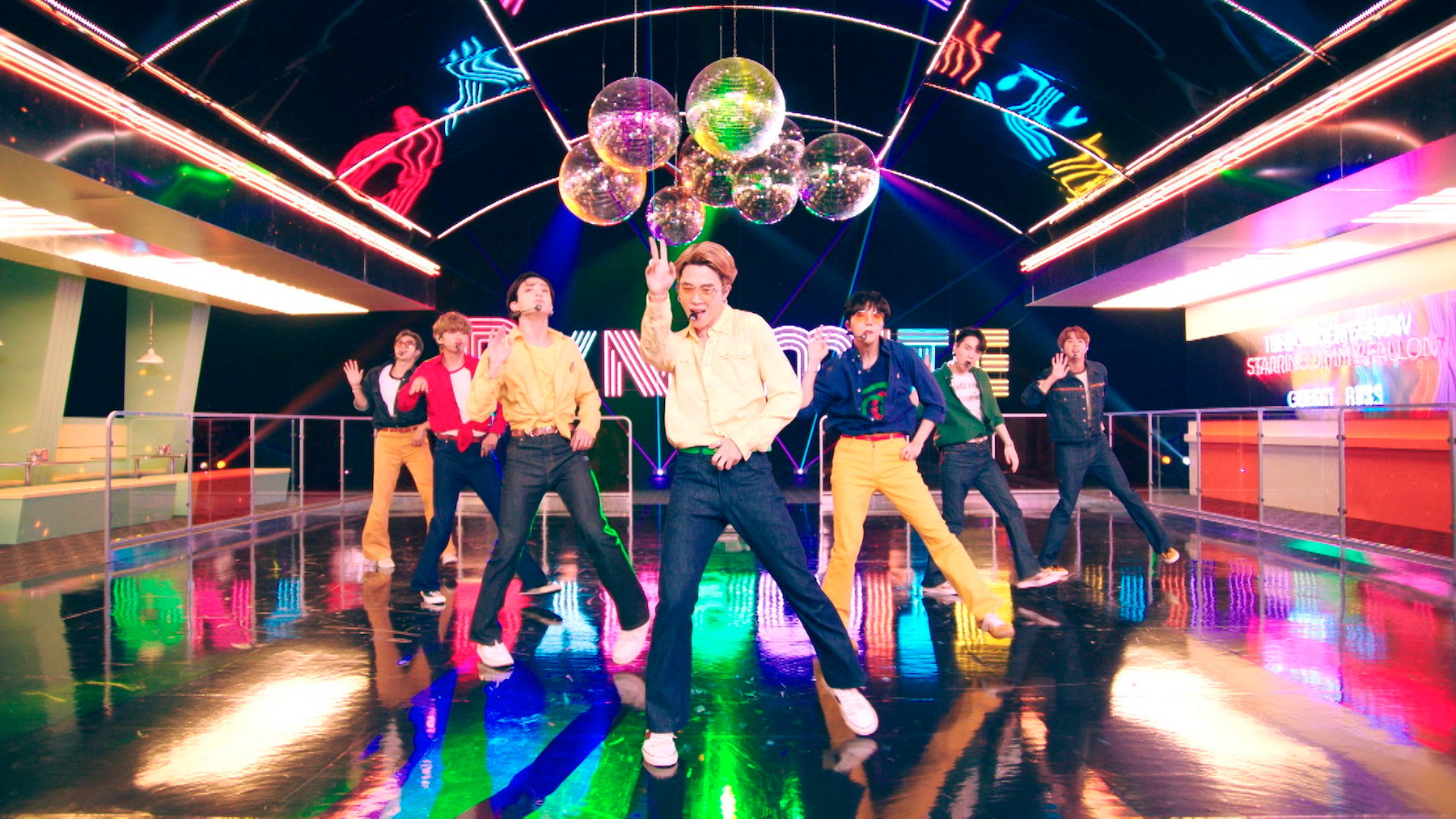 'Dynamite' also featured lyrics entirely in English
The vibe of "Dynamite" wasn't the only thing different about this single. While some songs featured parts in English, this was BTS' first song released entirely in the foreign language. What made BTS release a song in English? 
During an interview with USA TODAY the interviewer pointed out that BTS previously said performing a song fully in English wasn't something they'd do. They didn't want to change their identity or the "genuineness" of their music.
"We never expected this song would come, you know, like even in fully English, like you said, but many things have changed," RM said. "And, you know, during the process of making our album, which we're going to release later this year, we just met this song like a destiny, and when we first listened to the demo, the lyrics and the vibes and you know, everything was so perfect."
The "Dynamite" music video is now available on YouTube. Music by BTS, including their recently released album, Map of the Soul: 7, is available for streaming on Spotify, Apple Music, and most major platforms.