BTS: Halsey Just Shared a Photo of Suga With Her Son and It Is Beyond Precious
March 9 is Suga's birthday, and around the world, people who love the BTS rapper began celebrating as soon as the clock struck midnight in South Korea. On their Instagram story, Halsey gave Suga a special birthday shout-out and shared a photo of the BTS member with her young son, Ender.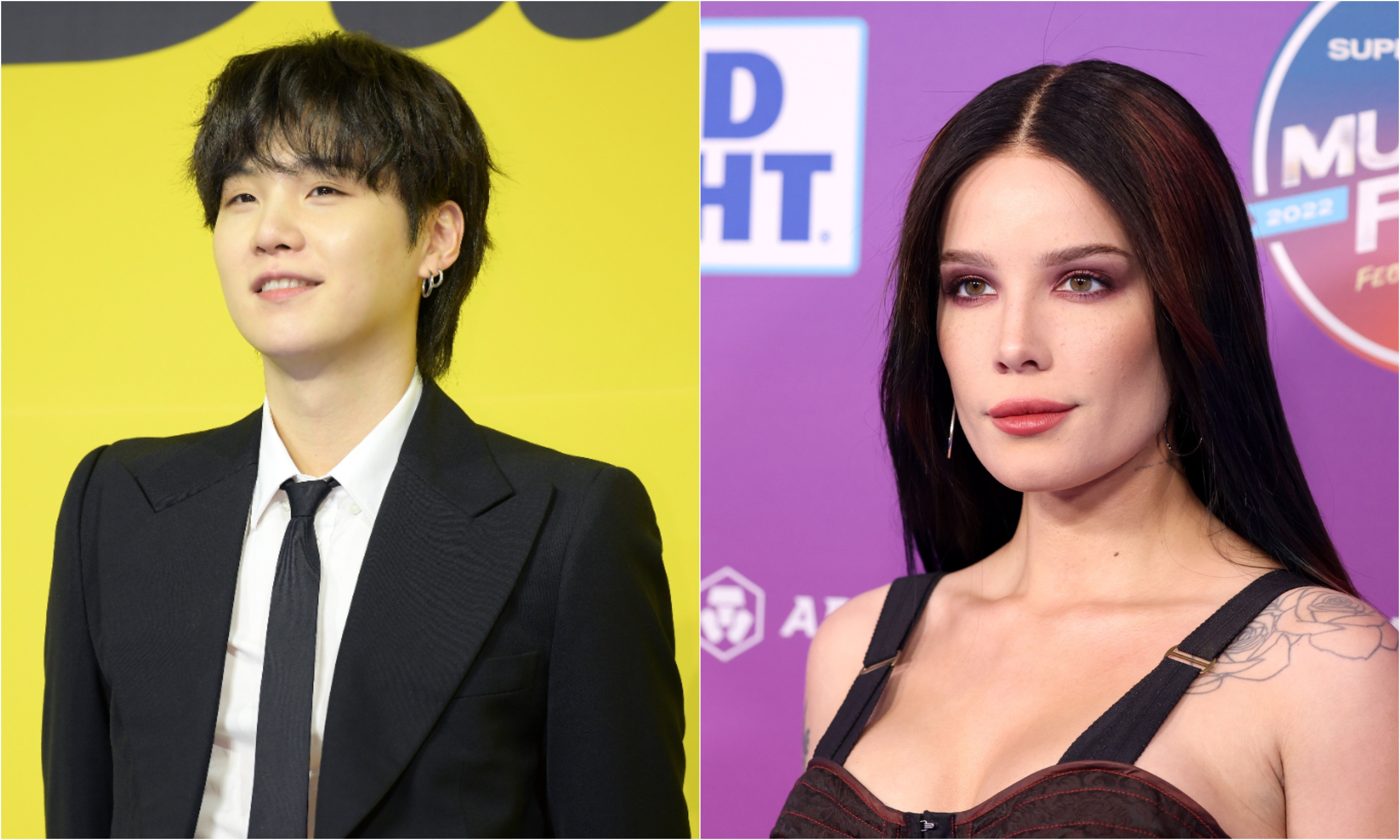 Halsey shared a photo of BTS' Suga with her baby
Suga officially turns 28 years old on March 9. Since South Korea is several hours ahead of the U.S., Halsey shared her birthday wish for Suga on March 8.
In the Instagram story, the singer shared a black-and-white photo strip of Suga. The singer-songwriter placed a birthday cake gif at the top of the photos. They captioned the story, "happy bday twin."
The first photo shows Suga smiling while holding Halsey's son, Ender. Halsey gave birth to Ender in July 2021, and a great deal of their album If I Can't Have Love, I Want Power detailed her experience with pregnancy and thoughts on motherhood.
In the second photo, Suga appears to be talking while holding a drinking glass. The last photo in the photo strip shows Halsey and Suga smiling together for a mirror selfie.
RELATED: BTS: RM and Suga Want Jimin to Post on Instagram More
BTS fans reacted to Halsey's birthday post for Suga
After Halsey shared the photos of Suga on their Instagram story, "halsey" began trending on Twitter as fans discussed the post. In particular, fans found the photo with Halsey's son and Suga to be adorable.
One fan wrote on Reddit, "The blurry B&W photo with the baby is too darn much! It's too much Min Yoongi!"
Another fan wrote on Reddit, "Halsey's birthday greeting was so sweet!!!! I remember Halsey said when she asked Yoongi to collab for Sugar's Interlude, that she identifies the most with Yoongi's wisdom and perspective. It's so great to see them spending time in private and Yoongi looking so happy. And Halsey's baby is so cute!"
"These photos are so precious! Happy Uncle Yoongi holding Halsey's baby. I'm crying," wrote a Reddit user.
RELATED: A Live Viewing of BTS' 'Permission to Dance On Stage – Las Vegas' Concerts Will Be Shown at the Same Venue as the 2022 Grammy Awards
The members of BTS and Halsey are close friends
Halsey first met Jin, Suga, J-Hope, RM, Jimin, V, and Jungkook at the 2017 Billboard Music Awards. After being friends for years, Halsey was featured on BTS' song "Boy With Luv," the lead single on BTS' 2019 EP Map of the Soul: Persona.
The artists performed "Boy With Luv" together at the 2019 Billboard Music Awards, a stop on BTS' Love Yourself: Speak Yourself Tour in Paris, and at KIIS FM's Jingle Ball 2019.
In December 2019, Halsey released the song "Suga's Interlude" featuring Suga. It was later included on the singer's 2020 album Manic.
In July 2021, BTS congratulated Halsey for having a child, tweeting, "@halsey Congratulations!!" after Ender was born.
Halsey then attended a show during BTS' Permission to Dance On Stage – LA concert series in Los Angeles in December 2021. When Halsey posted a picture with BTS backstage on Instagram, she referenced the band members as Ender's uncles, writing, "uncle gang beyond words."
RELATED: BTS: How to Buy Tickets to Watch 'Permission to Dance On Stage – Seoul' in Movie Theaters