BTS Still Hope to Win a Grammy Award Following the Release of 'Butter'
On May 21, BTS released their new English-language single, "Butter." An hour after the song dropped, the Korean band held a press conference for members of the media. At the press conference, Jin, Suga, J-Hope, RM, Jimin, V, and Jungkook discussed their new single, their future plans, and their Grammy aspirations.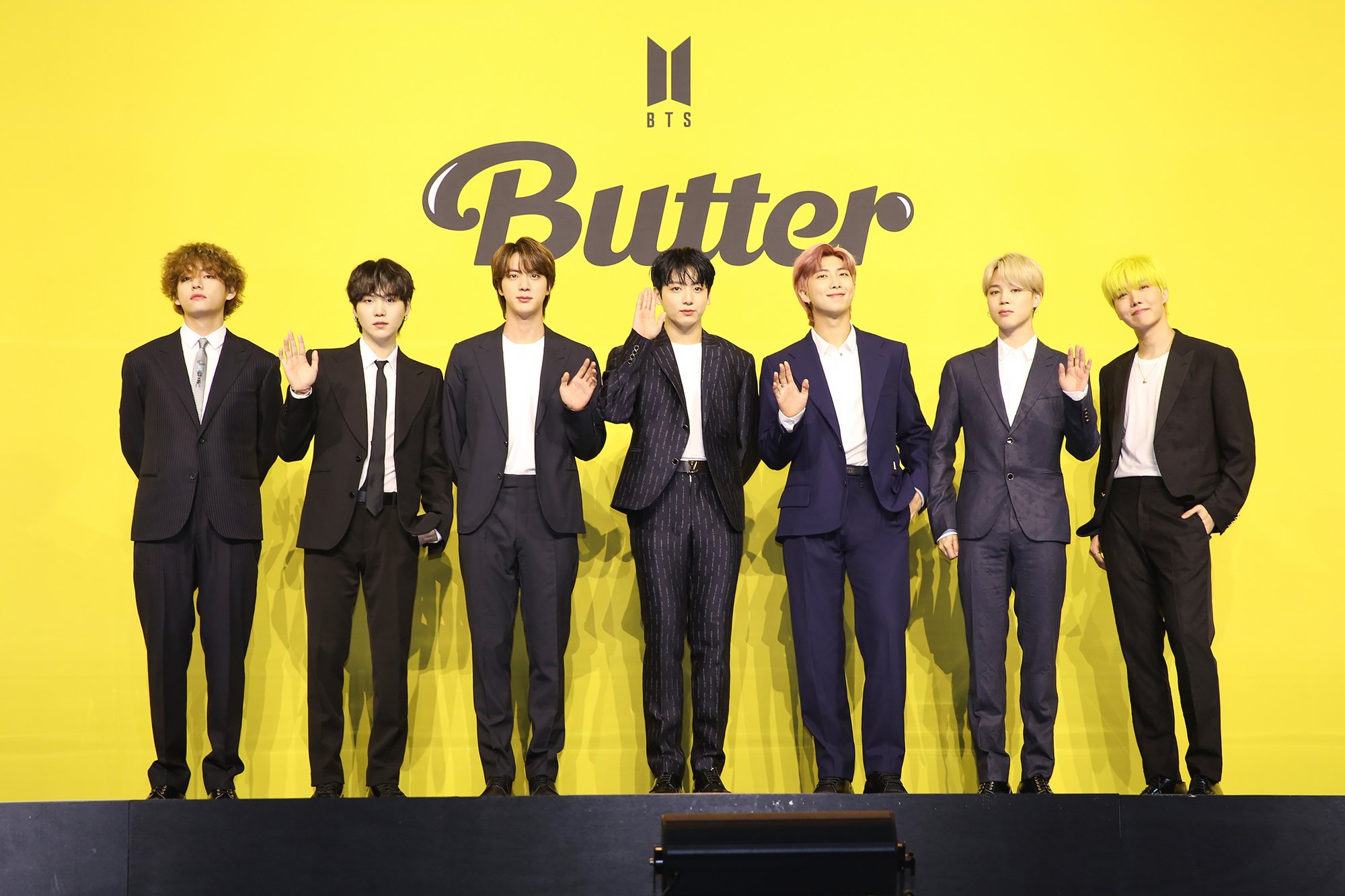 BTS' single 'Butter' has a 'cute' concept
The septet released "Butter" at midnight EDT on May 21 along with a music video for the song. "Butter" is a dance-pop track with a lighthearted message of self-love, which BTS showcase with lyrics like being "hot like summer" and "smooth like butter."
"If you hear the title 'Butter,' you'll know immediately that we tried to prepare a song that's easy to listen to," Jimin said at the band's press conference.
Even though BTS frequently explore complex subject matters with their music, Jimin told reporters that "Butter" purposefully does not have a "profound message."
Jimin continued, "This is a little bit embarrassing, but it's something smooth like butter, that really melts into and grabs hold of you. It's a very cute song, sort of a confession."
RELATED: Queen Gave BTS a Shoutout About the New 'Butter' Music Video Teaser
At the press conference, the members also echoed the sentiment that they hope "Butter" will be the song of the summer in 2021.
BTS hope to earn a Grammy Award one day
Over the past few years, the members of BTS have repeatedly shared that one of their biggest goals is to win a Grammy Award. Each year, they have reached a step closer to this goal.
At the 2019 Grammy Awards, the members of BTS presented the award for Best R&B, becoming the first Korean act to present at the awards show.
BTS then performed in the "Old Town Road All-Stars" performance with Billy Ray Cyrus, Lil Nas X, Diplo, and Mason Ramsey at the 2020 Grammy Awards. With this performance, BTS became the first Korean act to ever perform at the Grammy Awards.
The 2021 Grammy Awards took place on March 14, and BTS earned a nomination for Best Pop Duo/Group Performance for their song "Dynamite." The band also performed "Dynamite" at the awards show.
RELATED: 'Butter' Shows That BTS Still Have Not Reached Their Peak
While BTS have now earned a Grammy nomination and performed a song of their own, the group still hopes to one day win a Grammy Award. At the press conference for "Butter," the members of BTS were asked if the song was released in order to win a Grammy.
"We continue to want to receive a Grammy Award," Suga admitted. "'Butter' will be another try and I hope can have good results."
RM added, "We are thinking of the Grammys. We will try to do whatever we can to set that as a goal and go towards that goal."
RM participated in the songwriting for 'Butter'
BTS' first English-language single "Dynamite" was written by David Stewart and Jessica Agombar. While the members of BTS did not participate in the songwriting for "Dynamite," RM did play a hand in writing the lyrics for "Butter."
The song was written by Jenna Andrews, RM, Rob Grimaldi, Stephen Kirk, Ron Perry, Alex Bilowitz, and Sebastian Garcia. At BTS' press conference for "Butter," RM explained that he wrote some of the lyrics for his rap and the rap verses for Suga and J-Hope.
BTS will perform "Butter" for the first time at the 2021 Billboard Music Awards on May 23.