BTS: How to Purchase the Band's 'Butter' CD
On May 21, BTS released their second English-language single "Butter." Since it dropped, the song has spent five consecutive weeks at No. 1 on the Billboard Hot 100. While "Butter" was originally released as a digital single, a physical CD of the song will be available on July 9. Here is how BTS fans can purchase the "Butter" CD.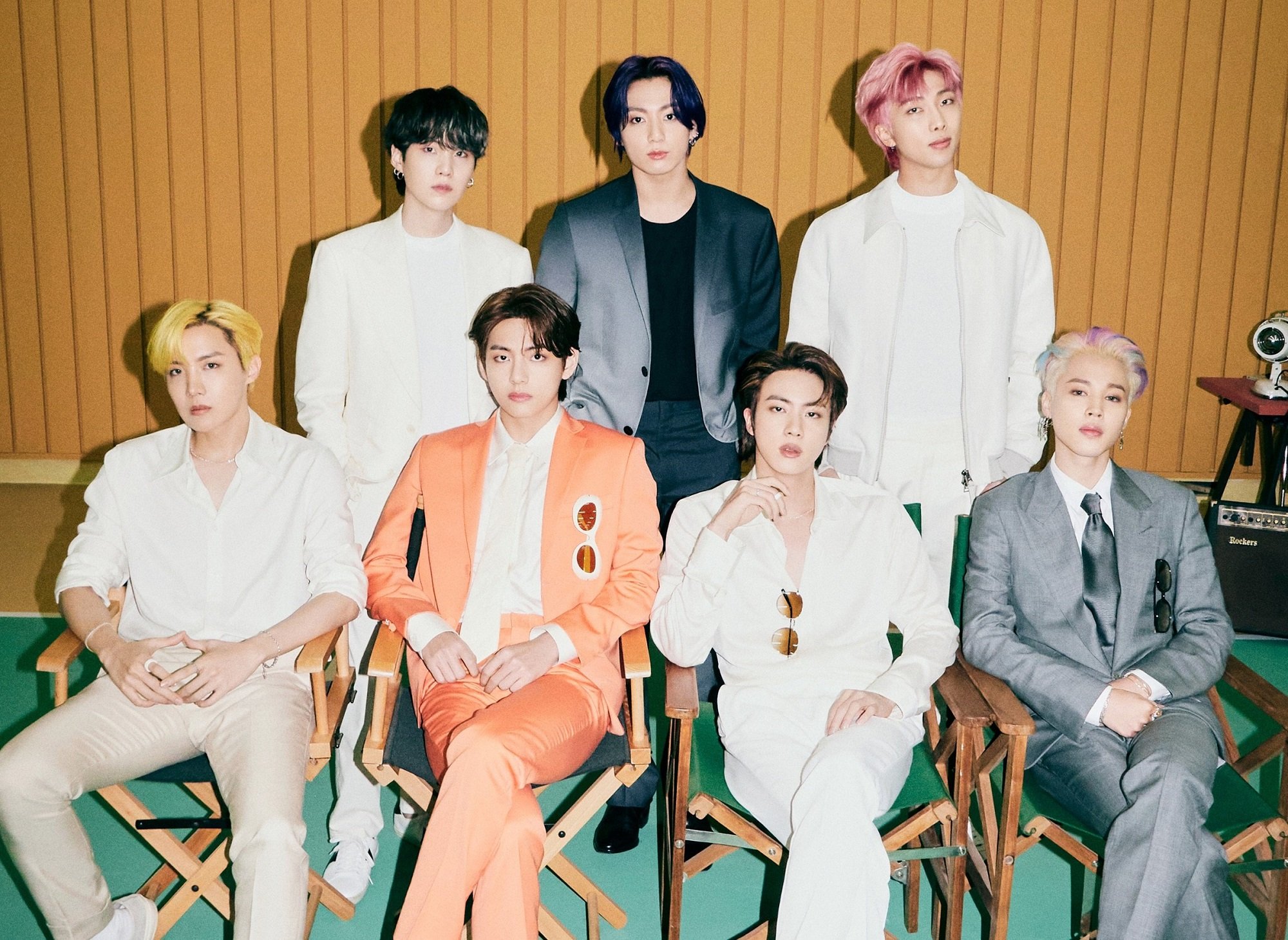 BTS' CD of 'Butter' is available to buy on Weverse Shop
There are two different versions of the "Butter" CD. The Cream version of the CD has yellow packaging, and the Peaches version has an orange cover. Both versions include a photo book, poster, randomized photo card, CD, and other features.
In addition to being available in stores like Walmart and Target on July 9, ARMY has the option to pre-order the "Butter" CD on Weverse Shop. On Weverse Shop USA, the CD costs $26.50 and fans can purchase up to four CDs.
The CD is also available for fans to buy on Weverse Global Shop for $16.53. On Weverse Global Shop, fans can purchase a set of both the Peaches and Cream versions for $33.07.
RELATED: BTS Teach Fans About Hand Gestures in a Hilarious Skit on 'The Late Show with Stephen Colbert'
The 'Butter' CD will feature a new song called 'Permission to Dance'
Even though BTS already released "Butter" on May 21, the "Butter" CD is receiving its own comeback treatment. BTS announced the CD in a fictionalized broadcast posted on Twitter on June 14. Big Hit Music then revealed the first details about the CD in a post on Weverse.
In the Weverse post, Big Hit Music described the CD, writing:
"In celebration of ARMY's birthday, BTS's 'Butter' CD single will be released on Friday, July 9, available for pre-order from Tuesday, June 15. 

In addition to the digital single 'Butter' that was saturated by an outpouring of love from fans everywhere, the CD will include a new track that will make your heart beat to the rhythm of BTS's positive energy. We look forward to the love and support from all fans."
Leading up to the CD's arrival, Big Hit Music has shared multiple sets of concept photos of Jin, Suga, J-Hope, RM, Jimin, V, and Jungkook on social media. On July 1, Big Hit Music revealed the CD's tracklist. The "Butter" CD will include four tracks: "Butter," "Permission to Dance," "Butter (Instrumental)," and "Permission to Dance (Instrumental)."
RELATED: Max Minghella of 'The Handmaid's Tale' Is a Huge Fan of BTS
Ed Sheeran co-wrote BTS' new song 'Permission to Dance'
Ed Sheeran, Steve Mac, Johnny McDaid, and Jenna Andrews all co-wrote "Permission to Dance." Mac, Stephen Kirk, and Andrews produced the song. A press release describes "Permission to Dance" as a song "that will get your heart pumping."
Sheeran previously collaborated with BTS when he co-wrote "Make It Right," a song on BTS' 2019 EP Map of the Soul: Persona. Before Big Hit Music shared the tracklist for the "Butter" CD, Sheeran appeared on Most Requested Live on June 26 and revealed that he co-wrote a new song for BTS.
"BTS. I've actually worked with BTS on their last record, and I've just written a song for their new record. And they're like super, super cool guys as well," Sheeran said.
Fans will officially hear "Permission to Dance" for the first time when BTS releases the "Butter" CD on July 9.