BTS: Jimin Hints the Band Will Release Something New in a Few Months
Over the past few months, BTS have released multiple English-language singles. The band dropped a song called "Butter" in May, and a remix of the song featuring Megan Thee Stallion was released on Aug. 27. On July 9, Jin, Suga, J-Hope, RM, Jimin, V, and Jungkook of BTS released their third English-language single, "Permission to Dance."
While the band teased a new era in the "Permission to Dance" music video teaser, so far there has been no news about a new album. During a VLIVE on Aug. 30, Jimin shared the members of BTS are currently working on something that will be released in the next few months.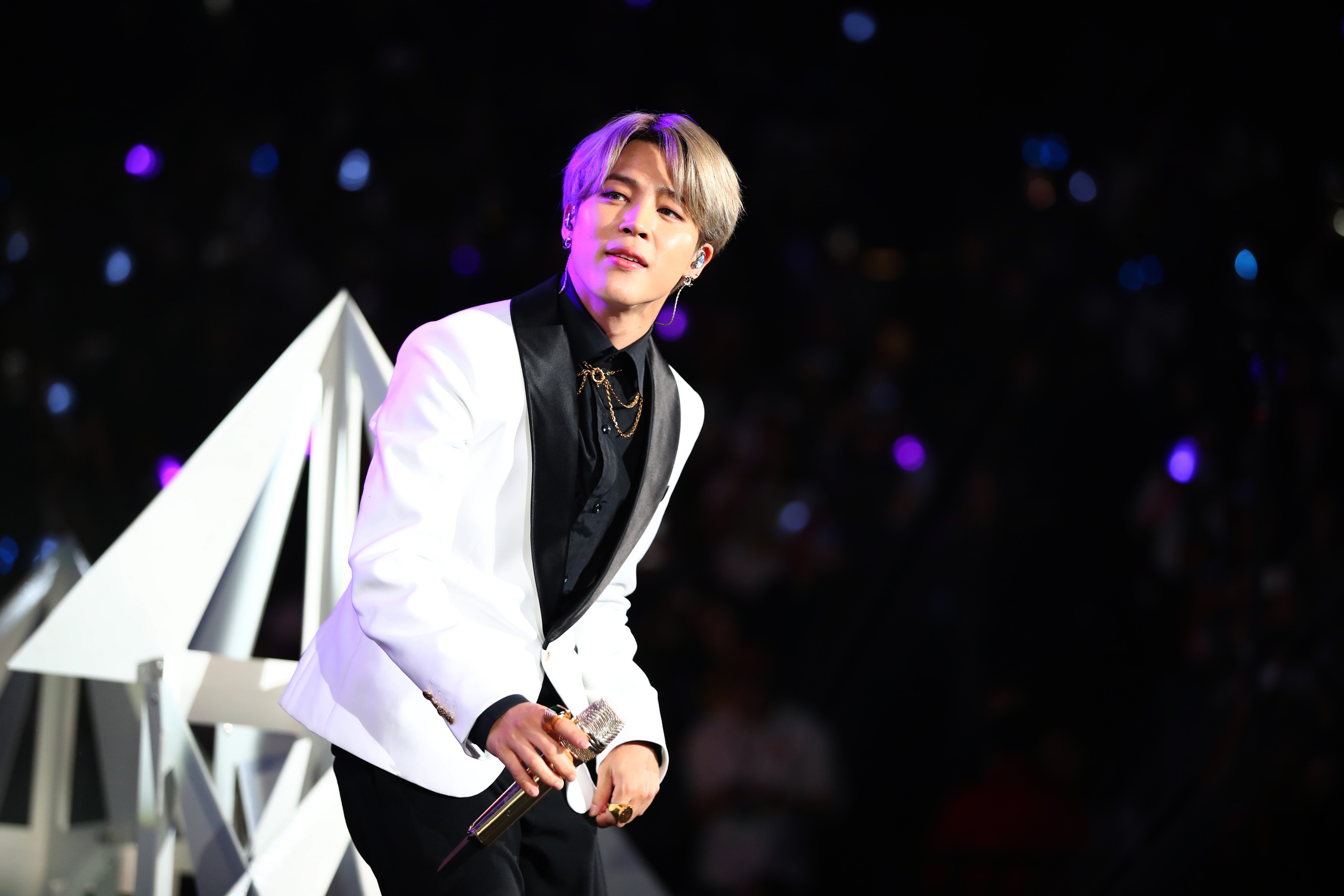 Jimin tried to keep BTS' activities a secret
On Aug. 30, Jimin went live on VLIVE and chatted with ARMY for over an hour. The BTS member answered fans' questions and updated ARMY about his life. When one fan asked what the members were up to lately, Jimin played coy about his schedule.
"I won't tell you," he said at first according to a fan translation. "Because… well… My schedule is always similar. I have some work to do and go home. And more work and take some rest. This repeats."
He continued, "And in terms of work, since we don't meet you guys in person, we film stuff which will be released later. So I can't really share them with you."
RELATED: BTS: Jimin Wanted to Perform Barefoot at the 2020 Mnet Asian Music Awards
Jimin teased BTS will share something new with fans soon
While Jimin could not give specific details about what the septet is focusing on, he did try to give ARMY watching the VLIVE some hints.
"Spoilers? The things we are working on now won't be released soon," he said according to the fan translation. "At least it will take about two, three, and four months before the release."
For the time being, the members of BTS have been busy promoting "Butter" in the U.S., as the song earned the No. 1 spot on the Billboard Hot 100 for nine non-consecutive weeks. "Permission to Dance" also debuted at No. 1 on the Billboard chart following its release.
RELATED: BTS: Jungkook Hints What the Band's Future Music Will Be Like
'In the SOOP BTS Ver.' will premiere in October
Shortly after Jimin's VLIVE, it was announced that the second season of In the SOOP BTS Ver. will arrive in October. The reality show originally premiered on JTBC and Weverse in August 2020. In the show, Jin, Suga, J-Hope, RM, Jimin, V, and Jungkook spend time together on vacation relaxing.
On Sept. 1, the official Twitter account for In the SOOP announced that the second season of In the SOOP BTS Ver. will premiere soon.
"#In_the_SOOP BTS ver. Season 2 COMING SOON IN OCTOBER #BTS #방탄소년단 #인더숲 #인더숲BTS편시즌2," the In the SOOP account tweeted.
Given that In the SOOP BTS Ver. will premiere several weeks after Jimin's VLIVE, it is possible the BTS member was hinting the band's reality show would return. Of course, the announcement of In the SOOP BTS Ver. does not dissuade our hopes a new album is on its way as well.