BTS: Jimin Has Been Super Active on Twitter and Fans Are Loving It
BTS's new song "Dynamite" drops on Aug. 21. While BTS is about to kick off their next comeback, Jimin is having one of his own on Twitter. In the past week, the BTS singer has posted three times, bringing joy to ARMY. Fans also could not get over Jimin's iconic look in the new "Dynamite" music video teaser.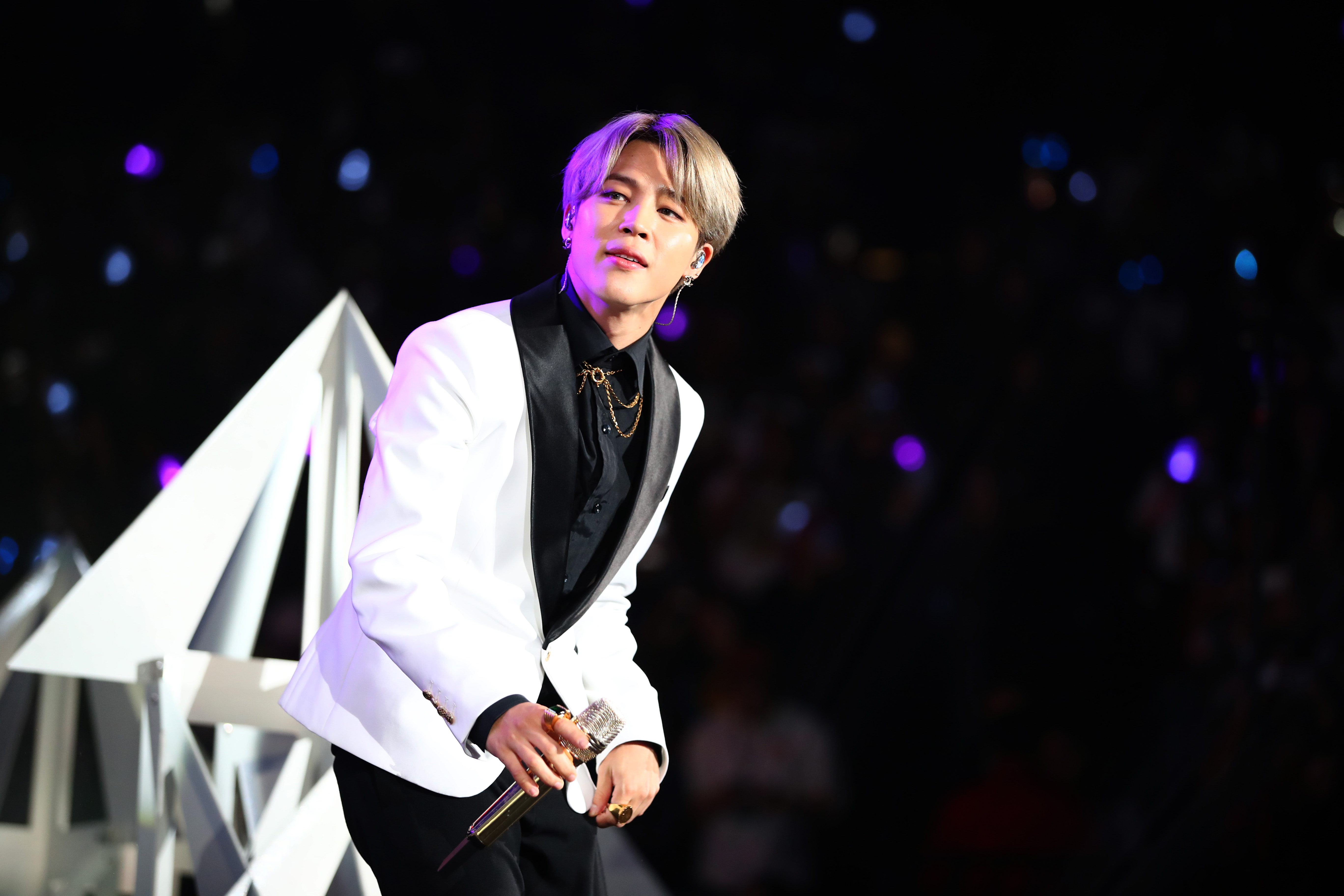 Jimin posted on BTS's Twitter account multiple times in August
Over the past few weeks, Jimin has become more active on Twitter and posted photos with his hallmark "#JIMIN." Within the past week, Jimin has posted on Twitter on three different occasions.
At 12:59 a.m. KST on Aug. 13, he posted two selfies showing off his new brown hair and to wish ARMY a goodnight. A few days later on Aug. 14 at 11:42 p.m. KST, Jimin once again told fans to have a good night at the end of his day.
Most recently, Jimin posted two photos just a few hours before the music video teaser for "Dynamite" dropped. In the photos, Jimin sported wavy hair and glasses along with an outfit that seemed to preview the '70s vibe of the "Dynamite" teaser.
Because he has posted so frequently over the past few days, BTS fans expressed how excited they are that Jimin is posting so much on Twitter again.
One fan tweeted, "jimin being more active on twitter again, i'm so happy!!!"
"it really makes me happy that jimin is slowly getting active on this app after MONTHS of twitter jimin drought… the world finally getting better thank you jimin," tweeted another fan.
ARMY loved Jimin in the 'Dynamite' teaser
The music video teaser for "Dynamite" came out on Aug. 18. A press release from Big Hit Entertainment describes the teaser as "a glimpse into the dynamic choreography and the upbeat Disco vibe of 'Dynamite' that exudes energy and freshness."
In the music video teaser, all seven members have a chance to shine with brief solo clips and breathtaking outfits. The teaser begins with the seven members wearing light pastels against a pink skyline. Jimin points at the camera as the softened lyrics of "Dynamite" begin to play.
The music grows louder, and the BTS members wear '70s-inspired clothes as they dance along to the catchy lyrics. Solo shots make it seem like the music video will take BTS through different eras of music. Following the teaser's release, ARMY could not get over Jimin's iconic look.
RELATED: BTS Unveils an Energetic 'Dynamite' Music Video Teaser
"CAN YALL SEE WHAT IM SEEING??? JIMIN'S BODY PROPORTIONS ARE ACTUALLY INSANE AND IM HERE FOR IT— #DynamiteVideoTeaser," wrote a fan on Twitter.
"No thoughts mind empty just jimin undercut," tweeted a fan.
After the teaser premiered, one fan tweeted, "status: at jimin's mercy."
BTS is self-producing their next album
The release of "Dynamite" is super exciting for ARMY, and fans have even more to look forward to later this year. Following "Dynamite," BTS will release an album at the end of 2020, and the Korean band is self-producing the album.
Jimin is the music project manager on the album. On June 16, Jimin held a YouTube Live after BTS's virtual concert "Bang Bang Con The Live." During the livestream, he told fans that the members had been working on making songs.
"The members and the music producers of the company wrote their… anything from melody to songs or a melody in a song. Some wrote the melody in someone else's song or some worked on an entire song including the lyrics. So after we worked on our pieces, now we've put those pieces together. The members have sent in their work too," he said.
Jimin continued, "As now I'm a project manager, I've collected the songs the members worked on and sent those to the company saying 'this is what we got so far' … Me and the members worked a lot. And I also made two or three songs."